Entertainment
With A Loving Husband Sara Ramirez Came Out With Her Sexuality, A Lesbian?
The Mexican-American actress Sara Ramirez is a name that is well known in the entertainment industry; there is no doubt in that.
Besides being the idol of countless uprising actors, she has also managed to become a source of inspiration in another genre, Coming out of the closet!
But hold up right there. The cat is not out of the basket yet!
Sara Is Not A Lesbian/Gay?
In the event of the True Colors Fund's 40 to None Summit organized in Los Angeles in 2016 October, Sara Ramirez revealed herself to be bisexual. Remember, she revealed herself as bisexual, not lesbian or gay.
While giving the speech, Sara openly confessed about the intersections existing in her life, where she said:
"Because of the intersections that exist in my own life: Woman, multi-racial woman, a woman of color, queer, bisexual, Mexican-Irish American, immigrant, and raised by families heavily rooted in Catholicism on both my Mexican & Irish sides," she said. "I am deeply invested in projects that allow our youth's voices to be heard, and that support our youth in owning their own complex narratives so that we can show up for them in the ways they need us to."
To add more blaze to her statement, Sara officially confirmed it on her Twitter.
The fan followers and well-wishers saluted her for the courage she undertook while openly confirming about her sexuality in the mass.
Talking about her married life, Sara and her banker beau Ryan got engaged in 2011 on their summer vacation to Paris, where then-boyfriend Ryan got down to his knees beside a fountain and popped the question. They got married right the following year on July 4, 2012.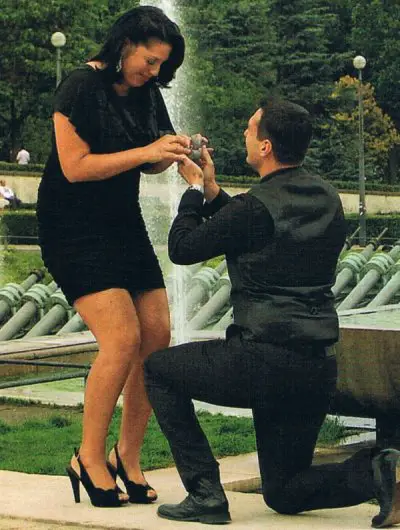 Caption: Summer vacation turned engagement ceremony for Sara and Rayan at Paris (2011).
Photo Credit: grey-s-anatomy85.skyrock.com
The couple tied the knot in the presence of their close families and friends keeping the ceremony to be close-knit in New York. Representatives of the duo spoke about it to a source as,
"On July 4th, 2012, after a year-long engagement, Sara Ramirez, and Ryan Debolt were married in an intimate ceremony in New York. The private event was attended by close family and friends."
A Yes To Having Children
In an interview with Latina.com, Sara dropped the fact that she was considering having children. She was in her late 30s when the interview was taken, and even back then, she knew that the clock was ticking on her.
'I'm thinking about it - I will say that.'I'm Very aware of how old I am and I'm very aware of what that means regarding statistics, and so, yes, I'm considering it. The clock's ticking, and I totally hear it!'
However, due to reasons of her own, Sara has not revealed anything about being pregnant or having a child. Though she is still married to her husband, she has chosen to remain mum on her personal family affairs.
From Fat To Fab: Journey Of Weight Loss!
Over the years, Sarah has added aspects to admire. First, her remaining proud of her sexuality and second, achieving weight loss. The actress, though looks beautiful in every situation didn't need any significant weight loss, but well, a little toning of the curves does not harm but never goes unnoticed.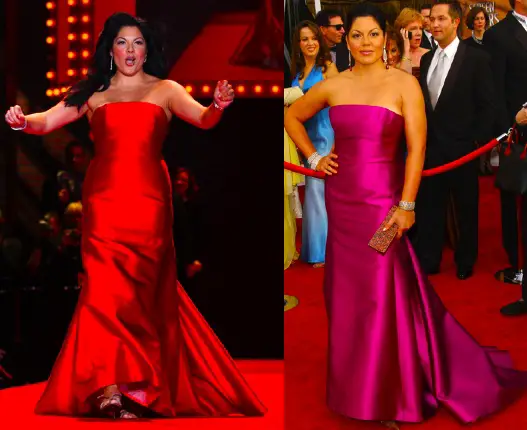 Caption: Sara keeps her weight in check.
Photo Credit:pininterest.com
Sara also shared a simple trick to lose weight instead of undergoing heavy diet regime. Through a source she said:
"If you want to see results, there is a very simple formula. You must burn more calories than you consume. Some of us keep trying to find that quick fix or instant gratification, but I've learned the hard way that it doesn't work."
She added:
"If you want pizza, have it. But if you have too much or feel crappy afterward, own that choice. And if you don't want to feel that way again, you know what to do. That would be not eating pizza. It's all about balance, so if you can eat things you love in moderation, there's no reason you can't sneak in a slice here and there."
If you also feel like shedding some pounds off, here's a simple yet effective weight loss program that can help you out:
5 Best Foods For Weight Loss: Natural Weight Loss Diet Foods