Entertainment
Wyclef Jean And His Irresolute Relationship History; Also Known As A Philanthropist With Huge Net Worth
Wyclef Jeanelle Jean, better known as Wyclef Jean is a well-known celebrity, a musician as well as a rapper from Haiti. Although he left his country at a young age and spent most of his life in the New Jersey, U.S.A, he became a national sensation in 2010 when he stood up for the 2010 Haitian presidential election.
Being a familiar figure in both Haiti as well as U.S.A, he served his nation during the big earthquake in 2010 through his organization Yéle Haiti, which was well appreciated by the Haitian government.
A Look Into His Wife and Daughter:
Wyclef has been in a couple of relationships so far, and none of his affairs has lasted long. Having dated girlfriends from different backgrounds and nation, he served as a married man for 22 years with his wife, Marie Claudinette Jean and still continues to do so.
The two of them were known to have dated back in 1994, after which they got married immediately, and voila, the marriage has lasted all these years.They also have a daughter named Angelina Claudinelle, who according to sources, was adopted by the couple in 2005. The star thought that Angelina, a half-Haitian was a child who was in need of love and an education. Angelina was only three years old at that moment.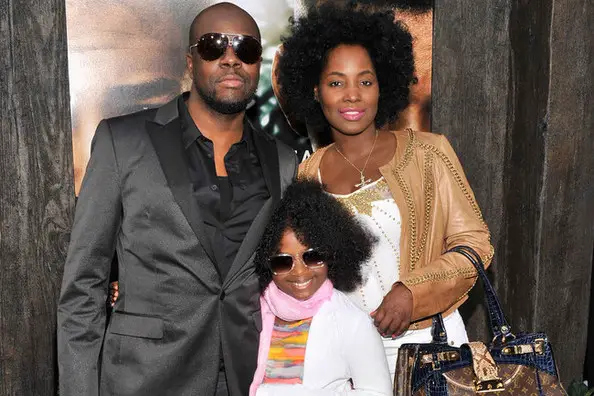 Caption: Wyclef Jean, Claudinette Jean and their daughter Angelina, looking great in this shot (2013).
Photo Credit: livingly.com
Who's His Rumored Girlfriend Lisa?
Apart from his marriage, Wyclef was also known for having an affair with his manager Lisa Ellis, the time when his father died in 2012. However, that relationship was not allowed to go any further as he fired her to maintain distance.
Things got out of control when Wyclef revealed his manager's nude pictures on his phone and the media got hold of it all. Lisa and Wyclef, who were more than just client and manager seem to be sharing a friendly relationship as seen in a tweet by Lisa in 2011.
@wyclef will always fight for Haiti. Always has fought for Haiti.As always, he continues forward. God Bless my friend!

— Lisa Ellis (@lisaellis) March 20, 2011
However, the scandal left Lisa unhappy. Her perspective is that the scandal was a planned act to attack her public image and took her voice to the media. When asked if Mark the photographer leaked the pictures, she said in an interview;
"I don't have the photo myself, Mark did not send the photo out. I am being attacked for no reason."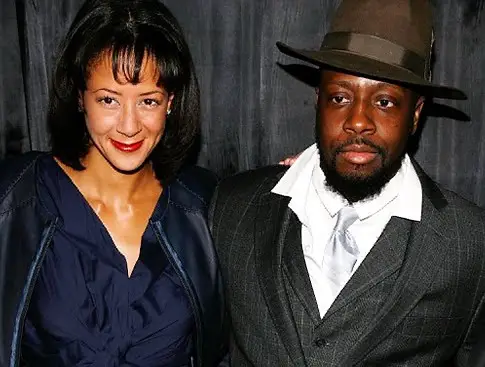 Caption: Wyclef Jean with Lisa Ellis back in 2009.
Photo Credit: wordpress.com
Wyclef As An Essence Philanthropist:
Wyclef Jean as we already know is a popular figure and many people look up to him in many ways, and one of them is for help. He has shown his kind and sensitive side with his act of adopting a half-Haitian girl, but that is not where everything ends. He also has a charitable organization called 'Yéle Haiti' which he established in 2001 in Illinois.
The charity organization provided 3,600 children with scholarship following the rescue operation during the devastating hurricane in 2004. The next notable move of the team was in 2010; the year Haiti was hit by a massive earthquake of 7.0 magnitude.
Wyclef helped raise over $1 million through his Twitter plea in less than 24 hours and also organized a telethon with George Clooney which became the most watched telethon in the history. The help did not stop there as the Yéle Foundation distributed warm meals, funds to the orphanages, medical treatments after the catastrophe.
Caption: George Clooney previewing of the 'Hope for Haiti' benefit telethon which was posted on YouTube (January 21, 2010).
Presidential Campaign Which Did Not Make The Grade On:
Just months after Haiti got hit by the massive earthquake, rumors of Wyclef stood as a presidential candidate surfaced the media and soon enough with CNN's Wolf Blitzer, Wyclef admitted that he was running for the president office and later officially filed papers as a candidate for the Haitian presidential election in 2010.
Caption: Wyclef Jean speaking on why he should be Haiti's next President which was posted on YouTube (August 12, 2010).
Unfortunately, his bid was rejected by the Haiti's Provisional Council citing the reason that Wyclef failed to meet the residency requirement of living in Haiti for five years.
Know More About His Net Worth and House:
A winner of three Grammy Awards for his musical contribution, Wyclef has released hundred of songs on 12 different albums. His fans have been listening to his work through YouTube, Spotify, and other mediums. Because of his immense popularity and work success, Wyclef has been able to earn a lot of fame as well as money, which puts his net worth value to be 10 million dollars.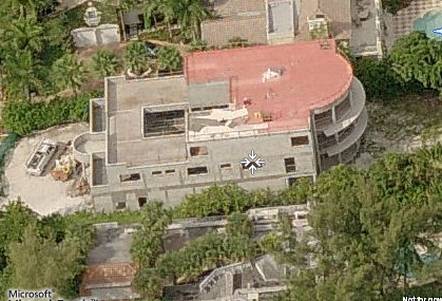 Caption: Ariel view of Wyclef's house in Miami.
Photo Credit: zillow.com
With big money comes big lifestyle and Wyclef's house in Miami Beach which is big and spacious is one of the houses people dream to have. Reportedly, he ran out of money while re-building the front part of his 10 million dollars mansion and the real estate company might auction the house off, as the singer still has 2 million dollars to settle.
Despite his not so successful presidential campaign in 2010, it hasn't stopped him to keep on working for the people of Haiti