Entertainment
Will Rose Byrne Get Married And Turn Boyfriend/Partner Into A Husband After Welcoming Their First Baby?
You can get attracted or fall in love with a blink of an eye, but staying committed in a relationship is something different which is not as easy as falling in love. But when you are in a committed relationship, it appears as though you are sufficiently honored to appreciate each part of life.
Well, what might be more wonderful than getting hitched to your sweetheart?
Though that's the best boon you can get, some people prefer remaining unmarried even though they share a husband and wife relationship. Is this case similar with X-Men: Apocalypse actress Rose Byrne? Or is it something different? Let's dig in to find out!
Is Rose Byrne Married Secretly?
Whoever is following Rose Byrne, they must know that she is enjoying a very romantic love life. If you are one of Rose's fans, then you are aware of the guy who has managed to steal her heart.
The thirty-seven-years-old actress has been openly dating the Emmy Award-winning actor Bobby Cannavale since 2012. However, the pair hasn't revealed whether they are married or not.
Rose Byrne and Bobby Cannavale's relationship was first confirmed when Bobby referred to Rose as 'the love of my life' at the 2013 Emmy Awards during an acceptance speech.
No Activity actress, who has been enjoying a husband and wife relationship with her partner of five years Bobby, also got pregnant with his baby. The pair has a son named Rocco Cannavale, who was born on February 1, 2016.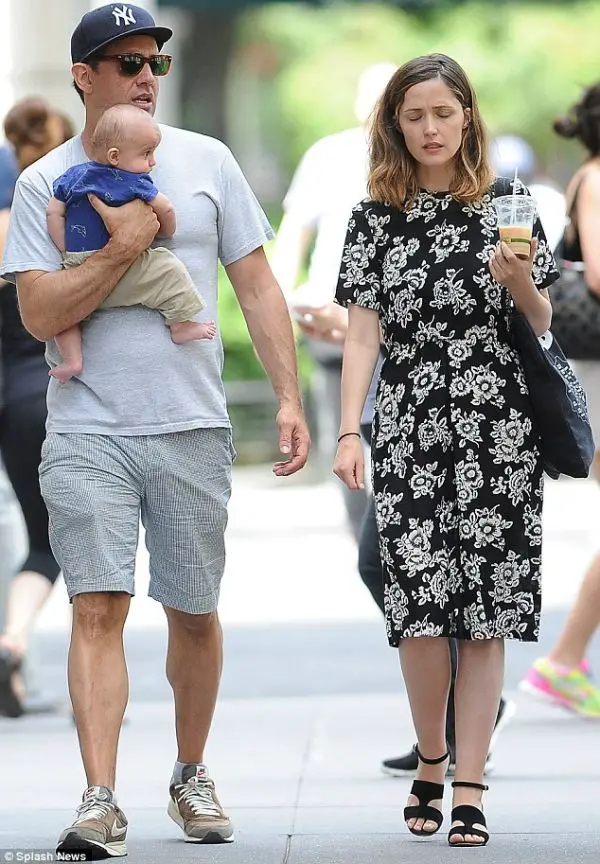 Caption: Rose Byrne with her long-time boyfriend Bobby Cannavale and their one-year-old son Rocco in New York on June 2016.
Photo Credit: Dailymail
The pair has been enjoying a very romantic relationship since a very long time. Almost eight months after (November 2016) the birth of their baby, Rose made an appearance on Today, where the presenters referred her long-term partner Bobby as her husband twice.
The actress got very uncomfortable during the interview when Lisa Wilkinson said-
"You told a great story about when you met your husband, you quickly discovered that one of his best mates was Jon Hamm."
Rose recounted the story without any delay and made no any efforts to correct Lisa. Rather correcting the co-host, she said-
"We weren't dating very long and he casually mentioned he was best friends with Jon. I played it very cool. Then I called my girlfriends: 'Ladies, he's friends with Jon Hamm. Shut the front door.'
Richard Wilkins too called Bobby as her husband, saying her 'ridiculously handsome husband' was in Australia with her.
Caption: Rose Byrne on Today where the presenters referred husband to her long-term partner Bobby twice.
Video Credit: Dailymail
A week later after the appearance in Today, Rose was spotted walking in Sydney, where she flaunted a diamond ring on her engagement finger.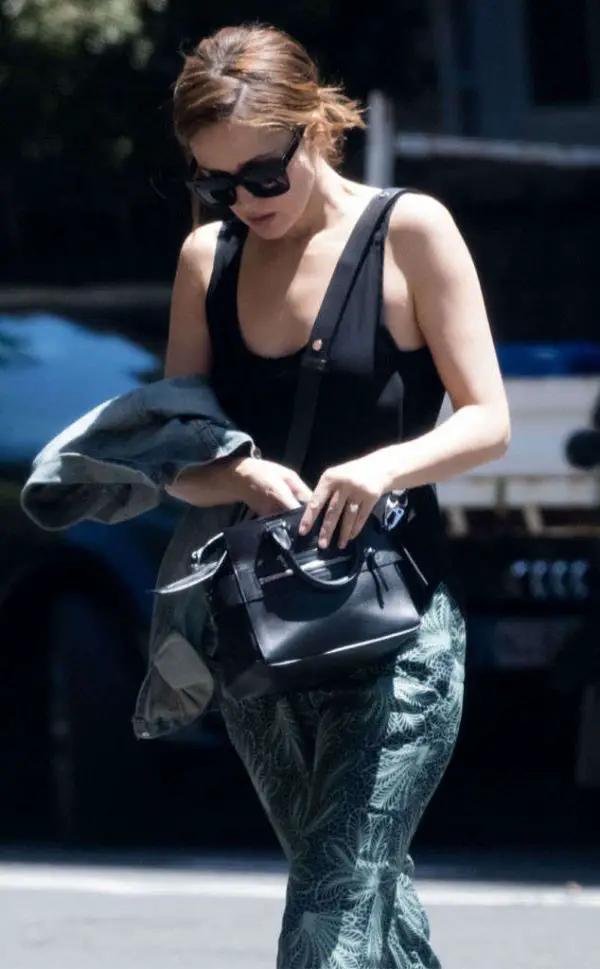 Caption: Rose Byrne pictured in Sydney with a diamond ring on her finger.
Photo Credit: E! News
The way Rose made no any effort in correcting the presenters in Today and the way she flaunted her ring, she hinted that she is married. However, neither of them has officially declared their wedding till this date.
If the pair is not yet married (even secretly), they might think of plans of getting hitched because they already share a one-year-old son.
Well, this will be first marriage to Rose and the second for Bobby, who has already been married once and has a twenty-year-old-son, Jack Cannavale with his ex-wife.
Stay with us for the emerging updates on Rose and Bobby!