Entertainment
A Strong Woman: Juliette Binoche Takes Lead On Raising Children While Expecting Nothing From Partner
The concept of Alpha woman is going viral in the modern societies of today. Previously women were considered to be dependent and timid, but now they are acknowledged as a multi-tasker and independent. Actress Juliette Binoche to possesses the title of "Alpha" woman who raised her children with nil expectation from her partner while at the same time took care of her acting profession considerate.
Without any further delay, we shall be talking about her shared relationship with her partner followed by her achievements till date.
Mother of two, How is The Relationship With Her Partner?
The " Dan in Real Life" actress Juliette Binoche though got blessed with son Raphael Halle and daughter Hana Magimel, she has never married her partner. Her daughter Raphael is from her scuba driver partner Andre Halle with whom he was in a relationship from 1991 to 1993 while Hana is the child of actor Benoit Magimel with whom she was in a relationship since the year 1999 after they met while filming "Children of the Century." The relationship is said to have lasted for approximately four years and ended in the year 2003, while no current dating reports of Andre and Benoit has got identified.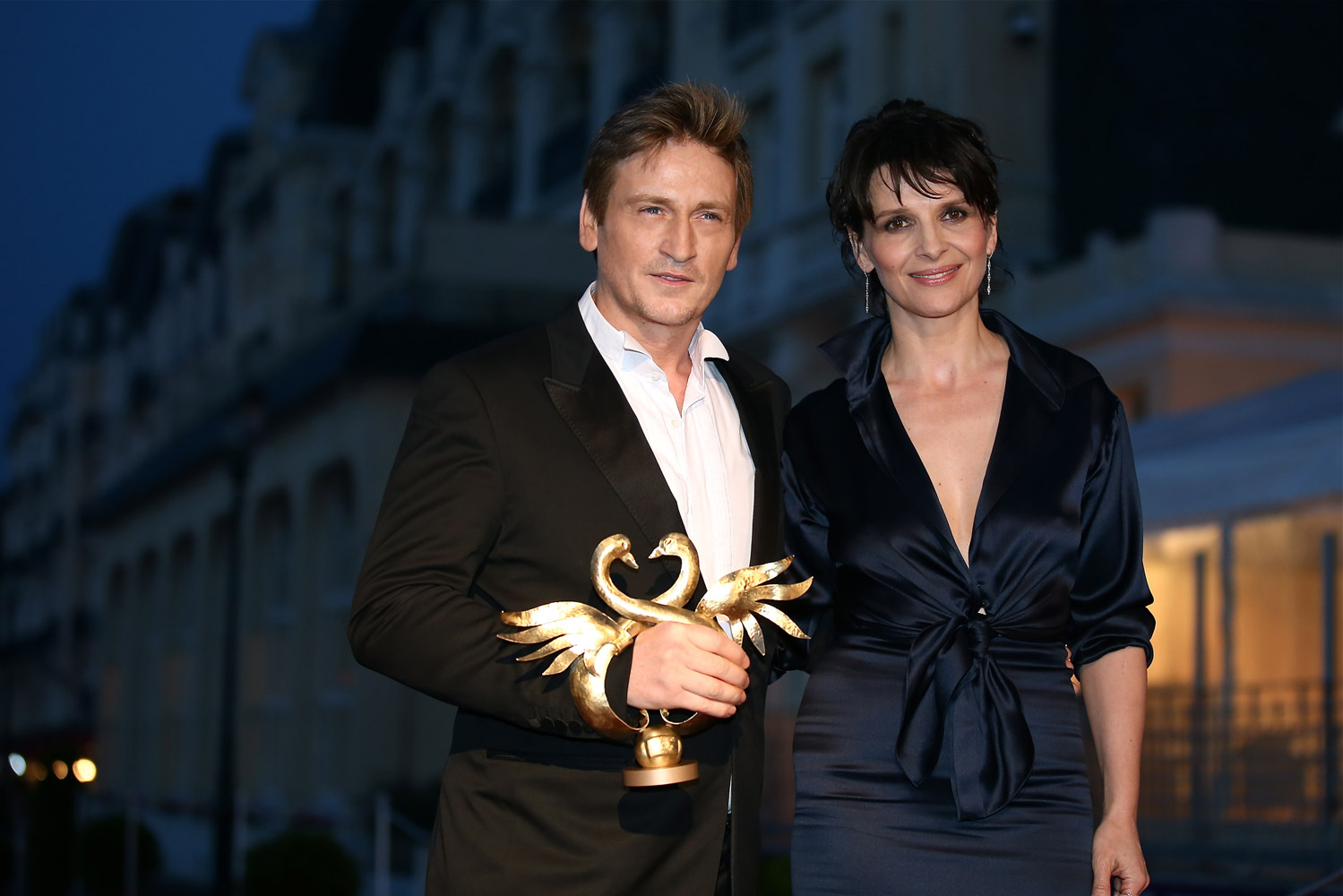 Caption: Benoit Magimel with Juliette Binoche at 29th Flim Festival du Film de Cabourg (2016).
Photo Credit: festival-cabourg.com
With no assistance from the children's father, Juliette raised her two children with her individual effort. On an interview with a source when asked about her juggling role of actor and mother she pointedly clarified about zero expectancies from the children's fathers, she said:
"Yes, and I think it is my responsibility because I wanted those babies. I have always organized things, and I am not expecting anything from those fathers. I don't think men are aware of how much it requires anyway. That is my experience, both as a mother and a daughter. What would her children say about their up bringing.They go through mixed feelings. Maybe in teenage years, they are more critical. But they feel my love, and we say 'I love you' very often."
At the same time, she also spoke about being the husband of her family and ongoing search for a devoted and risk-taking man. She said:
"As a woman, working, traveling away, taking risks, it is not so easy to live with. You have to have someone who is patient and understanding and happy to be at home. I'm like the husband of my family, and I haven't found a wife. But I don't want a wife; I want a man, someone who is as passionate and risk-taking as I am."
Though she has not shared any details of her children, she has frequently spoken about them in every given interview along with their likes and dislikes. She said:
"They teach me more than I teach them! That I can assure you! You learn to be a parent while they're growing I remember playing with my dolls all the time because I was genuinely drawn to that, to being a mother. But yet, when you're actually a real mother, with real children, it's another story. They are very passionate kids and they have activities that they cherish. And that's probably the best thing you can wish for a child, for him to have a passion so that no matter what happesn in their life, you know, of teenage time when it's the time of the love, the betrayal, the jealous, the hoping, all that when they have passion, they can always go back to their world and their personal roots somehow."
She further added,
"Because I get to do all the voices and it's very entertaining. And I have to say my daughter loves it too; she loves imitating and doing all the voices possible in the story. That's fun. It's wonderful because it's the end of the day and you're going to go into another world which is you know, the 'moon time,' the sleeping time. It's just the story before you get into the imagination, the lifting into the dreams, that when you tell a story, it's already a part of it. That's what I love about it."
Currently, the actress is single, but in the past, she got linked with several actors Olivier Martinez(1994-1997), Daniel Day-Lewis(1988) and Leos Carax (1987-1991). As said by the source, the actress mingled with the men mentioned above while they were working together, but there are chances for it to be a rumor as it might have started due to their shared on-screen chemistry which the gossipers took it seriously. She must have got attracted to these men while she was working but moved as she didn't find a risk-taking partner as she demanded. At present Olivier Martinez is reported to be dating a mysterious woman, Daniel Day got married to Rebecca Miller in 1996 and Leos Carax had married Yekaterina Golubeva till 2011.
Wide Achievements Followed By Wealth:
The French actress Juliette Binoche through her grace got an opportunity to work in several movies which further gave her an opportunity to win an Oscar award in 1997 as the best-supporting actress for the movie "The English Patient."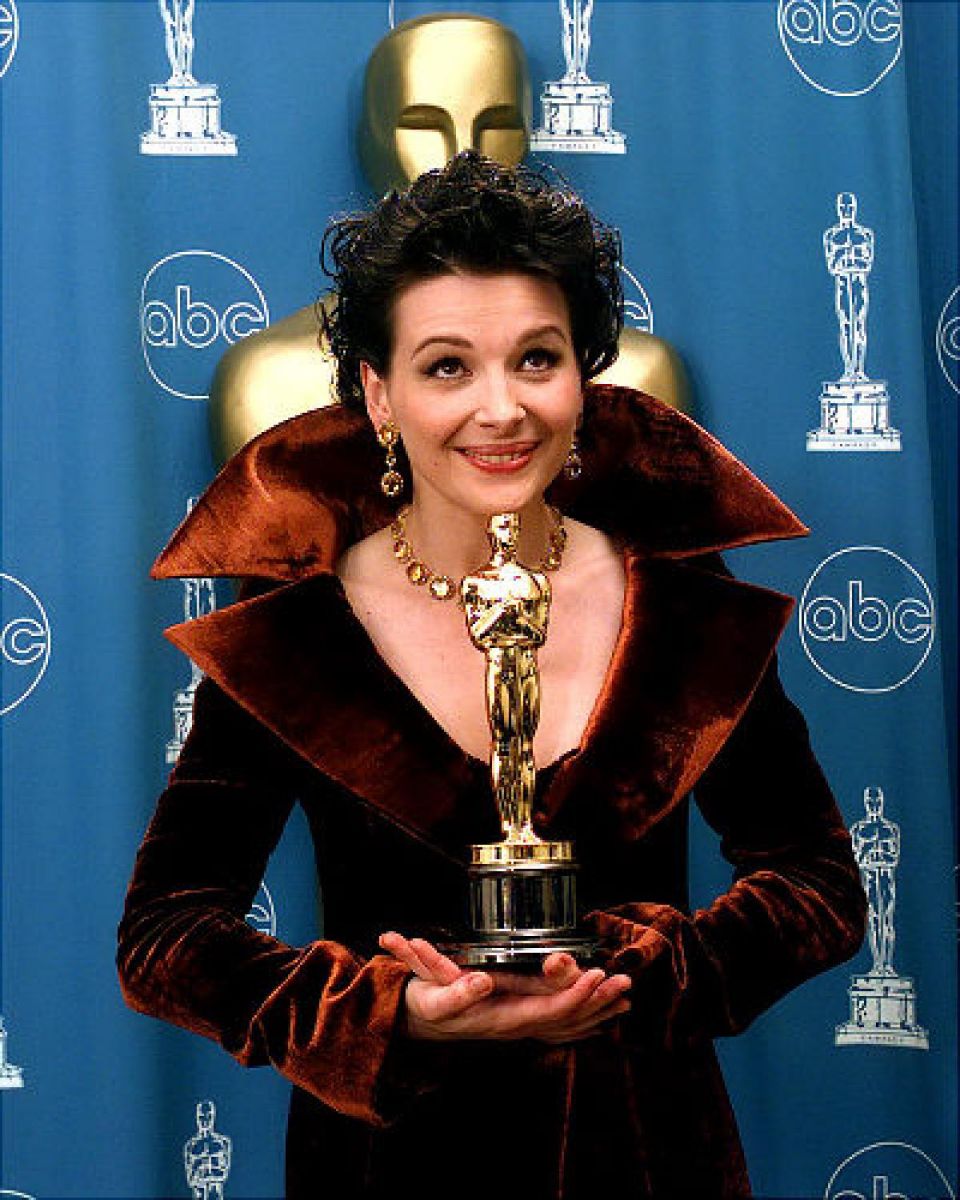 Caption: Posing with the Oscar award, Juliette Binoche for "The English Patient' (1997).
Photo Credit: nydailynews.com
Followingly she was awarded the Venice Award in 1993 as best actress and several European Film Awards in 1992,1997 and 2001.With so much of achievements. She has also got showered with the total wealth of $20 million which she might have earned through her movies and product endorsements.