Entertainment
A Wiki-Like Bio Of Iain Armitage! Including The Parents Who Raised This 'Big Little Lies' Star From A Young Age
'Name and Fame,' it's something almost everyone wants that in today's world. But to attain that, you have to put on extensive hard work and dedication, leading to polish up your creativity.
It is actually what Iain Armitage did in his life. At the very young age, this American theater critic has done incredible jobs in the entertainment industry.
With the cute face and excellent presentation in the HBO's "Big Little Lies," Iain Armitage has landed in the heart of many. We are sure you want to know more about him. Let's find out the facts of the child actor in our story today.
On the way to Heighten up a Career:
Starting the acting career from a theater, Iain Armitage has worked in televisions as well. The eight years old prodigy has a youtube channel where he reviews the Broadway shows called IainLovesTheatre, and that has more than 5k subscribers.
That is not only the most adorable thing that you will see today, but that is also the chief reason to which gave him his first contract from the talent manager Jamie Pillet.
Moreover, he made his TV debut in the HBO miniseries "Big Little Lies" where he portrayed the character of Ziggy Chapman. While he was working for the series, in an interview he was asked how he prepared himself for the role, to which he replied,
"I love playing. Things like Transformers. Movies is basically just playing, but bigger, and people watching."
Similarly, the young artist was asked, whether he liked stage or screen? To that, he smartly answered,
"You get so lost in it, you actually think it's a reality. And it's much better, in my opinion, than television or movies because they're actually right in front of you."
Iain Armitage also starred in "Law and Order SVU" season 18 where he played a little kid named Theo.
This little master has a long way to go, and it seems that we will be seeing him in several other TV shows for a longer period.
It seems 2017 is a real big year for this Georgia native. It is also announced that he will soon take on Jim Parsons' Sheldon Cooper in "The Big Bang Theory" prequel Iain.
The younger kid's next step to fame will be starring in The Glass Castle, a movie adaptation of the memoir of American journalist Jeannette Walls' alongside Brie Larson.
His Wiki-like Bio:
Iain Armitage was born to parents, actor Euan Morton and theater producer Lee Armitage on July 15, 2008. His father is a Tony-winning stage and screen actor.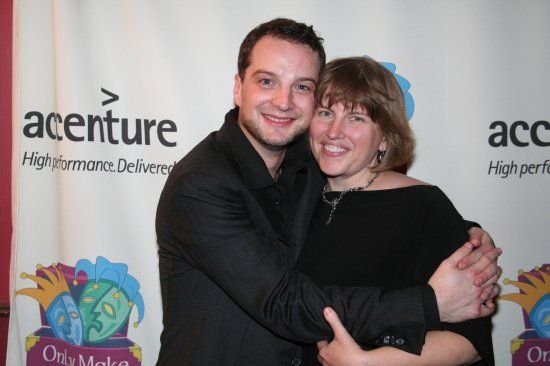 Caption: Parents of the young talent, actor Euan Morton, and mother, Lee Armitage.
Photo Credit: starsunfolded.com
Besides his acting career, he is a theater fanatic and gives the Broadway reviews in his YouTube channel IainLovesTheatre.
As of now, what we can say is this young prodigy is certainly going a long way, and we just like to wish him the height of success.