Entertainment
Aasif Mandvi Talks About Family And Religion But Why Not Girlfriends? No Intentions On Getting Married?
Being born in a Muslim family, one is often conjectured and mistaken, so he/she spends much of the time explaining and clearing the misconceptions that hover around them. And when you are in a foreign land like America, you find yourself explaining more about the religious and cultural practices than you usually have to.
Sharing a similar situation is a comedian and actor Aasif Mandvi, who shared his encounters where he spent more time explaining himself rather than indulging in his faith.
Aasif Mandvi's Will Remain Culturally A Muslim Forever:
Aasif Mandvi is American Indian who is a Muslim by religion, and in an interview, Aasif shared about his various encounters where he found himself explaining as if he had something to do with destruction. He stated,
"The implication that Islam was somehow like a Led Zeppelin album, with backwards satanic messages. Or that jihad had something to do with the destruction of America, even though Muhammad the prophet lived centuries before America was discovered and that would be like the mother of all preemptive strikes,"
"Now I have to talk about this rather than really important dialogue."
Further, Aasif recognized that his religion would always remain a big part of him. Moreover, he also acknowledged that he isn't the most devotee as Muslim, which he depicted in his book called "No Land's Man" which has a comical twist to religious issues and is hopeful that the book would aid in a better understanding of roots of Islam.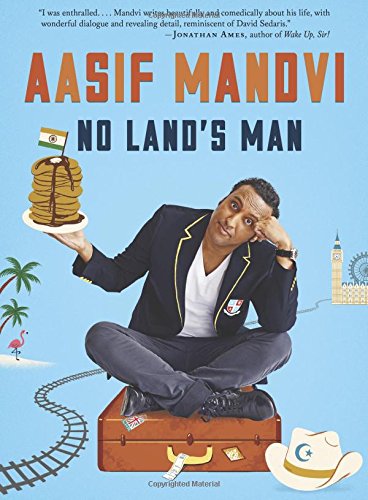 Caption: Aasif Mandvi's book titled No Land's Man launched on November 4, 2014.
Photo Credit: amazon.com
Stressing on the fact that religion is much more than just prayers he said,
"Religion is so much more than the god you pray to. The religion that you associate with, it's culture, it is family, it is background. That is something that I have always grown up with,"
Aasif accepted that he had spent more in bar than a mosque but will remain a Muslim forever, and he said,
"I say in the book: I spent more time in bars than mosques over the years, which continues to be true. But culturally, yes, I feel like I will always be culturally Muslim. That is just something that's in my DNA, I think."
In an interview in November 2014, Aasif shared about his family reaction on him having to talk about Islam and expressed that he knows Gospel by Mark better than sura of Quran and said,
"The idea that I had anything to do with speaking about Islam or about the Muslim world was just absurd to my family. ... I hadn't been to the mosque in like 10 years, I know the Gospel according to Mark better than I know any sura in the Quran."
Thoughts on Girlfriend And Marriage?
In an interview, Aasif revealed about unrealistic image of America with his girlfriend and friends and said,
"I thought my days were just going to be spent hanging out on a beach and my girlfriend was going to be Miss Teen USA and my best friend will be a dolphin,"
"So I had this completely unrealistic idea of what America was — but I wanted to be there."
Moreover, Aasif shared about his parents' idealistic opinion on marriage over West idea and said,
For my parents' generation, the idea was not that marriage was about some kind of idealized, romantic love; it was a partnership. It's about creating family; it's about creating offspring. Indian culture is essentially much more of a "we" culture. It's a communal culture where you do what's best for the community — you procreate.
And then in America and in the West you have this individualism, this idea of my own personal fulfillment. And there's this existential crisis in America and in the West of like, "Who am I?" based on this searching for individual fulfillment, which you don't necessarily have in the East in the same way, because you're kind of told what to do. ...
Furthermore, Aasif shared the irony as for his parents' a successful person is the one who is married with a wife and children and said,
It is ironic that it doesn't matter how successful I am in any other capacity, ultimately, my parents' marker is "Do you have a wife?" and "Do you have children?"
Although Aasif talked about a girlfriend, marriage, and a wife he did not share about his personal life and rumors of him dating a girl has not surfaced in the media. And he is likely to be mistaken as a gay, but it is also possible that he is romancing a girl secretly, which he is keeping out of the limelight.
Aasif Mandvi began his career with Walt Disney and gained popularity with his critically acclaimed performance in "Sakina's Restaurant" and his career moved forward with performances in "Nash Bridges","The Proposal", "Analyze This", "The Internship", "Spider-Man 2", "The Sopranos", "Margin Call", "Jericho", "The Dictator", "Music & Lyrics", and "Million Dollar Arm".
He has co-written web series "Halal In The Family" in 2015 and produced comedy series "The Brink" too. However he is famous as a correspondent on The Daily Show, ". With all hard work throughout the career, he has collected a net worth of $800 Thousand.