Entertainment
Abby Mcgrew Bio: Eli Manning's Wife Is Someone You Should Know About
It is not very often that one gets to hear about a freshman and junior's relationship ending up in a marriage.
In the world where the divorce rate is ever increasing, being able to witness an enduring love story is undoubtedly a treat.
The movie-like tale was materialised by NFL quarterback, Eli Manning, and his darling wife, Abby Mcgrew. Get to know more about the couple that makes us believe in love.
Abby McGrew's Bio:
Wife of the NFL quarterback, Eli Manning, Abby McGrew studied fashion in New York City. Both Abby and Eli went to University of Mississippi and met each other in the spring of 2003.
Abby was a freshman while Eli was in the junior year, and flowers weren't the only thing blossoming that spring—their love flourished, too.
After dating all through college, Eli was assured that he wanted to spend the rest of his life with Abby. Without further delaying what was meant to be, Eli designed an engagement ring at Alder's. Eli had the perfect proposal planned for Abby.
He was supposed to take her to Nashville to meet her family and pop the big question.
But he could not wait that long. Instead, on an ordinary Tuesday evening, when both Eli and Abby were sitting together, Eli kneeled down and asked his sweetheart to marry her. She said "Yes". Obviously!
As soon as their engagement news broke out in the media, anticipation about their wedding details started pouring in.
While everyone thought the couple might exchange their vows in Nashville, Abby's hometown, they were surprised when they chose to do it in Mexico instead.
The pair, along with 60 guests, flew to Mexico. They took their vows during sunset by the beach at One & Only Palmilla.
The bride did an absolute justice to the white strapless gown with gold embroidering, while the groom wore a khaki suit with a white button-up shirt. Take a look!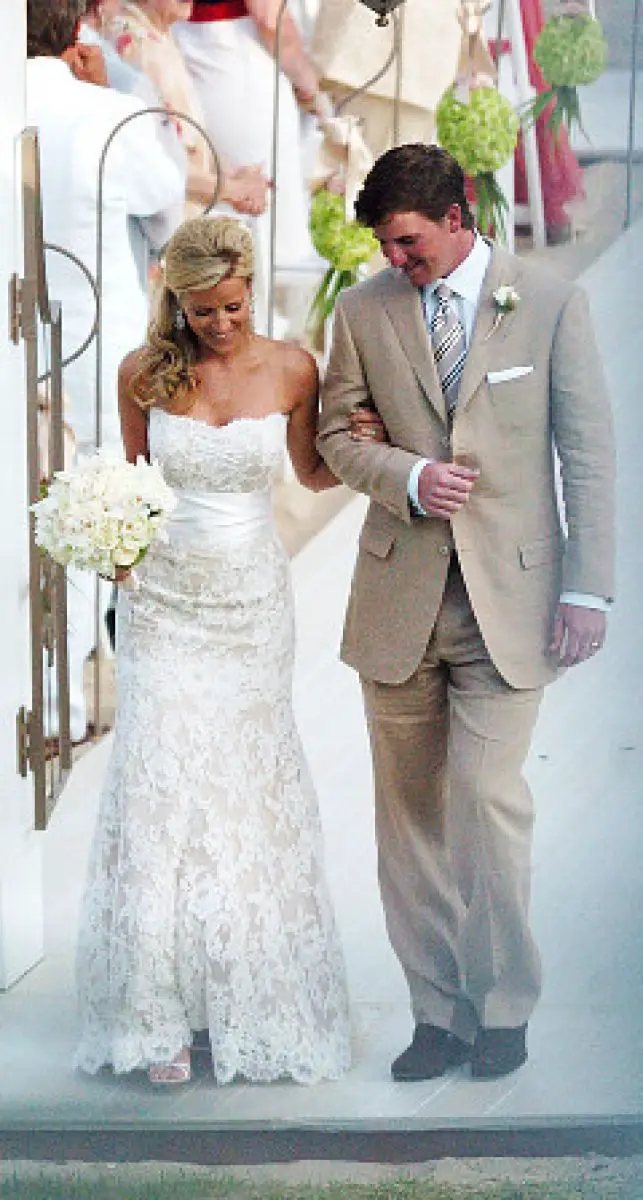 Caption: Eli and Abby look every bit beautiful as bride and groom.
Photo Credit: NY Daily News.
The ceremony lasted for 15 minutes, followed by a reception on the beach.
After the spectacular wedding, the duo welcomed their first child in 2011. Now, the couple is parents to three beautiful daughters: Ava, Lucy, and Caroline.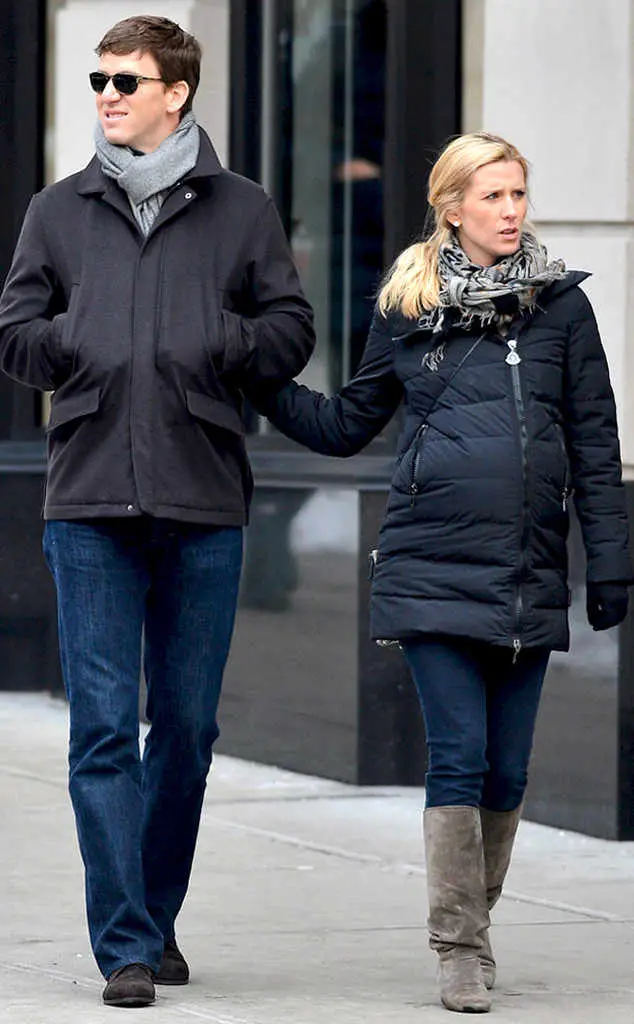 Caption: Pregnant Abby and Eli take a stroll around the city.
Photo Credit: Eonline.
The 6' 4" footballer, whose net worth is $25 million, spends most of his time with his family if he is not playing football for millions of viewers.
Like every father, he is very fond of his girls. When asked about his favourite moments with his daughters, Eli shared:
"When we have the whole family together, maybe bathtime when I have both kids in the bathtub and they start splashing each other and making each other laugh," the then father of two told the magazine. "That usually gives me my biggest smile—when I see both my girls interacting with each other."
Abby has been an incredible wife to Eli and has always supported him and his passion.
He did not only find his career at the University of Mississippi but also found the love of his life. Now they are blessed with three beautiful children. Now, that is one endearing story.