Entertainment
Actor Angus McLaren's Dating: Get to Know his Ex-Girlfriend Here
You might be familiar with the actor Angus McLaren who has been seen in many projects over the years. He has had a successful run on television but what about his personal life. Know about his dating history as well as if he is married now. Who is his present girlfriend and his former girlfriend?
His Girlfriend: Now and Then; Married?
Angus McLaren according to the present status is not seen with anyone, so it is safe to say that he is single. There have been no records of him being married as well. A look back into his dating history reveals only one relationship.
He was dating the actress, Indiana Evans in the past. They had met after working together on the same fictional drama "H2O: Just Add Water". The couple had been together since 2009, the same year Indiana had joined the cast of the television show. They dated for 3 years until 2012.
Caption: Angus and Indiana in the nickelodeon's takeover.
On-Screen Pair-up:
In Angus's career, one of his on-screen pair-up has been mostly loved. He was paired with Jessica McNamee in the comedy drama series, 'Packed to the Rafters' which was appreciated by many. Angus portrayed Nathan Rafter and Jessica portrayed his wife, Sammy. The couple separated in a rather unsatisfying turn of events in the third season, following Jessica's leave from the show.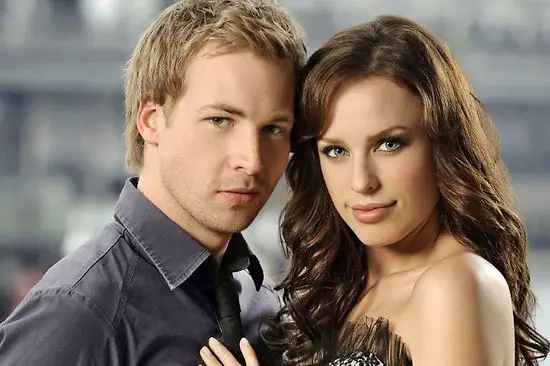 Caption: Angus McLaren with on-screen wife, Jesica McNamee
Sources: news.com.au
Angus McLaren's Short Bio:
Angus McLaren was born on 3rd November 1988 in Wonthaggi, Victoria, Australia. His parents are both Scottish, and he grew up on a dairy farm. His first experience of acting was performing on stage in local theater productions.
Angus McLaren has become quite successful as per his short time in the Television. Maybe this is the reason why he has a very splendid net worth of 2.5 million dollars. His salary is not known, but it must be pretty massive to result in such a huge net worth.
His most of his earning source is based on his acting career. He has done many projects but he is mostly famous for his recent works like "H2O: Just Add Water(2006-2010)", "All Saints(2008)" and "Packed to the Rafters(2008-2013)".
Besides being an actor he also is a drummer and bassist in the band, Rapids and Ballet Imperial.