Entertainment
Actor Corbin Bernsen Renovated House With His Actress Wife, Ready To Sell Already?
In the case of actors, they usually have a synchronization of thoughts; for example, we can look at Kai Owen, an actor who is happily married to fellow actress Sarah Annis. Similarly, actor Corbin Bernsen who happens to have a wife in a similar field of work is the famous man in the entertainment industry and has made tons of money from his work over the year works with his wife to expand it even further. The husband and wife renovated their house in accord and seem to have the 'on sale' label to it already. Let's know more details on this matter.
Corbin Bernsen and Wife Renovated House, Ready to Sell Already:
Corbin Bernsen has made his mark in Hollywood and is probably best known for his role as a divorce lawyer in TV show L.A. Law. Known to be a very busy buyer, Corbin, and his wife Amanda Pays have put their Hollywood house for sale.
The estate worth $1.4999 million dollars is a classic French design and reports say that Corbin and his actress wife Amanda Pays bought it last year for 950 thousand dollars.The sale was handled by Lauren Beale, a former hot property columnist.
His wife Amanda Pays, along with being an actress, also happens to be an interior designer with a lot of knowledge and ideas about houses.The couple has already acquired many significant properties in Toluca Lake, Hollywood Hills as well as in Sherman Oaks. Apart from that, they also take an interest in renovating houses and later, sell it for more, as a tweet here says so.
It is clear that the couple is not of the type to settle quietly in one place for a long time as many sources on their pages as well as in their Twitter mention that the couple buys and sells properties at leat twice a year or so.
As of October 2016, they have a "FOR SALE" sign in front of their house in Hollywood Hills, only after being the owner of the property for a year or more.
Now we know that Corbin has been able to congregate his net worth of $6 million. Apart from all that he earns from his acting career, Corbin's real estate business with his interior designer wife also contributes in making his net worth that huge.
Corbin Bernsen Married life:
Corbin Bernsen and Amanda Pays, who have also worked together on shows and movies like The Flash and The Santa Trap have been married happily for 28 years now. After meeting each other in June 1987, they dated briefly for a year, and they got married in November 1988. Here is a proof of their love towards each other, a message by Corbin to Amanda on their 25th marriage anniversary.
In their marriage of 28 years, Corbin and his wife Amanda have four young children to make their family complete and perfect.Their first child was a son, Oliver Miller (born 1989), followed by Twins Henry Pays and Angus Moore (born 1992) and then comes the young one, Finley Cooper (born 1998).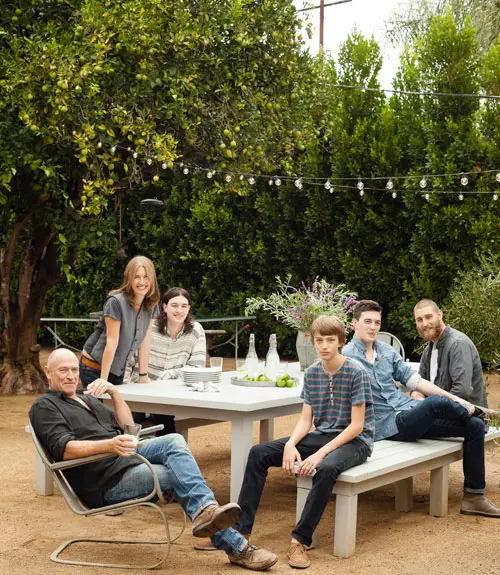 Caption: Corbin Bernsen with his wife and four sons
Photo Credit: countryliving.com
As for Corbin and his family, 2014 turned out to be not so great following the death of his actress mother. Jeanne Cooper, who was a terrific actress of her time and was known for playing many roles in different shows as well as movies. Corbin who was very close to his mother agreed that things have been tough after her death and there are many tweets to support this statement.
Recent and Upcoming Projects:
Currently, Corbin Bernsen is busy with many movies and TV-series. In 2016 and 2017, his fans can see Corbin in Jessica Frost (pre-production)-2017, Steele Justice (post-production)-2017, Distortion (completed)-2016, Larceny (completed)-2016, Dead Man Rising (completed)-2016, Boone: The Bounty Hunter- 2017, In-Lawfully Yours-2016, The Elvis Room (Short)- 2016, A Time to Dance (TV Movie)-2016, Prayer Never Fails-2016, Love's Complicated (TV Movie)-2016.