Entertainment
Actor Warwick Davis Talks About His Wife And Family Issues Regarding Height And Children!
Unlike other Hollywood stars, Warwick Davis doesn't have that appealing physical appearance because he was born with a rare genetic disorder SED- Spondyloepiphyseal dysplasia congenital that caused him to be a dwarf having height of 3'6"(1.07m). Despite the fact that he had to face this challenge, he struggled in life and established himself as a successful actor, screenwriter, business person, Voice actor, and a film producer.
So how did he pave his way in his life to come to this position? He has also got a family where all the members are living under dwarfism.He and his wife had to undergo a major tragedy of child loss before the functioning of his today's family. So, let's find out what Davis has to say about themselves.
A family man not wanting to change a single thing about his family:
Warwick is married to Samantha Davis on 1991. His wife also has the most common form of dwarfism. His wife and he now together have two children-son Harrison born on 2003 and daughter Annabel born on March 28, 1997.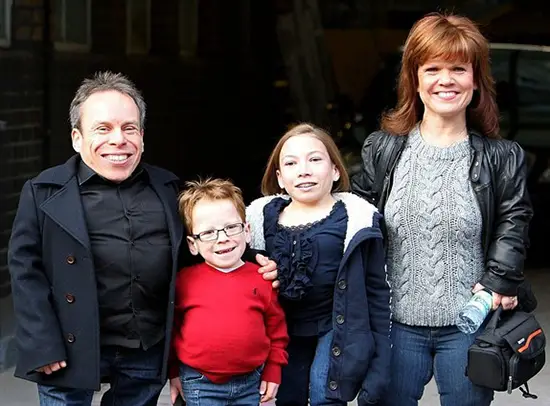 Caption: Warwick Davis with his wife Samantha Davis and children's outside the London studio on January 9, 2012.
Photo Credit: express.co.uk
The couple had to face their share of heartache while producing children and making this family like it is now today. Like other normal couples, the decision to have a baby was not an easy task for them because the genetic disorder that they both suffered from was likely to get transferred to their offspring which could be fatal.
In this way, they lost two children before Annabel and Harrison. In 1989, when Sam gave birth to the first child Lloyd, he inherited both of their genetic conditions because they had no idea of genetic risks they were taking and only lived for nine days. On a statement, he gave to express.co.uk back in 31st March 2012; he shared his feelings about losing his child, he said;
"His lungs were just too small to support him without the aid of a machine, so eventually we had to make a decision to switch off the life-support."
And they again had to lose their second child George in 19 weeks. He expresses this loss as-
"It kind of becomes a blur, all of the protective mechanisms kick in, and it is very hard to take in all of the emotions and everything that is happening,"
However, even after losing two babies they didn't give up and took the risk.Here is what he has to say;
"Despite knowing the risks, we decided to try to start a family again. We took years to recover from Lloyd, but I think you learn something about yourself and it makes you stronger. Both Annabel, now 14, and Harrison, nine, were born with SED. Annabel went straight to the special care unit on ventilation, and she was there for two months. As soon as Harrison was born, he went there too, and the doctors didn't give him very long at all. It was touch and go for at least a week. Then he found his strength. Today, they are both very robust."
he further added;
"Doctors are telling you one thing; you don't want to believe what they are saying, but it just comes down to the fact, in the end, that life has to take its course."
It's a miracle that his both children are surviving today. However, they both also suffer from achondroplasia, a form of dwarfism.All his family members are suffering from dwarfism but here is what he has to say about his family as he said;
"I wouldn't change a thing about my family. You see people desperate to stand out from the crowd. But for us, as a family, we are already individual. We have a unique perspective on the world and people, and I believe you've got to embrace that."
The Victim of A Bully?
Dwarfs or little people are often laughed at and teased upon.There are only a few people who understand their problem.So when asked if he was bullied he opened about his past on his statement he gave to The Guardian magazine on 31st March 2012, where he said;
" I wasn't bullied at school because my outward attitude was confident, and that helps. If you hold your head down and are slightly ashamed or embarrassed or shy, you become a target, but I never was shy."
Davis: Debut and Career Graph
Davis made his debut in 1983 in Star Wars: Episode 6-Return of the Jedi. He was only 11 years old then. This incident happened because of his grandmother as she was the one who heard a radio appeal for people under 4 feet tall to appear in the movie. That's when he auditioned for the film and got selected.
Thus he got to play Ewok. The film was a smash hit which attracted him other TV projects like The aEwok Adventure (1984) followed by Ewoks: The Battle for Endor(1985).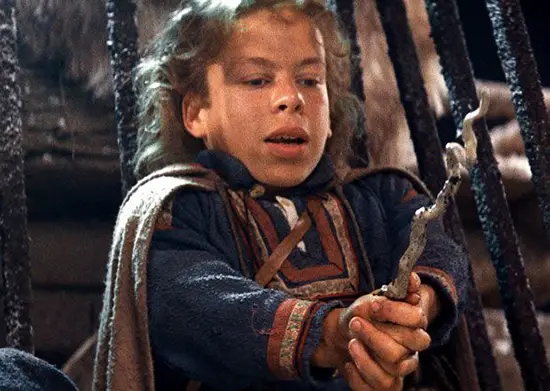 Caption: Davis on the set of Star Wars: Episode 6-Return of the Jedi (1983)
Photo Credit: maxim.com
His career is an impressive one. From this success in his career, he has made the net worth of $8 million. To name his other successful projects, movies like Willow, Prince Caspian And The Voyage of The Dawn Treader, Harry Potter have to be taken into account.
He is also the director of a temporary agency for real tiny actors called Willow Personal Management. The company is the biggest agency for short actors in the world.