Entertainment
Actress Adrienne Pickering: Got Onscreen Boyfriend, Dating Someone or Secretly Married?
Through TV series Rake, Adrienne Pickering has managed to grasp breath of millions of male fans by dating her on-screen boyfriend, however, in real life has she been successful dating or secretly married. Let's pull out the secret of this beauty queen and treat her followers with a good piece of info.
How has the on-screen story worked? Boyfriend?
In the year 2010, Adrienne Pickering got an opportunity to work in the famous TV series "Rake" for the role of Melissa "Missy" Partridge.In the screen, the lady is seen romancing her co- actors Kegan Joyce (Greene) and Matt Day (Potter).Similarly, in the same year the actress was seen romancing her co-star Gyton Grantley in the movie "The Reef." Although she has been seen romantically involved in the movies and series, but in real life, she has been completely outcasted by the idea of romance as she seems to have no intention of being romantically involved with her on-screen partner.
Caption: Adrienne Pickering in middle with her co-stars of Rake(2016)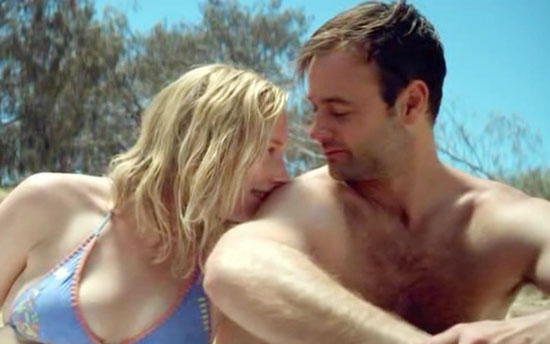 Caption: Adrienne Pickering in the movie The Reef (2010) [poto in irrelevant place]
Source: lidocinemas.com.au
Is she Single? Dating or Secretly Married?
Even though the actress has been dating Matt Day and Kegan Joyce in the series "Rake" but in reality, the actress seems to be well confined about her personal life.
Though the actress posts several pictures of her and her co-stars on her Instagram, in reality, none of her dating rumors are heard while some source claims her to be single. As no information or interview is available, we really can't assume whether she is married or has a boyfriend or husband or children.
Short Bio of Adrienne Pickering:
Adrienne Pickering was born on 22nd February 1981 in Queensland Australia. She graduated from Queensland University majoring in drama and psychology and drama in the year 2003. She also undertook drama training from the Queensland University of Technology.
In the year 2005, she portrayed Elly Tate on the drama Headland. In the year 2004, she got a break in her television career where she was given an opportunity to play the role of Sophia Beaumont in the series All Saints. After that she played in various series of television like Out of Blue (2008), Sea Patrol (2009), Secret and Lies (2014), Neighbours (2014-2015) and The Doctor Black Mysteries (2015).
The Australian beauty has appeared in many movies like Candy (2006), Shutter (2008), The Reef (2010) and The Safe (2011). Currently, she is working in the series Rake( season 4, 2016).