Entertainment
Actress Jacqueline Obradors: Is She Still Married to Her Actor Husband? What About Kids? Divorced?
We are interested in watching movies and series. One thing that attracts to these films and series is the actors that have great appeal look wise or personality wise. Jacqueline Obradors is one of such actress who just pulls you with her attractiveness. Learn more about her family life.
We know a lot about Jacqueline Obradors professional career very well as she has a very successful acting history. But for now, let's learn about her family life. Who is she married to and Does she have any kids? Learn all that there is on the actress.
Her Married Life, Husband and Divorce!
Jacqueline Obradors is someone who has completely kept her life away from media. Apart from not breaking out personal news, she is also not active in any social media sites like Twitter, Instagram or Facebook. This made our job even harder. Although sites like 'Whodateswho' point out that she had no publicly announced relationships, her bio and other sites suggest that she was married to actor Juan Garcia.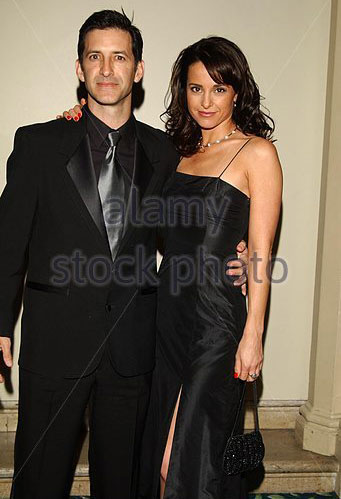 Caption: Jaqueline Obradors with husband, Juan Garcia at the Impressive Latino Talent NHMC IMPACT Awards in 2002
Source: alamy.com
Juan Garcia is known mostly for involvement in movies like 'The Net,(1995) 'Bounce'(2000) and 'El Mariachi.'(1992) Other than that there is not much information about Juan or her relationship with him. Due to this, there have been divorce rumors coming up, but since there is no evidence of the couple's divorce, we cannot say for sure.
Her Career:
She has undertaken a lot of important projects in the past, but she is mostly known for her role in movies 'Six Days Seven Nights' in 1998, 'Tortilla Soup' in 2001 and 'A Man Apart' in 2003. Her television roles include 'NYPD Blue,' from 2001 to 2005'; '.L.A. doctors' in 1998 and 'Fredd.' from 2005 to 2006 She has also guest starred in many series like in the 'Death Goes Double Platinum' episode of 'Murder She Wrote.'
Caption: Jacqueline Obradors performing exotic dance from movie 'Six Days Seven Nights' in 2007
Jacqueline Obrador's Short Bio:
Jacqueline Danell Obradors was born on October 6, 1966, in San Fernando Valley, California, US. She was born to parents that were Argentine immigrant parents. Before she became an actress she had the job of a cashier at Hughes Market in Canoga Park, California.
Being an actress, she must have an astonishing net worth. Her net worth is still under review in most of the trustable sources, but 'networthtomb' explains her net worth to be approximately 6 million dollars. She is presently busy starring on two TV series, 'Lopez' from the TV Land network and 'Clarence' since 2015.