Entertainment
Beautiful Actress Nadia Bjorlin's Blissful Married Life With Her Husband And New-Born Baby!
Nadia Bjorlin as we speak is over the moon. She had a fabulous wedding, and yes, she got pregnant and welcomed her first baby into this world. If you do not know much about the life of this 36 years old American actress, then it's time you know it all.
Her Dating Life, and Engagement?
Nadia Bjorlin got engaged to her longtime boyfriend Grant Turnbull, an entrepreneur on August 2014, while they were enjoying their vacation in Ireland. The overwhelmed and excited soon-to-be bride took the news to her Facebook.
Caption: Nadia announced her engagement.
The couple later got married in an outdoor ceremony at a private residence in Palm Spring on May 15, 2015. As expected in a wedding of an actress, the ceremony was packed with top-notch celebrities. Nadia shared this precious moment of hers with her fans through her Instagram account.
Caption: Nadia Bjorlin with husband Grant Turnbull on their wedding day.
She also explained that her husband Grant was the bride in their wedding as he was the one who chose everything except for her bridal dress. She said,
"He picked the cake, the color and everything, so it will be a surprise to me. He does have spectacular taste if I says so myself. He was the bride in all of this! He said, 'I'll help you pick the wedding dress. "No", I said," that's where I draw the line."
Soon enough after the wedding, about six months later, Nadia broke the news about expecting their first baby due May of 2016. Later it was revealed that the husband and wife were expecting a baby boy.
In April 2016, a Cinco de Mayo-themed baby shower was hosted by Nadia's best friend, Dilson Schild, @thebrazilianjob, sister, Kamilla Bjorlin and a friend, Camryn Kruger at Schild's home in West Hollywood. The soon-to-be-mom of a baby boy was showered with loads of gifts from her family and friends.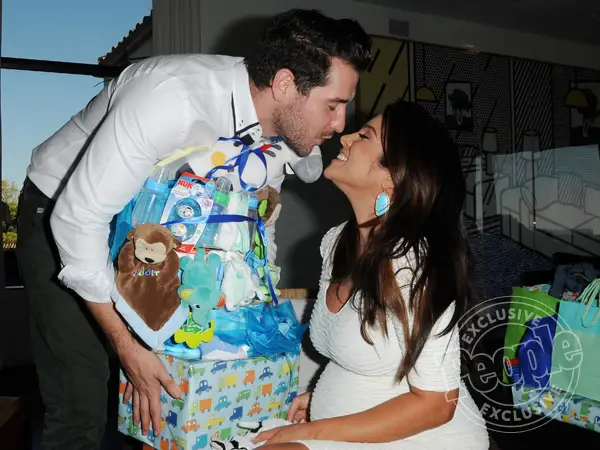 Caption: Nadja Borlin on showered with gifts on the baby shower with husband.
Source: people.com
On May 4, 2016, the 'Days of Our Lives' actress welcomed her baby boy with husband. The couple named the boy Torin Mathias Turnbull and took the picture to her Instagram three days later and shared her moment with her fans and loved ones.
Caption: Nadia Bjorlin with husband and newborn baby boy Torin Mathias Turnbull.
She expressed her joy as a mother and said,
"I never knew I could feel this level of love. My heart could almost burst!"
She continued with People.com, "You quickly forget 26 hours of labor when looking into his beautiful little face. We're beyond ecstatic; happy life has really just begun."
Baby Torin, who was crying in his first Instagram picture is all about laughing and giving cutest pose with his mother, and we can see the handsomeness of his father Grant in him as well with those sparkly eyes of his mother.
Caption: Nadia Bjorlin with her baby boy Torin during playtime.
Lesbian Rumors!
The once rumored to be lesbian plainly faded the rumors of her being a lesbian in an interview in 2010 as she explained that it was only her new role that was lesbian and not her and she also confirmed that she never experienced having lesbian feelings in real life.
Caption: Nadia Bjorlin on Lesbian Experiences
As years passed by, her engagement and marriage with her then-boyfriend ultimately put all those rumors down in the drains.
The new mom Nadia Bjorlin is obviously taking a break from her work to take care of her baby boy; however, she has a drama called "This is Now" in post-production due 2016, which means we will be seeing her on our TV screens soon enough.