Entertainment
Astonishing! Beautiful Actress Uzo Aduba Invites Her Prom Date On SAG Awards Red Carpet!
Everyone have a special place in every relation that they possess in their life. Love and friendship are few but important thing that binds every relation. To find a real friend in the lifetime is a fortune and to keep that friendship for the lifetime is a blessing. On this particular thing, Award winning actor Uzo Aduba is very much blessed.
For her outstanding performance in a series 'Orange Is The New Black' she collected an award on SAG award 2016. Despite the fact that she has a boyfriend, this American actress brought her kindergarten friend Mark as a date on SAG award and shared her story behind her date.
Story behind her Red Carpet Date:
We have a story about 35-years-old skilled actress Aduba's long-term friendship. While being in the high school, undoubtedly 'prom' had been the most awaited function, so far. And when we are in the entertainment industry 'awards show' are the most awaited one.
On a very special award show Screen Actors Guild Awards held on January 30, 2016, Aduba invited her friend from kindergarten as her date for the evening. Aduba in her statement said;
"He asked me to prom, I said yes. I asked him to SAGs, he said yes."
Aduba accepted Mark's proposal for being his date back in high school and was the payback time for Mark, and he agreed to the proposal of Aduba for being a date on SAGs.
Aduba made her appearance on the red carpet of SAG with an adorable shining green dress. She collected a couple of awards that night. First, her Second straight SAG Award for her role as 'crazy eyes' on Netflix hit show "Orange Is The New Black" and second, her show also collected the award for outstanding ensemble in a comedy series. And How can we forget her inspiring speech?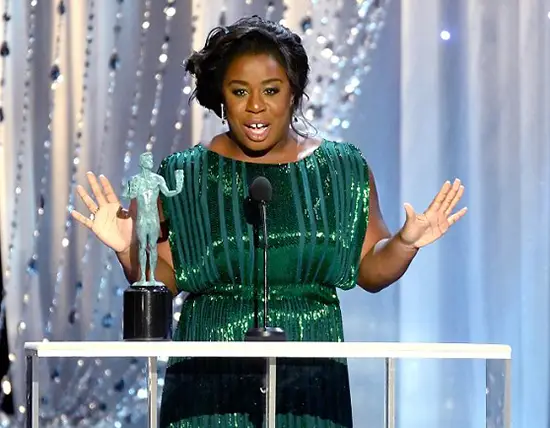 Caption: Inspiring speech by Aduba on SAG. Looking great on that green shining dress ( January 30, 2016).
Source: Gettyimage.com
After collecting the award, composing the calm gesture on stage, she started her speech thanking the show's creator Jenji Kohan.
Then she continued,
"I would like to take an opportunity to acknowledge the actors who are at home,not here in this room with us, but hoping to one day be in this room with us to continue to keep trying,to keep plugging,to keep working no matter if anybody tells you to get out of that line you're waiting – stay in line, you have the chance, it is yours."
Isn't it very sweet and inspiring one? I bet you agree on that.
That speech of hers must have made her best friend quite proud at the very moment.
Aduba has repeatedly shared her picture with Mark sometimes describing their friendship "priceless" and sometimes celebrating the occasions. She has given equal priority to friendship as she gives that to her other relation.
Caption: Aduba celebrated friendship with her kindergarten friend Mark.
Talking about her relation with her boyfriend, she is dating an American actor, Leslie Odom. She is maintaining her relationship with Leslie Odom since 2013. She already has celebrated two years of dating with him.
Every year, lots of celebrities come out openly revealing about their sexuality. But looking at their profile, there has been no controversies of both of the stars being gay, so far.
Is Odom's her soon to be the husband? Well, we are quite unfamiliar with that topic, but they might get married soon.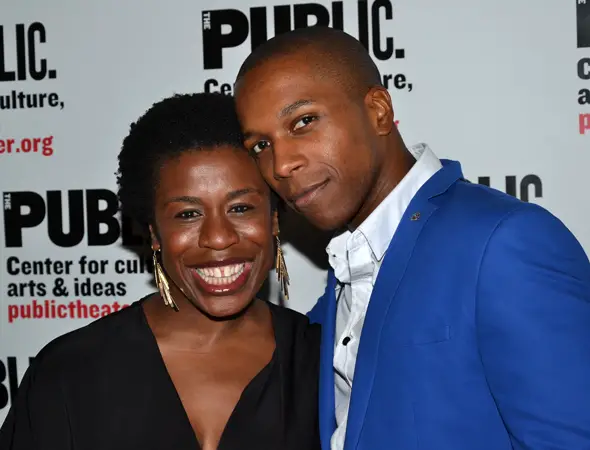 Caption: Aduba with her boyfriend, Odom (2016).
Source: taddlr.com
In an interview, while making an appearance on a talk show of Ellen DeGeneres on December 15, 2015, she talked about how her role as 'crazy eyes' became an actual break for her career. She told Ellen, how she was going to quit her acting career.
Caption: Uzo Aduba shared her before 'crazy eyes' life (December 15, 2015).
Yes, you heard it Aduba who had collected multiple awards for her character as 'crazy eyes' thought of quitting her acting career before she got the role. After working in various shows, her work has contributed in making her net worth of $1 million.
Whichever relation that Aduba has on her life, she has given importance to each and every of them. We can say this because after having a good relationship with Odom, she brought her prom date to the red carpet.