Entertainment
Adriano Zumbo And His Girlfriend Nelly Riggio Are Fighting For Their Love Affair! Indication Of A Possible Married Future?
Finding love is a complicated process, and when you stumble upon your love, the feeling of loves empowers and gives strength. Being a celebrity, you have to witness judgment and protect your relationship from the people who are against the relationship. And while a couple together fights for their relationship, they get to explore the strength of their relationship.
Sharing a similar story is, the couple of celebrated pastry chef Adriano Zumbo and an aspiring chef Nelly Riggio, they are fighting and standing together against the constant judgment over their relationship. But for what cause? Well, scroll down and see for yourself.
Fighting For Their Love Affair
Pastry Chef Adriano Zumbo offered Nelly Riggio a job in the research and development department of his patisserie in 2016. And reportedly Adriano Zumbo is dating her girlfriend Nelly Riggio since 2016, and Nelly Riggio confirmed their relation as well.
As love cannot remain hidden for long, Nelly shared a picture with her love Adriano via Instagram on January 2, 2017, where Adriano is lifting her up in his arms amidst the coconut trees during their holidays in Maldives.
With this Instagram post captioned "positive vibe," Nelly attracted comments on why she left her boyfriend JB Huillet and other personal attacks from the followers as Nelly is yet to give her statement regarding her split with her former boyfriend JP Huillet. She reportedly branded "fake," and she snapped the commented "get a life."
'Fame can do weird things to ppl. Maybe she's just fake fake fake... Did you see that clip of her drinking a shoty then swearing like a sailor -b**** is FAKE!!!! (sic)'
Nelly snapped and wrote,
'Firstly, I'm not famous. Secondly, damn girl get a life.'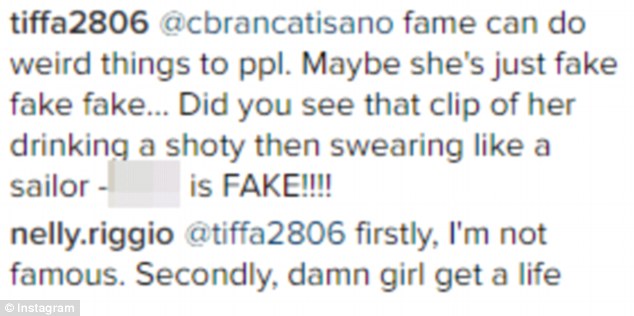 Caption: Nelly Riggio comment as she defends her relationship against haters.
Photo Credit: Daily Mail
Moreover, Nelly reportedly received defense from adverse comments by other followers, from a fan as,
Nelly has moved on and you're asking about her past, clearly she moved away for work and they eventually split - it's called life, if everyone's happy - what does it matter..?'
And in reply, Nelly said,
'You're on the money with one.'
Caption: Nelly Riggio as she discovers a fan in the crowd of haters.
Photo Credit: Daily Mail
Adriano and Nelly continued to receive personal attacks and were criticized once again for their age gap. But Adriano and Nelly hit back to their critics that suggested that Adriano was too old for her.
Nelly posted a picture on Instagram on January 9, 2017, where the totally smitten couple were kissing each other. One of the followers commented that to be "horrible" and stressed, as Adriano was 20 years senior to Nelly.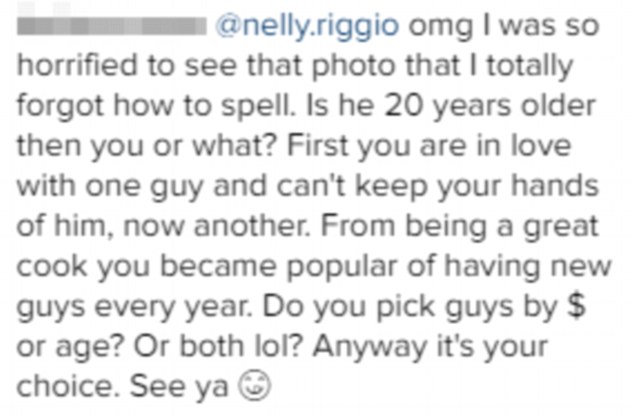 Caption: Nelly Riggio comments as she takes a stand for her relationship.
Photo Credit: Daily Mail
Nelly and Adriano fought back, and Nelly confessed that Adriano is 35 and she is nine years junior to him as she is 26.
since when is my relationship any of your business. I'm 26 he's 35 but you're acting like a 2 year old.'I'd love to randomly interrupt your life and judge your relationship. The guy you have must be lucky to have such a kind hearted woman like you'.
Moreover, Adriano also defended their relationship with the hashtag '#whocaresaboutageanyway.'
'Bahahaha @darianorman well I'm 35 Nelly is definitely not 15,'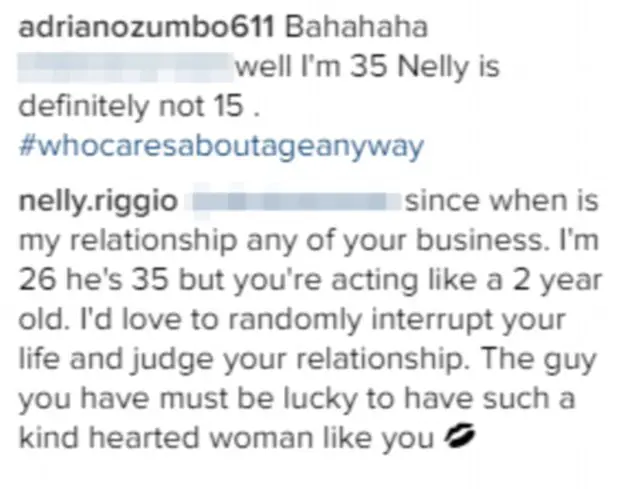 Caption: Adriano Zumbo and Nelly Riggio together fights for their relationship.
Photo Credit: Daily Mail
On January 25, 2017, Adriano reportedly took another holiday trip with girlfriend Nelly to Mambucca, and Adriano posted a picture with Nelly on a flight via Instagram on along with hashtags "Australia Day" and "Aus Day." The pair is deemed to enjoy the holiday at Nambucca Heads located in Northern NSW.
Adriano is totally smitten and is in love with his woman, casually dressed Nelly as he used hashtags "Happy" and "Hottie."
Adriano Zumbo is blamed of ripping off his staff underpaying them as reported on May 2, 2017.
With holiday trip, the lovely couple Adriano and Nelly are spending quality time with each other, and through their comment on their Instagram post, they are fighting and defending each other, which suggest that they may even announce their marriage date soon. But Adriano can also surprise everyone by directly getting married to Nelly making her, a wedded wife who knows!