Entertainment
Alexa Davalos Talks On Giving Kids A Consistent Life After Getting Married; Has A Boyfriend Now To Do So?
For the gorgeous actress Alexa Davalos who portrays the character of Juliana Crain in The Man in the High Castle, life has been full of a hectic routine. She has somehow managed to portray all her characters with ease despite such a unmanageably busy schedule. But does she have a boyfriend to attend or a family to look? Or is she blessed with a loving husband? Let's take a peek in Alexa's life to find out!
Single or is in a Romantic Affair?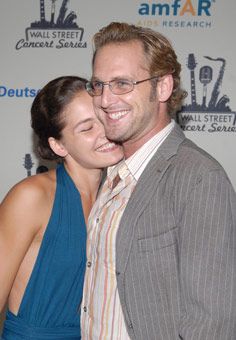 Caption: Alexa Davalos and Josh Lucas dated back from 2006 to 2008.
Photo credit: whosdatedwho.com
Thirty-four years old beautiful actress Alexa Davalos, who was previously known for dating Josh Lucas from 2006 to 2008 hasn't talked about her relationship status openly. She neither has been spotted with her new love interest or boyfriend till this date.
Likewise, there are no any rumors about her new romance. Since she ended her affair with Josh Lucas, her love life has always been behind the curtains. Is she single? Or is she maintaining privacy in her love life? Well, the answer to this question is still a mystery.
Even though Alexa hasn't revealed her relationship status, she has some plans regarding her children. When Alexa attended The Late Show with Stephen Colbert earlier this year, she revealed that she wants to give her kids a consistent life after she gets married.
As the only child of Elyssa Davalos and Jeff Dunas, Alexa spent most of her childhood in France, Italy, Los Angeles, and New York but she wants her kids to attend one house and one school.
Caption: Alexa Davalos at "The Late Show with Stephen Colbert" on January 2017.
Even if Alexa Davalos is single now, it does not mean that she is a lonely lady. She has a busy career and colleagues around to give her all the required company. Active in the film industry since 2002, Alexa Davalos has a number of film credits to her name. She began her career by appearing in Coastlines in 2002.
In the same year, she appeared in a short film named The Ghost of F. Scott Fitzgerald and television series Undeclared. She also appeared in Angel from 2002-2003. Later, she was able to grab attention by appearing in Reunion from the year 2005 to 2006.
More of her acting credits are Feast of Love (2007), The Mist (2007), Raines (2007), Defiance (2008), Clash of the Titans (2010), Mob City and The Man In The High Castle (2015-present). Her career has been a good companion for her which might have helped her to give her all the required company.
However, we would love to see this gorgeous lady tying the knot with her prince charming and giving their kids a consistent life!
Stay with us for the latest updates on Alexa Davalos!