Entertainment
Allegedly Gay David Anders, Had a Girlfriend in 2013: Who's He Dating Now?
Even though the stage actor David Anders have been alleged to be gay, some news of him having a girlfriend in the year 2013 took over the headlines. Yes, today we shall be unlocking the actual story of David Anders focusing on his relationship status, sexual orientation, and his past dating experience.
Is he really Gay? Or is it just the Rumor?
No, the stage actor is not gay. Even though people love to spread the rumors of celebrities' sexuality and sexual orientation the actor is completely straight. However, the actor has shown keen concern for the rights and respects of gay people via his twitter account.
Did he really Date in the year 2013?
Note: the twitter link has been removed, therefore the tweet is only available in wet paints and I have posted it as a quote
The actor was linked with his co-actor Nina Dobrev from The Vampire Dairies. As posted by Wetpaint on 6th May 2013, the couples were spotted quite often in various public places. The tweet made by the actor on his twitter added further speculation to the rumored fling.However, he has cleared the rumor of Nina by stating her as a close friend.
"Was just out with m'girl @ninadobrev & new friend and ND's castmate @wayansjr in ATL. We laughed very little."

"Guy can't go out with his friend @ninadobrev without incident?? C'mon Hollywood. You're better than this,"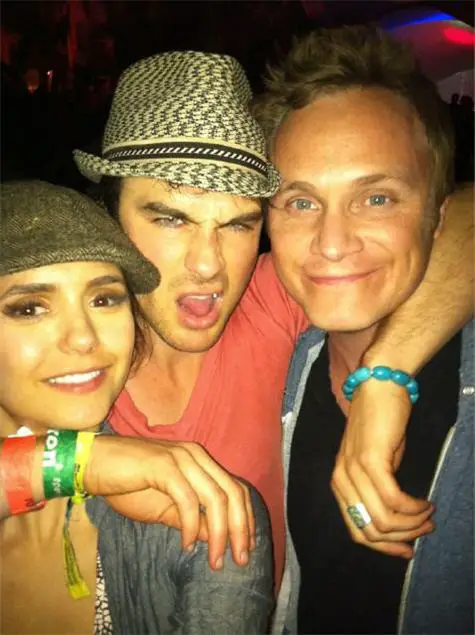 Caption: David Anders with Nina Dobrev hangs out at Coachella (2011)
Source: wetpaint.com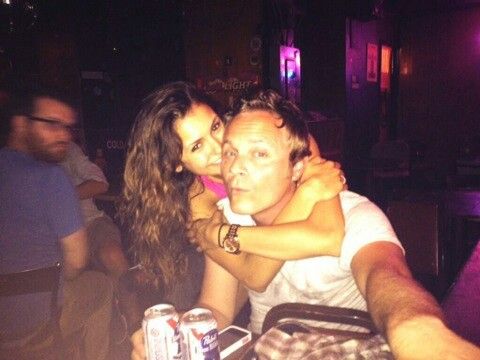 Caption: Nina Dobrev with her rumored beau David Anders(2013)
Source: pininterst.com
Followingly, the actor also grabbed the media attention when he was linked with his co-star Mia Maestro from Heroes. Even though both the actors were seen spending their time together, the actor dismissed the rumors by stating her to be a good friend.
Although the actor did not disclose anything about his relationship with the mystery women he has given few hints in his social networking sites:
As a show of solidarity to my girlfriend who is getting her hair straightened today...I'm gonna get my pubes straightened.

— David Anders (@QuestionAnders) February 1, 2013
Current Relationship Status: Girlfriend and Dating!
The actor has not stated anything about his relationship status, nor has he shared anything about his marriage life or his dating life. The media caught the attention of his life when some source revealed about the actor dating a mysterious lady whose name has not been revealed till date.
The actor was spotted with this lady around Tiffany's in Hollywood shopping. Whereas the close friends of David are expecting the duo to tie the knot soon.
Well, this news might break the heart of his fan followers while on the other hand his well-wishers may be delighted. However, we shall update if the actor ties knot with his mysterious lady and reveal the identity of the lady.
Short Bio Of David Anders:
David Anders was born on11th March 1981 in Grants Pass,Oregon,USA.He completed his graduation from Grants Pass High School. He has an estimated net worth of $5 million.
Anders is best known for his appearances as Julian Sark on Alias(2002-2006), as Adam Monroe on Heroes(2007-2010), as John Gilbert in the TV series The Vampire Diaries(2010-2014), and as Victor Frankenstein/Dr. Whale on ABC's Once Upon A Time(2011).
The star has also worked in various movies and short films like The Source(2002), Left In Darkness(2006),The Maiden and The Princess(2011) and Neighbours(2012).Currently, he is working iZombie (2015-present) as Blaine "DeBeers" McDonough.