Entertainment
Allegedly Gay, Shayne Ward's Girlfriend? Plus His Splendid Net Worth
Many male celebs are often termed as gay if their female partners are not revealed to the media. Here, we are discussing if all rumors of being gay about Shayne Ward, the winner of the second series of The X Factor, is real or not and if it is not real, then we may head towards finding his girlfriend. (If he has one)
Are the Gay Rumors True?
So, when it comes to rumors, we are not the one to decide if they are true or not. We just do a minor work of searching if the actor has come clear about it or he has admitted the rumors. In Shayne Ward's case, we are glad to say that he has come clear about the rumors and yes, he cleared that he is not a gay. It would have been such a shame for all the girls to lose this smoking hot guy.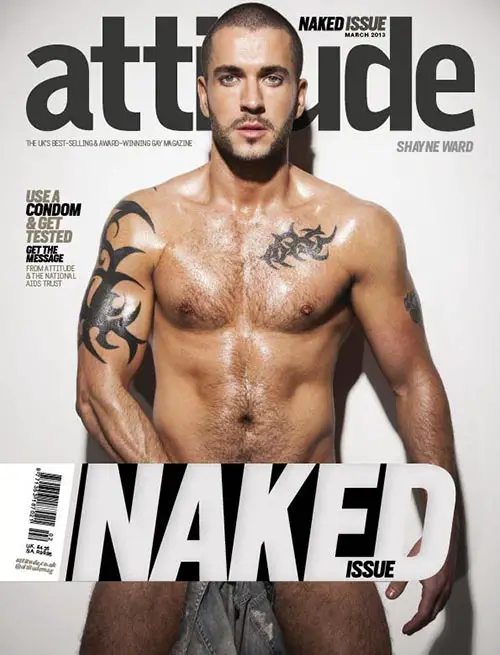 Caption: Shayne Ward strips naked for Attitude Magazine cover in March 2013.
Source: blogspot.com
In an interview with Attitude Magazine, Shayne said that he get called gay all the time, and it doesn't bother him because he is very thick skinned. He explains,
"I get called gay all the time. Normally, from a jealous boyfriend of a girl who's a fan or a group of guys in a pub shouting at me because I'm a pop-star."
He further explained the nature of those who call him gay,
"It doesn't bother me. I am very thick skinned and can handle situations very well. Plus half of the idiots shouting abuse are probably hiding in the closet and fancy me as well."
He was also sure that even if he was a gay as per the rumors, his family would be all right with it.
"I've always known I was straight thanks to my brother's collection of magazines. I love boobs . If I were gay my family are amazing and wouldn't shut out anyone. They'd never have a problem if any of my family said they were gay. Only welcoming arms full of love!"
Well, knowing that Shayne is not a gay was a relief, wasn't it? And the way he came clear about the rumors was even more interesting and impressive. Now that we know he is not a gay, let's head towards finding if he has a girlfriend or not.
Girlfriend, Dating or Secretly Married to his Wife?
According to what we heard a couple of months ago, Shayne started dating his long time friend and ex-wife of Graeme Rooney, Sophie Austin who is famously known for her role in Hollyoaks.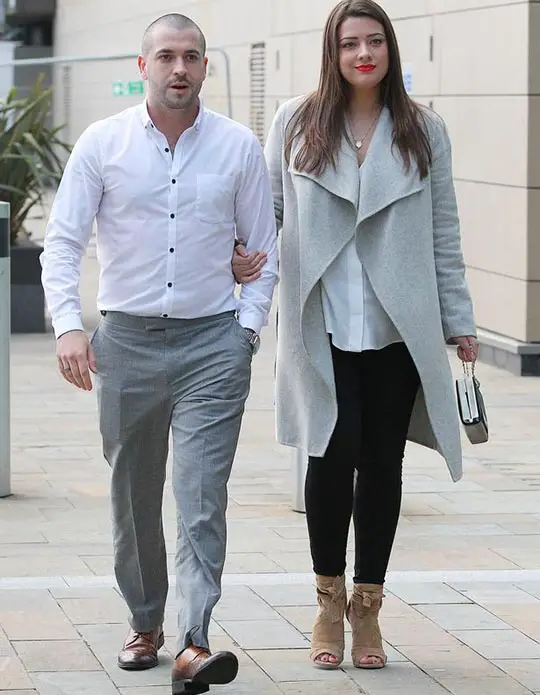 Caption: Shayne Ward and girlfriend Sophie Austin at co-star Paula Lane's leaving party. (2016)
Source: mirror.co.uk
According to a source, the couple started dating in this March shortly after Sophie separated with her husband. The source proclaims that Sophie and Shayne are frequently sighted these days.
Sophie Austin said to mirror.co.uk,
"We've been best friends for so many years and I will always care for him dearly."
However, another source proclaims that the couple split just about a week after their dating as girlfriend and boyfriend news fired up in the media. Is this because the couple wanted to keep their relationship low profiled or did she just wanted to take a break before getting into another relationship.
Shayne Ward's Net Worth:
Like every other celebrity, Shayne also has many sources of income which eventually accumulates as his net worth. Looking for years, Shayne Ward has been earning $190,779(2011-2012), $235,294(2012-2013 ), $306,905(2013-2014), $352,941(2014-2015) and $405,88(Expected 2015-2016), which shows he has been accumulating a lot of wealth.
Currently, Shayne Ward has a staggering net worth of $3 million dollars. Factors like an advertisement, featuring in shows, sponsorships and albums earnings which including Closer, Obsession, Breathless, "Summer of '69" undoubtedly contributes to making that gigantic net worth.
Shayne Ward's Short Bio:
Born on October 16, 1984, in Greater Manchester, England, Shayne Ward currently ages 31 years-old. His fame took its leap right after he was selected in the second series of The X Factor (2005). Surviving through every round, Shayne made it to the finals and eventually won the competition with a 1.2% margin in the vote.
Right after his triumph, Shayne signed a recording contract with Syco Music with whom he produced his first single, 'That's My Goal' which held the top spot for four weeks and was the 2005 Christmas number one single winning him an Ivor Novello Award for being the Best Selling Single.
In 2015, Shayne signed a one-year contract with ITV to appear in Coronation Street as Aidan Connor and is currently working on it.