Entertainment
Amy Sedaris Creates Her Own Reality; Married Or Dating?
American actress Amy Sedaris is known as a writer and an actor for the 2011's movie Puss in Boots. Her role as Jerri Blank in the Comedy Central television series Strangers with Candy also helped Amy garner more fans and followers who show thier concern in her personal life.
If you are also a fan and are eager to know more about Amy's life behind the camera; join us as we shed light on Amys love-life!
Amy Sedaris's Personal Life
Amy, who also happens to be a comedian and a writer, prefers privacy in her life behind the camera. Further, no news of her dating or having an affair with anyone has ever surfaced out in the media. The only social media Amy uses- Instagram, also doesn't hint anything about her love-filled life, either.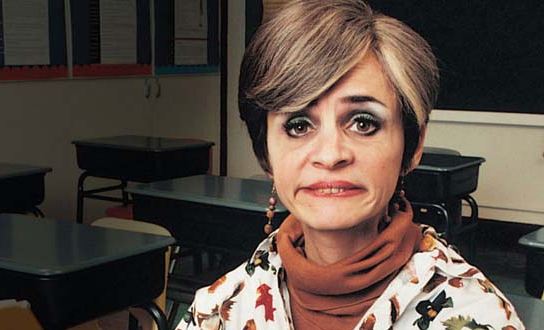 Amy Sedaris as Jerri Blank on the set of Strangers with Candy (Photo: esquire.com)
Though Amy has not spoken much of her real-life affair, back in 2004, she said that she has an imaginary boyfriend named Ricky with whom she has a 12 years long relationship. Describing her love life with imaginary boyfriend during an interview with the UTNE in 2004, Amy said that they were in a long-distance relationship.
But soon when Amy appeared on the 'Late Show' in 2006, she revealed that her imaginary boyfriend got murdered while the duo was on their way to a hospital for "a cyst on one of his obliques." After three years, Amy again appeared on the 'Late Show' and disclosed that the ring she had been wearing was a gift from her husband named Glenn. It seems that Amy was joking indeed!
Moreover, while talking about her comedy show, At Home with Amy Sedaris during an interview with the TIME on October 2017, Amy revealed that she doesn't want to portray the role of a married woman onscreen because of her unmarried status in real life. Amy said,
Even at Second City, people wanted to do a scene in a bridal shop or on a date. I was like, what? I just don't like that kinda stuff. I don't want to have a husband! Why do I have to have a husband? Maybe it's because I'm not married. I just wanted it to be about me.
Well, Amy seems to be single and probably is enjoying her life while acting in the TV serials like 'Adventure Time' and 'Divorce' as of now. Previously she had written and hosted her show, At Home with Amy Sedaris where Amy uses her homemaking skills to mash up hospitality, variety, and talk-show formats.
Moreover, Amy has also authored multiple books including 'The Can-Do Town That Just May Not, I Like You: Hospitality Under the Influence,' and 'Simple Times: Crafts for Poor People.' With her involvement in the entertainment industry, she has accumulated an estimated net worth of $12 million.