Entertainment
Amy Yasbeck Dating With Lawyer Boyfriend: Finds Love Again After Ex-Husband's Death
Being a mortal human, death is inevitable. Even our beloved ones, with whom we thought of going all the way, might fall prey to this unpredictability. While some lag behind mourning such loss till their time arrives, others put their bitter past behind and move on to discover the love and life partner in another being.
Similarly, an American film and television actress, Amy Yasbeck, who is a widow of her ex-husband John Ritter, has found her love again.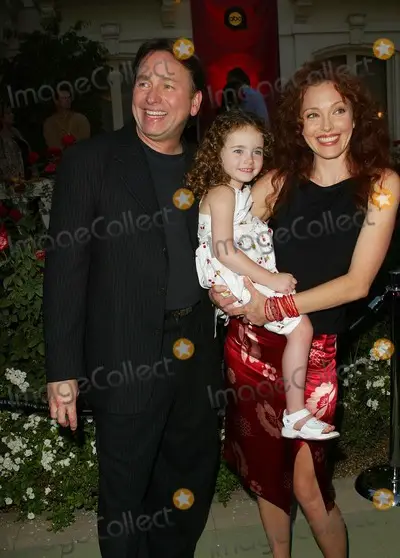 Caption: Star Party at the Tournament House in Pasadena CA John Ritter with Wife Amy Yasbeck and Daughter Stella Ritter
Source: imagecollect.com
Marriage and Death of Husband:
An American film and television actress, Amy Yasbeck got married to John Ritter at the Murphy Theatre on September 18, 1999. The couple met during the filming of the 1996 Dennis Dugan Movie 'Problem Child' and fell in love with each other then.
Apparently, John tried to make Yasbeck eat bagel and cheese because he thought she was too thin and even admitted that she was too young to play his wife in the movie as she was 14 years younger than John.
John Ritter had three children from his previous relationship, named Jason, Carley, and Tyer. Her relationship with John was quite blessed itself. The couple already had their daughter Stella Dorothy at the time of their marriage.
Caption: John Ritter's widow speaks about the death of her husband.
Ritter died at age 54 due to an undiagnosed congenital heart defect on the day of his daughter's fifth birthday. Such a rough way to go. Ritter at that time was working on the hit sitcom '8 Simple Rules for Dating My Teenage Daughter.'
The Huffington Post article dated 06/06/2012 had mentioned about how Yasbeck discussed her late husband's legacy and how she's handled being a single mom as,
"Initially, as everybody knows who's ever lost a loved one, you're absolutely paralyzed. And I think the thing that gets you back into life and back into being yourself is creating and finding a community where you are accepted and you can be yourself and play."
Amy was quoted talking about the trauma she suffered due to loss of the late husband, John Ritter.
"I have a, you know, a John Ritter-shaped hole in my heart. Nobody can replace that." -Amy Yasbeck
Although she had to bear the loss of her loving husband, she did manage to find the solace in her daughter.
@JRFromtheHeart if you ever wondered why The John Ritter Foundation's color is purple- today you know why.

— Amy Yasbeck (@AmyYasbeck4real) April 21, 2016
Moving on:
Now Yasbeck is dating her new boyfriend-lawyer Michael Plonsker.
Considering how Plonsker helped Yasbeck and her daughter to have a secure future regarding finance, love was sure to be ignited. Being a part of a legal team, Plonsker filed a suit, according to the documents of the court, to assure Ritter's family was compensated more than $14 million.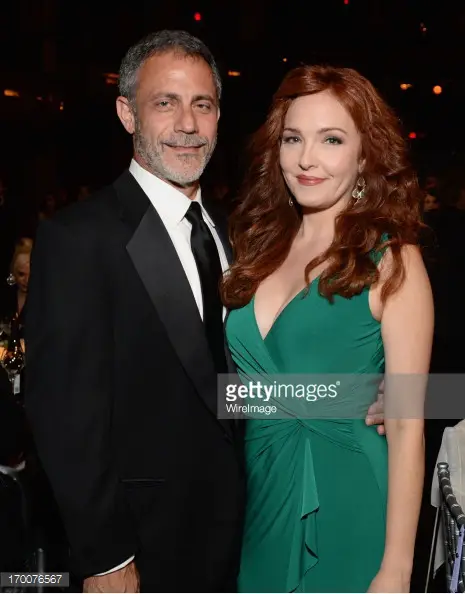 Caption: Amy Yasbeck, backstage at AFI Lifetime Achievement Award Honoring Mel Brooks at Dolby Theatre on June 6, 2013 in Hollywood, California
Source: gettyimages.com
Following the success of the legal process, Michael Plonsker and Yaasbeck felt deeply in love with each other. Initially, they started sharing their emotions, and their relationship evolved eventually according to the. National Enquirer. A source close to the actress revealed:
"Amy and Michael were thrown together by the unbearable circumstances of their court case. She was still grieving for John and would frequently break down in tears. It was extremely hard on her, and Michael provided Amy a shoulder to cry on. Over time, they grew closer and eventually fell in love"
The Wrongful Lawsuit over John Ritter's death:
The 2008 Lawsuit over John Ritter's death filed by his family was speculated by many as a case of 'wrongful accused.' Amy and her four children filed the lawsuit against doctors and Hospitals/Medical Centers who handled Ritter's health cases, including Providence St. Joseph Medical Center where John Ritter passed away.
According to sources, the family sought over $67 million in charges, of which $14 Million was paid in settlements to the family.
After the sitcom actor had died of an undetected aortic dissection, the widow sued the physicians and hospital for inattentive care and demanded a public accounting of her husband's case stating,
"You can't treat my kid's dad for something and kill him in the process/ I think the money will show how angry the jury will be about what happened to John and what could happen to them."
However, it was revealed that John and his family had actually not ordered for an X-Ray which would've shown Ritter's enlarged aorta, perhaps even leading to timely surgery and eventually, survival of the actor. But, considering the time to be of the essence, Ritter and his family ordered a catheterization for Ritter to remove possible blockages, rather than request more tests.
On March 18, 2008, the jury spits in 9-3 favor of the doctors, ending the case in $14 million in settlements towards the family.
Amy Yasbeck's Short Bio:
An American film and television actress Amy Yasbeck was born on September 12, 1962, at Blue Ash, Ohio and has recently turned 54 years old. She studied theater at the University of Detroit and also released her book, "With Love AND Laughter John Ritter".
She had guest starred in various television shows and co-starred in films such as House II: The Second Story, Pretty Woman, Problem Child, Problem Child 2, The Mask, Robin Hood: Men in Tights and Dracula: Dead and Loving It. She owns the net worth of $5 million. She could recently be seen in an episode of a famous television series called 'Pretty Little Liars' as Claudia.