Entertainment
Andy Milonakis Reveals Not Gay! Deceiving Age & Surprising Dating Status
Andy Milonakis first captured public imagination with his song; Superbowl Is Gay and later made into our households through his show Andy Milonakis Show via MTV.
The comedian is also in the buzz because of his amusing twitter feed with countless jokes about wife and girlfriend. However, his personal life outside the Twitter has been veiled.
And whats more, the secret behind his young looks and his real age has always been a source of gossip to many.
Andy Milonakis Dating?
Weirdly funny Andy Milonakis is famed for his quirky and hilarious videos on YouTube, which are not similar to conventional comedy videos.
The comedian not only posts quirky comedy videos on his YouTube channel, but he also boasts a very funny Twitter feed.
And the feed is full of mentions regarding wives and girlfriends, with anecdotes about him cheating on her girlfriend. Similarly, there are desperate tweets about getting a Canadian wife to get a permanent Canadian residency if he falls in love with the Toronto city.
Then there is a rap battle with rapper Lil Phag where he claims that 'But I'm Not A Gay' would be his punchline about Lil Phag being an openly gay and him being straight.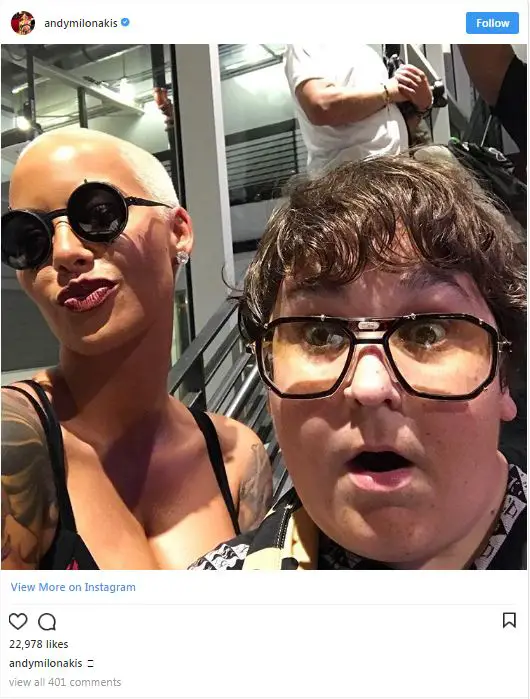 Andy Milonakis with singer Rita Ora in 2017 (Photo: Andy Milonakis' Instagram)
And the chubby comedian shared about the facet of his life that had remained hidden for a long time. He introduced his girlfriend Dolores in May 2017, setting the questions about his sexuality straight, he was not gay. However, the announcement came with a twist, the comedian's girlfriend was a full-sized sex doll.
Not only did the comedian announce Dolores as his girlfriend, but he also committed to sharing screen space with her in all his upcoming YouTube videos. The comedian was further captured getting Dolores a bath in a tub full of Orbeez.
Despite sharing numerous stories about wife and girlfriend, the dryly humorous comedian is still single and probably waiting for his perfect partner. And the thing holding him back could be his young and boyish appearance with everyone being deceived of him being a minor.
Frightening Number Behind Boyish Looks
Andy Milonakis first rose to fame when his song Super Bowl Is Gay went viral and made rounds of the internet before the advent of YouTube in 2003.
The song shared in a website Angry Naked Pat made him an overnight superstar and even comedian Jimmy Kimmel was impressed with a kid singing freely that 'everything was gay including water,' with a banjo in hand.
Andy Milonakis' viral video Super Bowl Is Gay (Video: YouTube.com)
Jimmy Kimmel tracked down the viral singing sensation and was astounded to find out that the singer, who looked to be in his teens in the video, was 26 years of age. And he also found out that the kid was suffering from a congenital growth hormone deficiency that made him look in his teens despite being much older than that.
Jimmy found Andy a job in his show, Jimmy Kimmel Live as a correspondent, and by 2005, he had his show, The Andy Milonakis Show on MTV. However, the show was canceled in 2007, and after the show Andy made a bit of foray into singing, cooking shows and also appeared on the Kroll Show.
But with the advent of Youtube, Andy, now aged 42, is back into the genre that made him famous, 'Comedy.'
With no traces of beard in his face and is still making people laugh with his natural hilarity, he still looks the same as he did in 2003