Entertainment
Angela Yee Still Has No Thoughts On Getting Married? Has A Past Filled With Alleged Dating Affairs
The personal life of a public figure is usually fascinating, but their glamorous life is not always what it appears to be. Perhaps, being a celebrity will automatically grab plenty of attention, as a result of which their personal life does not remain private at all. Even if a public figure intends to maintain privacy in their personal life, various rumors about their personal life and alleged dating affairs hit the internet.
The gorgeous Angela Yee, who hosts The Breakfast Club along with Charlamagne Tha God and DJ Envy, has also been a victim of such rumors due to her very private personal life.
But does she have any plans of getting married after a past filled with a couple of alleged dating affairs? Let's take a peek at the mysterious personal life of Angela to find out!
Angela Yee's Alleged Dating Affairs.
As Angela remains secretive about her personal life, various rumors swirled, linking her with some popular names.
Back in March 2015, Angela was reportedly dating rapper Plies. According to MediaTakeOut.com-
"How can we be so sure?? Well his show in Charlotte she was there … Dream Night Club Miami her bday weekend he was Host – and they were there together! He officially refer her to Angela as his sister – but it's more than obvious!!!"
Two months later, in June, MediaTakeOut confirmed their relationship by saying that Plies has shared a sexy picture of his bae on Instagram. During that time, many people were curious about the relationship that they shared, but neither Angela nor her rumored boyfriend Plies confirmed their romance.
Again in December 2016, Gucci Man was rumored to be Angela's former love interest after Gucci man claimed that he had a history with Angela during The Breakfast Club Interview.
During the interview, Charlamagne asked Gucci if he had his pistol with him that time. Responding to which, the mixed ethnicity host, Angela revealed that she wasn't afraid of Gucci. However Gucci had something else to say, he claimed 'she was terrified.'
Meanwhile, in the interview, Gucci also revealed the history between them.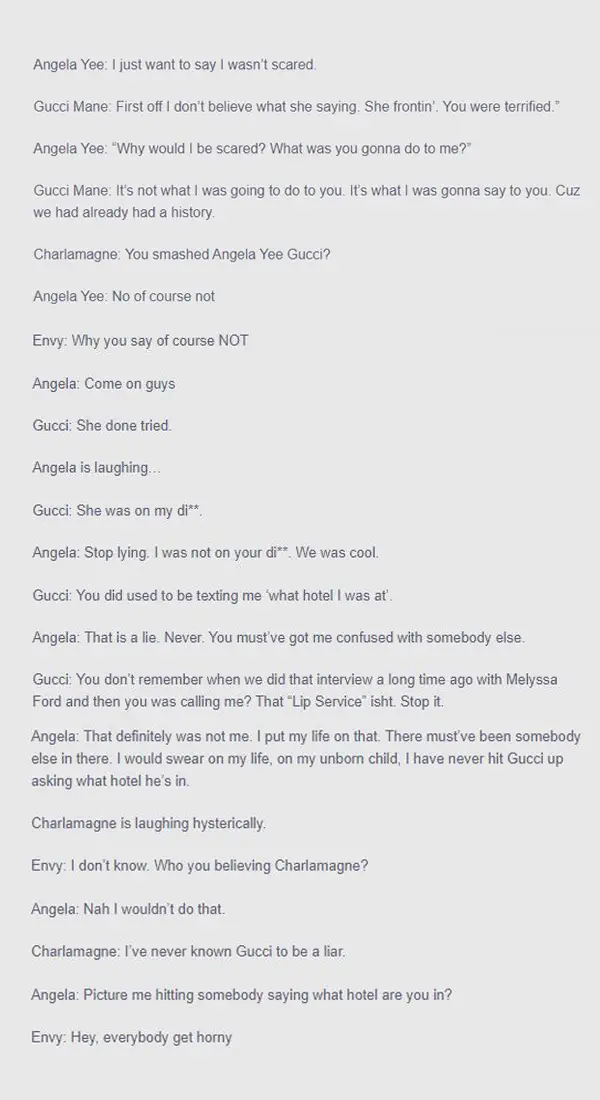 Caption: Angela Yee and Gucci Mane's conversation during an interview in The Breakfast Club in December 2016.
Photo Credit: Bossip
The conversation of the pair during the interview can also be seen in the video below, where Angela denies everything Gucci says.
Caption: Gucci Mane claims that he had a history with Angela Yee in an interview on The Breakfast Club 2016. Published on Dec 16, 2016
Gucci is now married to his lady love Keyshia Ka'Oir after he exchanged vows in a smaller wedding ceremony earlier this year in May.
Angela, who is now forty-one-year-old, seems to have no any plans of getting married. Since Angela has always been private regarding her love life, she has not even revealed about the qualities that she seeks in her future husband.
Angela was born on January 3, 1976, to a Chinese father and black mother in East Flatbush Brooklyn. She then moved to South Orange, New Jersey at the age of fifteen.
Earlier this year in April, Angela appeared on "The Real" as guest co-host, where she revealed her parents' non-traditional living arrangement. She revealed that she had no idea about her parents' divorce since they lived together under the same roof.
Caption: Angela Yee on The Real where she revealed her parents' non-traditional living arrangement (Published on Apr 20, 2017).
Do you know that Angela initially wanted to become a writer? Well, she has majored in English from Wesleyan University.
Stay with us for further updates on Angela Yee!