Entertainment
Anna Soubry Not Getting Married With Her Partner? Seems The Word 'Husband' Brings Bad Luck For Her
British Conservative Party politician and mother of two children, Anna Mary Soubry is one of those people who is enjoying a successful career as well as a romantic love life even after two failed marriages.
She has been involved in a romantic relationship with a partner for some time now, but what are her plans about getting married? Is the wedding knocking on Anna's door?
Any Plan of Exchanging Vows With Her Partner After Two Unsuccessful Marriages?
The sixty-year old Anna has been a very private person; she has allowed the media to get hold of the knowledge of her two broken marriages but hasn't revealed more details about it. Moreover, it's no rocket science that Anna she has two daughters from her first marriage.
In an interview with BBC in 2014, Anna revealed that her divorce with her second husband was very painful when it turned out to be a failure.
"I was terribly upset when it ended. But these things happen, I was single for eleven years."
After facing low-key failed marriage twice, Anna is now in an open relationship with her partner Neil Davidson, who is a businessman by profession. Davidson is the non-executive Director of Morrisons and is also a Chairman of Cricketer Publishing Ltd.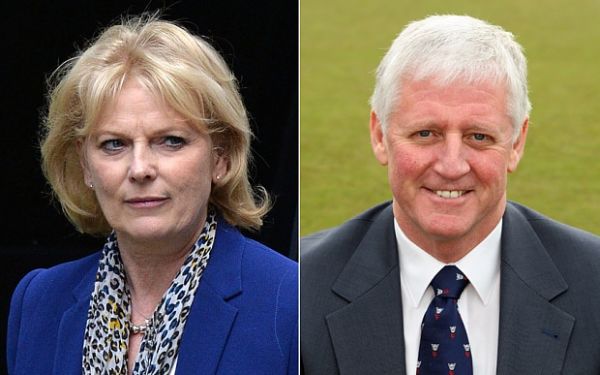 Caption: Anna Soubry enjoys a low-key relationship with her partner Neil Davidson.
Photo Credit: Telegraph
Anna first met her partner Neil through her daughter and her school friend. They acted as matchmakers and brought their single parents together. Talking about Neil, Anna said,
"You see Neil's not involved in politics at all, he's completely normal. I've never had a best friend until I met him. He's brilliant."
Well, Anna hasn't revealed more about their relationship. Likewise, she hasn't shared any of her plans about their wedding.
She is living with Neil like a family, but she might not have thought of exchanging vows with him because it seems that the word "Husband" brings bad luck to her.
More About Anna Soubry:
Anna was born on December 7, 1956, to parents David Soubry and Frances Coward/Soubry. Her father was a Nottinghamshire garage-owner whereas her mother used to work in in Lincoln Hospital, Lincolnshire where Anna was born.
She is the graduate of Henry Hartland Grammar school (1968 to 1970), and later in 1979, she joined the University of Birmingham, where she studied law.
In the 1970s, Anna was involved in student politics and participated in the National Union of Students' executive committee as its only Conservative member.
Caption: Anna Soubry interview for women in education. (Published on April 20, 2017)
Currently, Anna enjoys a prolific career as well as a romantic love life. Anna, who has been the Member of Parliament (MP) for Broxtowe in Nottinghamshire since the 2010 general election, has been an inspiration to many people.
She has been attaining a new height of success as time has passed. She also receives a handsome salary from her profession, but her earnings and net worth remain confined like the information of her past married life.