Entertainment
Annie D'Angelo & Husband Rock solid! Strings Of Married Life Kept Unbroken
The secret to a blissful marriage is finding the right partner who understands you and knows you inside out. Like the statement, the makeup artist Annie D'Angelo proved out to be the right partner for her husband, who had been searching someone like Annie for all those years.
Annie's husband had gone through three failed marriages, and it must have taken the toll on him. But Annie arrival in her husband's life changed that and the couple has been going strong since their marriage.
Want to know more about the rock solid couple? You just need to keep reading!
Annie D'Angelo's Happily Married Life
Annie was an established makeup artist in Hollywood and was roped to work in the 1986 movie StageCoach. While working in the film, she fell for one of the actors in the movie and later, they started seeing each other. Wondering who's the actor she fell for? He's non-other than the American musician and singer, Willie Nelson.
Annie D'Angelo got married to Willie Nelson on 16 September 1991, Nashville Tennessee amid a lot of uncertainties and questions.
Willie had already gone through three failed marriages and was about to start his life with the fourth wife. But the couple suffered their first heartbreak after Willie's son from his first wife, William Hugh Nelson Jr, committed suicide on 25 December the same year.
Despite that, Annie proved out to be rigid support for Willie during the distressing times, and she also managed Willie's life better. She got rid of all the sponges that were sucking out Willie's money and managed his finances as well.
Not just that, she encouraged him to get fitter and healthier as well. She urged him to take up cycling and swimming and cutoff his unhealthy eating habits. This resulted in the improved health of the legendary singer, who had previously suffered from fluctuating health conditions.
As of now, the couple is blessed with two sons and is enjoying their family life to the fullest. And it seems that their relationship is getting stronger with every passing year.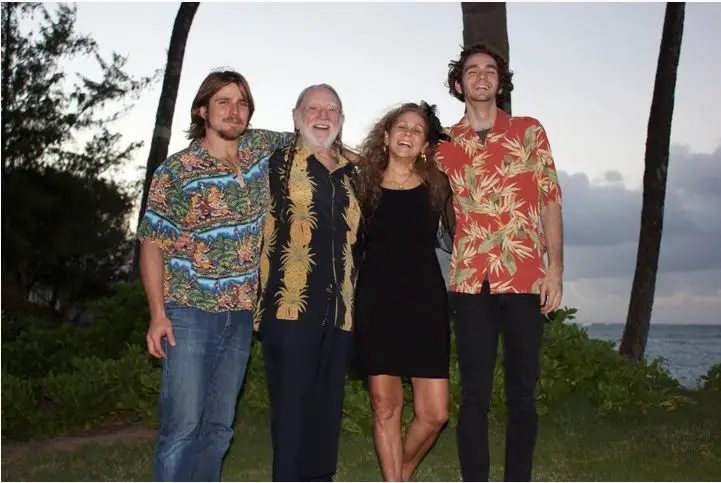 Annie D'Angelo with husband Willie Nelson and sons (Photo: countryfancast.com)
When asked about how his marriage worked with Annie amid three divorces, Willie thanked his previous relations saying that he learned lessons from his divorces and is trying not to repeat the mistakes he previously committed.
Thanks to the lessons he learned, the couple celebrated their 25th marriage anniversary in 2017, and Willie Nelson has never been so happy.
A Short Bio on Annie D'Angelo
Annie seems to prefer a low profiled life when it comes to her details as she has not revealed much about her age, parents, and even about her childhood days.
However, it remains known that she was born on 27 August and was a makeup artist working on the movie StageCoach, in 1986. As of now, Annie takes charge all the affairs related to Willie Nelson.
Moreover, the couple has been strong advocates of the legalization of marijuana and now run a marijuana industry in Texas.
Think we're missing something? Do let us know in the comment section below!