Entertainment
Arzaylea, Age 23, Grieves Over Loss Of Boyfriend; Shares Their Adorable Moments
Losing the one you love is one of the hardest battles you fight in life. Arzaylae, the Instagram star recently found herself in the similar tragedy that stroke her. She just lost the love of her life.
Wondering how she is holding up after losing her boyfriend in the face of death?
Here are few details to shine the light on the life of this social media star after the death of her boyfriend.
Arzaylea Mourning Loss Of Boyfriend
Arzaylea recently suffered from the loss of her boyfriend. She was involved romantically with Lil Peep, who was the upcoming New York rapper. His life was tragically cut short on 15 of November 2017.
Lil, who was best known for the YouTube videos he made for his tracks White Wine, The Way I See Things and Benz Truck, left this world due to the overdose of drug which was suspected to be a suicide.
However, it was reported that the rapper was plagued by drug addiction which includes dependence on Xanax, ecstasy, and cocaine. Well, it is suspected that he was on an overdose of Xanax.
The news of his death surfaced the media few hours after his death and which was eventually confirmed by his manager too. After, the death of the rapper, Arzaylea was heart-broken. She mourned the death of her love expressing it through her Instagram post.
She expressed she wanted to wake up from the nightmare. She even uploaded numerous picture with heart-rending captions expressing her grief. On one of her post, she divulged how much she missed the man she fell in love with. Lil was her inspiration in some ways whom she lost this early. The couple began dating in September 2017 and shared a close relationship with each other.
Arzaylea shared a photo with him where Lil is seen in a fun mood, whom she would never get to hold again. She expressed how she was missing his presence and wanted her best friend to tell her that everything would be okay.
She wrote,
"missing you so much right now... need my best friend to tell me everything gunna be ok ?"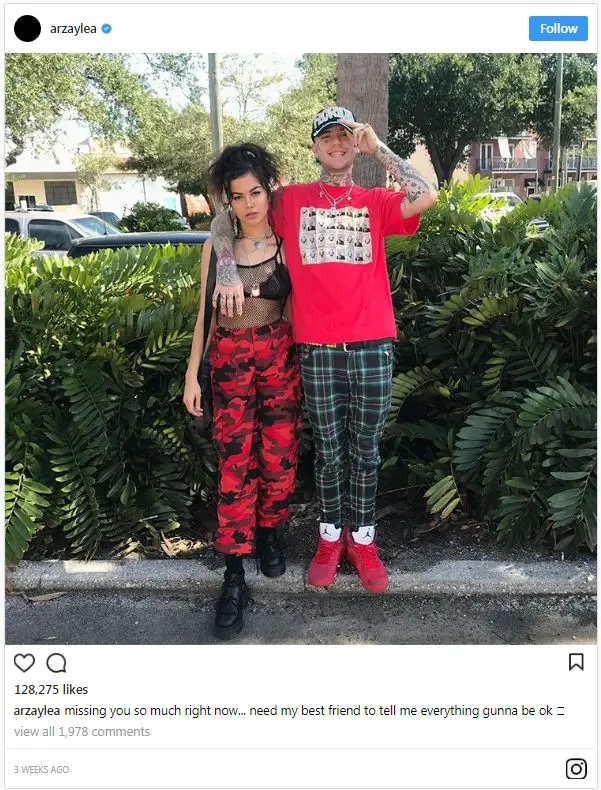 (Photo: Arazylae's Instagram)
However, Arzaylae seems to be doing okay in present days while hiding her grief behind her Instagram post. Well, we do lose people in our lives, the only difference is the matter of time.
Arzaylae, who is at the age of 23, was previously involved in a romantic relationship with Luke Hemmings, who is a guitarist and lead vocalist for the Australian rock band 5 Seconds of Summer.
Arzaylea's Personal Life At Glance
Arzaylae Rodriguez, the social media sensation, was born on 19 October 1994 in Austin, Texas. She was born to in the family associated with music. Her dad has been in the music industry since she was a child. She also has a brother, called Arzel Rodriguez and a sister named, Aliezah Rodriguez.
Arzaylea, who stands at the height of 1.70 m, initially did several small jobs before rising to the stardom. She posted numerous music videos on her social media channel which became her gateway to fame.