Entertainment
Ashley Harlan Got Married Despite Scrutiny! Has Her Engagement Ring Missing Out Of Coincidence?
The Big Ben of football, Ben Roethlisberger married Ashley Harlan on July 23, 2011, at Christ Church in Ohio Township with the police security around the church. But this wasn't as stunning as Ben's acceptance by Ashley's family as a groom for Ashley.
It was more than a shock for everyone when Ashley's approbation came for Ben even after knowing him and the controversies related to him like the back of her hand. Without further ado, let's get into the depth of the story to find out what was the odd thing related to their wedding.
Why Did Ashley's Decision Create A Situation?
Ashley, who is closing near to 32, started her marital life about six years ago from now and today, she and her husband share three children and undoubtedly, a joyful family life.
While the couple's present seems to be ok, their past could get us into our deep thoughts. So, why not skip back in the time to know the couple's history?
Back in 2005, Ashley met Ben at a training camp and eventually, they began dating each other, which took their relationship from close to closer. But it wasn't as simple as that because they faced several ups and downs being in a relationship.
With the commencement of the year 2008, the player boyfriend indulged into controversies which shook the base of his relationship with Ashley.
Ben got accused of sexual assault by Andrea McNulty, a former VIP casino hostess at Harrah in 2008. And this didn't end there. He was again accused for the same reason in 2010 by a college student Miledgeville Georgia.
But the police had to drop out the charges both the times with no any shreds of evidence in hand and his relationship with Ashley was saved from getting devastated.
The family of Ashley even had no any objections with that and approved the relationship for marriage. The only people to have the objections were the outsiders, who reacted fiercely to the conjugation. However, Ben had an answer for them too:
People can say that it is whatever, but people who know and can see and are around us and know me, know that it's something special when you find that person, and I'm extremely lucky.
Although they passed through a phase of missing the engagement day and more importantly, the engagement ring, they all compensated in another special day of their wedding.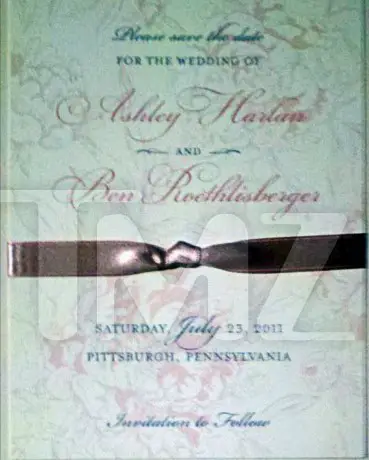 Caption: The wedding invitation of Ben and Ashley.
Photo Credit: tmz.com
The marriage ceremony was commenced in a church among friend and families, and with the police security around.
Ben's friend, Jaime Cooper, served as the best man. The other wedding attendees were other players of Pittsburgh Steelers: Willie Colon and Brett Keisel, along with Ben's agent Ryan Tollner.
Caption: Ben and Ashley on their special wedding day on July 23, 2011.
Photo Credit: celebritybridgeguide.com
Ashley, who works as a physician assistant, got pregnant with the first baby four months after the marriage.
Today, three children add to the beautiful couple to make a happy family, and they are Benjamin Todd Roethlisberger (four years old), Baylee Marie Roethlisberger (three years old) and Bodie Roethlisberger (one year and 1-month-old).
A Short Wiki-Like Bio Of Ashley Harlan:
Ashley Harlan was born in Lawrence County Pennsylvania on July 24, 1983, to Jeannie Harlan and David W. Harlan. She completed her high school graduating from Laurel High School in 2004 and joined St. Francis University for her further education which she completed in 2009. The wife of Big Ben owes an American citizenship and currently works in Presbyterian Hospital in Pittsburgh.