Entertainment
Attractive Julie Chen: Plastic Surgery History! More About Her Husband and Son, Pregnant?
Julie Chen without a doubt is one of the most beautiful women on TV. She is one of the first Asian-American journalists to make it big time in America's national television. Do you think that she has gone through artificial procedures to obtain the beauty? Who is she married to and what about her children?
She is Married: Husband?
Julie has been living a happy family life with husband Les Moonves since December 23, 2004. Les Moonves is none other than her boss, the President, Chief Executive and Chairman of the Board of CBS Corporation. They got married in an intimate wedding with not more than 30 guests composed of only close friends and family in their private home in Acapulco, Mexico. She looked breathtaking as a bride in an ivory gown while husband, Moonves looked stunning in an Armani suit.
Caption: Julie with her dad on her wedding day
Following her ethnic Chinese tradition, she walked down the aisle with a coin in her shoe to invite prosperity. The couple's special night ended with a romantic dance on the song "The Way You Look Tonight" as fireworks lit up the beautiful night sky.
Her Son:
Their happiness does not end here, after about 5 years of their marriage. As reported by New York Post's Page Six at the end March, Chen is perhaps pregnant and expecting her first child which later was confirmed by Julie on air.
Caption: A surprise baby shower for Julie Chen on TV on September 2009
She welcomed a beautiful son later in September. Thus, they became the proud parents of Charlie. She was expected to be due to October 4, but it seems as though baby Charlie also was very excited and decided to come a little early. He will be the fourth edition after the 3 previous children from his previous marriage.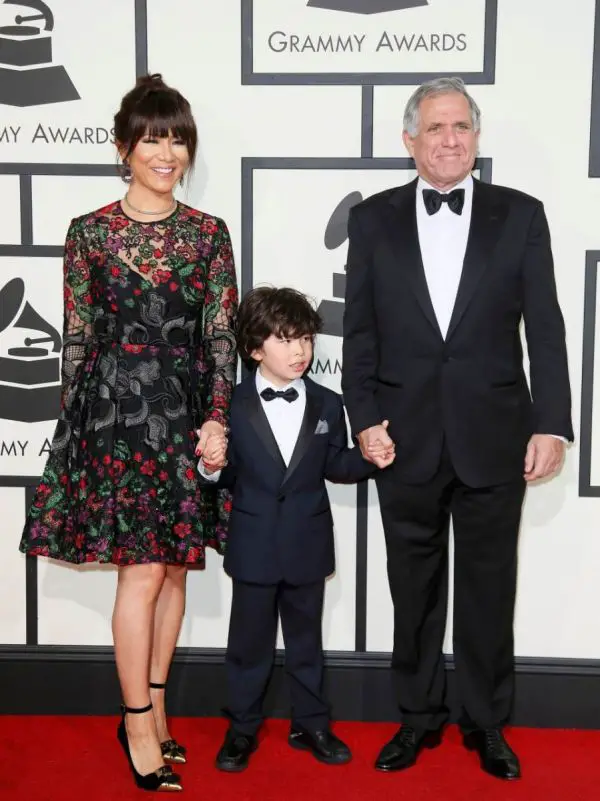 Caption: President and Chief Executive Officer of CBS Les Mooonves, his wife Julie Chen with their son Charlie, arrive at the 58th Grammy Awards in Los Angeles, California February 15, 2016.
Source: cloudfront.net
Plastic Surgery:
Julie Chen also made a very shocking revelation about her personal life in September 2013. She opened up about how she had undergone a plastic surgery nearly 23 years ago to make her "Asian Eyes" look bigger.
She spilled her secret in 'The Talk' when she first a clip of her reporting from the beginning of her career. She said "I asked my news director over the holidays, 'If anchors want to take vacations, could I fill in?' And he said, 'You will never be on this anchor desk because you're Chinese." He elaborated how her Asian enclosed eyes often made her look bored or disinterested.
Caption: Julie Chen before and after plastic surgery
Source: mindblowingworld.com
Even when she tried to find an agent later, one big-shot of them told her the same thing that he would not collaborate with her unless she has plastic surgery to make her eyes "look bigger." So, under all this pressure, for the sake of her career, she got it done despite many of her family members and relatives being against it.
Regardless of all this, she says honorably, "No one's more proud of being Chinese than I am," she added "And I have to live with the decisions I've made. Every decision I've made...it got [me] to where we are today and I'm not going to look back."
Caption: Julie Chen reveals about her Plastic Surgery in 'The Talk' on September 11, 2013.
Julie Chen's Short Bio:
Julie Chen was born on January 6, 1970, in New York City, New York, USA. She wanted to attend the Bronx High School of Science because her older sisters also studied there but she couldn't qualify so she instead went to St Francis Preparatory School in 1987. She later graduated from the University of South California with a Major in Broadcast Journalism and English.
She has an incredible net worth estimated to be around 8 million dollars. Speaking of the present, she is a host for TV shows, 'Big Brother'(since 2000) in CBS network and co-host of many other shows like "OMG! Insider"(since 2013), "CBS This Morning" (since 2012), "Entertainment Tonight" (since 2006) and CBS daytime show "The Talk' since 2010.
She is also the presenter of "The 43rd Annual Daytime Emmy® Awards. Her thoughts about a contestant on 'Big Brother' were discussed by 'inquisitr' on August 28.