Entertainment
Betty Gabriel Personal Life: Married Life & Husband Impossible Amid Escalating Career?
What do you plan to do when you have just completed your graduation in veterinary science? Naturally, you expect to practice, make a living out of it. But when Betty Gabriel graduated, she duly admitted herself to a dance college.
A tough choice to make when you have got a bright career waiting in the wings, but this turned to be the best decision she ever made because after graduating from Julliard School, she appeared in various roles and wowed the audience with her brilliant acting skills.
But did success in professional life hamper her love life?
Career over Love?
Betty Gabriel started her showbiz career as a dancer in Steppenwolf Theater Company. Her movie career began after she appeared in a short movie called Maidenhead (2009).
After minor roles here and there, she came to prominence after she portrayed the role of Laney Rocker in The Purge: Election Year. She received wide acclaim for her character, and that helped her bag the part of Georgina in Jordan Peele's directorial debut Get Out.
She was widely praised for her portrayal of white grandmother trapped in black girl's body in the movie. New York Times even included her performance in Get Out as one of the best performance of 2017. In their column, they stated:
"Behind her wet, glassy eyes, you can almost hear someone banging frantically on a door, banging against traps for black people in American life and in the history of American movies. And Ms. Gabriel simultaneously has to be the banger and the door."
After playing a prominent part in the second season of anticipated TV series WestWorld in 2018, she is now set to star in the second season of Starz's spy thriller Counterpart.
Despite her busy schedule, Betty remains very close to her parents and her whole family and tries to spend as much time as possible with them.
Recently, she shared a post on Instagram with her family and labeling them "one big happy family."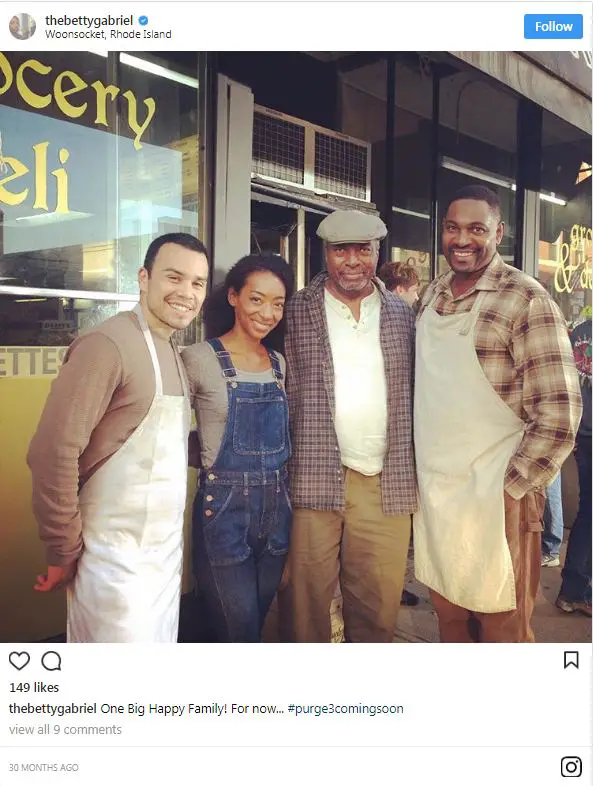 Photo: Betty Gabriel's Instagram
As for her special one, Betty has kept that a secret. She has spilled no information about her relationship status out in the media, and there are no hints of any possible dating affair in her social media accounts as well.
Black Rights Activist:
Betty, who possesses Afro- American ethnicity, talks through her Instagram post about the hardship that black American people have to face even in this 21st century.
She frequently posts about equality and in one post she has praised Alicia Garza for her work in uplifting the condition of black people in America.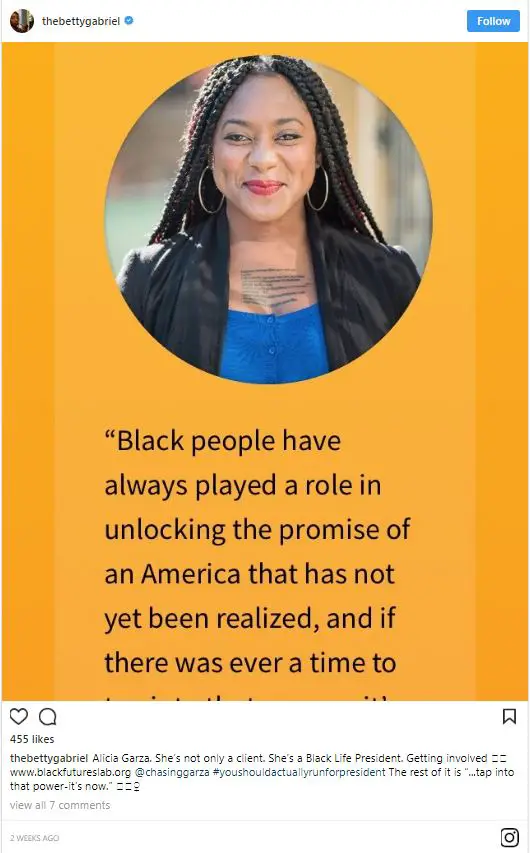 Photo: Betty Gabriel's Instagram
Despite her short height of 1.63m(5 feet 4 inches) and young age, she stands tall through her accomplishment in acting and mature performances, and it feels as if she is not planning to commit to any relationship as of now.
So we might have to wait a bit longer to find out if she has found herself a perfect husband and finally plans to walk down the aisle and get married.
As for now, she remains single, and she might have kept her career over love which is serving right for the actress!
Stay with us for the emerging updates on the life of Betty Gabriel!