Entertainment
Billy Eichner Talks Coming Out As Gay Experience In An Interview; Has A Boyfriend Or Looking Forward To Dating?
Famous American actor and comedian Billy Eichner is a gay, and he is open about his sexuality. He has embraced what his preferences are, and that is commendable. So today, let us talk about him coming out as a gay and accepting his sexuality. Also, we take a look at his dating life and find out if he has a boyfriend or is open for a relationship.
Billy Eichner: Coming Out As Gay, Dating Status
Coming out as gay and accepting who you are is a courageous thing to do. The same can be said about Billy as he is openly a gay and he also stated that he came to know that he was a gay when Billy was at college. Also, he often jokes that he was gay as soon as he oozed out of his mother's womb.
He elaborated this in an episode of In Bed With Joan and here is the video.
Caption: Billy Eichner: In Bed With Joan.
Published on Dec 10, 2013.
In the video, he often jokes that his father passed away when he knew he was gay but the truth is that his father was supportive of him when it comes to Bill's sexuality.
Now we know that Billy is a gay, we take a look at his dating life. Has he been dating anyone lately or is open to dating and having a partner in his life?
Well, so far, Billy has not been reported to be dating anyone, and he too has not revealed anything about his love life. But in an interview, he said that he is on all social dating apps, and that might give a clue as to him being open to dating gay men.
He said,
"I'm on all the apps. Tinder, Grindr, Bumble, Scruff. I have no shame about that. And to be honest — not to sound holier than thou — I do miss the days before Grindr,"
He then added that gay men do not need apps to date,
"I had about five years as a gay guy in New York after college before the whole Grindr explosion happened, where people were still going out to meet each other. It was social. It was sexually charged. And it was more fun."
Some sources say that Billy is the partner of country musician Ty Herndon. But no confirmation from either party has come forth. So let us see if he comes up with any exciting news on his dating life.
Oh, and by the way, his first crush, none other than Keith Hernandez, the first baseman for the 1986 New York Mets!
Furthermore, an example of him not being ashamed of his sexuality was seen when he kissed publicly to honor "the Trevor Project" on its 16th anniversary.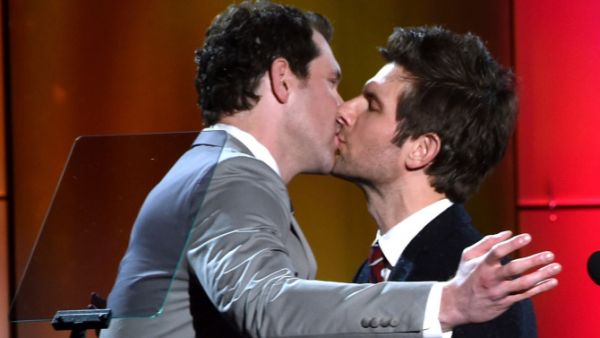 Caption: Billy Eichner is kissing for The Trevor Project on the project's 16th year running.
Photo Credit: variety.com
Eichner had something to say on the very occasion.
"We've made a lot of headway. It's about showing as many representations of gay people as you can, and I do think that's happening."
Glad to know that they are standing up as one.
For those who are wondering if he is married, well, he is not that big fan of getting married as in an interview he said that his married friends are boring. So one might assume that he is not yet married.
Caption: "My Married Friend Are Boring": Billy Eichner.
Published on Apr 5, 2016.
Eichner's Wiki-Like Bio and Net Worth.
Born on September 18, 1978, in NYC, NY, USA, Billy Eichner is a famous American actor, comedian, and TV personality best known for being the star and creator of Funny Or Die's "Billy on the Street," a comedy game show which airs on truTV.
Billy also is currently the star of Hulu original series "Difficult People" alongside Julie Klausner. People thoroughly enjoy his work and have a lot of respect for Billy.
Bily too has done justice to his talents and abilities, and his hard work has paid him real rewards, and as a result, he boasts an estimated net worth of $5 million.