Entertainment
Black Ethnicity, Announcer Jonathan Coachman aka "The Coach", Married With 2 Children, Back in WWE!
As glorious and glittering is the life of a sports person, it is equally fragile and short-lived. One wrong decision, a bad season or an injury could make it loose all in a very short period. Most sports person, whose career ends averagely in their mid-30s, late 40s turn to endorsements, acting, production, coaching or other things to carry on with the rest of their useful days.
Jonathan Coachman here, who was a former WWE interviewer/ commentator turned into a sports journalist after he ended his career as an anchor in the July of 2008. Despite some rumors that Jonathan was fired from the show, he left the place voluntarily and moved on.
Jonathan Coachman also known as "The Coach" comes from a mixed race of African- American and is of black ethnicity. He is currently working with ESPN on the daily coverage of SportsCentre which he started since 2008. Having worked as a professional wrestler and more importantly a commentator for many years, Coach left WWE in 2008 and he had his reasons why.
Coach is a family man and is a committed father as well as a husband. Of course, not all but most of his important decisions in life are based on his family's happiness. Even, quitting WWE was not entirely his decision and he has explained it out on Twitter why,
Of course, that says it all about the difference in the name of WWE and ESPN and the perhaps the salary they provide. Coach currently has a net worth value of 2 million US dollars, with his yearly salary figures of half a million dollars.
As of 2016, he was seen back in WWE RAW, making some announcements as he used to. He was welcomed by the WWE Universe and although this time his appearance was as an ESPN man rather than a WWE commentator, there were several speculations regarding how and why he went back to one of the biggest Sports Entertainment program.
Caption: Jonathan Coachman Returns To Raw 2016
Of Course! Some people have even questioned this to be a professional stunt by ESPN and have questioned Jonathan's loyalty towards the channel:
But Jonathan has revealed that his loyalty is staying with ESPN for the next thirty years and that his brief appearance in WWE is strictly professional on his part.
His Married Life: Wife and Children
Talking about his family and personal life, Coach is happily married to his wife Amy Coachman for a long time and the couple has two children, Kayana and JJ. He and his wife have been married for some years now, and the two seem to be a solid couple and with their children now, there is very less chance of them getting a divorce.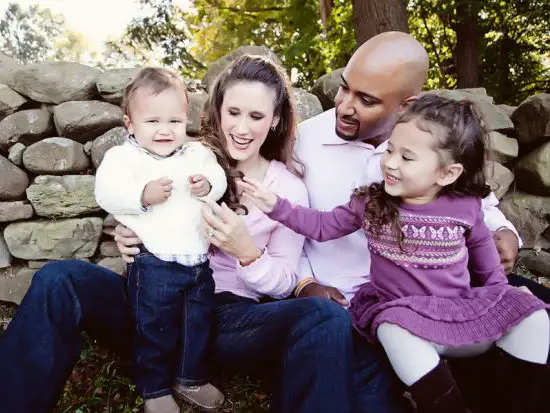 Caption: The Coachman family, 2011
Source: liverampup.com