Entertainment
Bria Murphy, No "Pleasure" Dating? Who Is Her Boyfriend Now At Age 28?
American actress and model Bria Murphy can genuinely be considered a child born with a silver spoon in her mouth, as she is the daughter of famous comedian Eddie Murphy.
Though she had a comfortable life, she struggled to the path of success, and now she has made a name for herself as a bonafide actress and model. But what is the life behind the camera? Is her personal life as pleasuring as he professional life?
Well, keep reading to find out the answer!
Bria Murphy Dating Pleasure
Bria, aged 28, was first rumored to be dating R&B singer Marcus Cooper, who is well known as Pleasure P. Rumors started to swirl when she first joined the singer in his 2009 radio interview at Chicago's WGCI radio station.
However, when asked about their relationship status, the pair denied the dating rumors and described each other as close friends. But their story sounded a little fishy when Bossip claimed that Pleasure took permission from Bria's father, Eddie, to hang out with her.
Pleasure and Bria made no further remarks about their alleged affair, and their love remained a mystery for quite some time.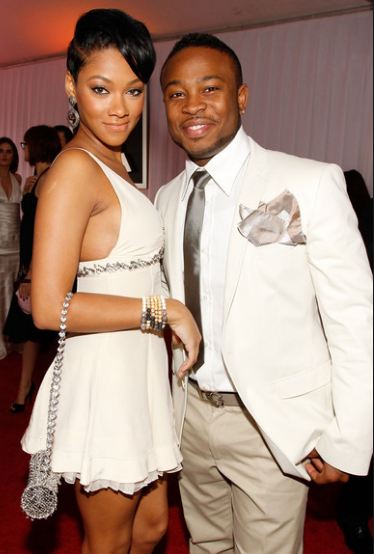 Bria and Pleasure P at 52nd Annual Grammy Awards (Source: Christopher Polk/Getty Images North America)
However, the truth wasn't going to be a secret forever, and in 2013, Pleasure finally spilled the beans about their rumored relationship. Talking to the xoNecole, Pleasure revealed that the couple had been dating for two years.
He further disclosed that Bria supported him through the child molestations accusations but later dumped him to "find herself." Pleasure appeared heartbroken and even confessed that he cried after the breakup. He said:
Of course I cried! I'm not gonna play like...you know a lot of guys so swagged out they scared to say they sorry, I ain't got nothing to hide. It hurt me.
Before Pleasure, Bria was also linked to NBA player Larry Drew II after BusterSports.com described Bria as the girlfriend of Larry in 2010. He was furious at the rumor and claimed that he had no girlfriend at that time. Bria, however, has not made any comments on the matter.
What Is Bria Up to Now?
Bria, who prefers to keep things to herself, is currently assumed to be enjoying her singlehood as no evidence has come forth to prove otherwise. She is probably busy spending her valuable time with her family, as she keeps her Instagram updated with pictures of her mother and siblings.
Likewise, Bria has also not spoken anything regarding her dating status, probably because she does not want to stir up rumors.
But with such a charming personality, there may be a chance that she could be dating someone secretly. However, Bria's fans will have to wait till she makes an official statement regarding her private life, but until then, nothing can be said with absolute certainty.
Keep Visiting as we keep you updated on the latest happenings in Bria Murphy's life!