Entertainment
Brian White And Wife Pampering Adorable Daughter; Married Life Done Right!
The American actor Brian White is a famous face in the entertainment world due to his appearance in the movie such as The Family Stone and Stomp The Yard. If you are one of the fans of this actor, you are probably acquainted with his works and the fact that he is a married man with an awing family.
Keep reading to get acquainted with the family life of Brian and the blissful life he holds along with his loving wife.
Brian White As Married Man
Brian White is evidently fending away all the possible rumors of being gay by living a happily-ever-after kind of marriage with his beautiful wife, Paula Da Silva. The lovebirds got married on 28th August 2010 in an intimate wedding ceremony.
After four years of matrimony, the couple welcomed their daughter, Layla on 3rd April 2014, and since then the social media accounts of both the parent are flooded with the updates of their adorable daughter.
Earlier on 14th September 2016, Brian Instagrammed a cute picture of his daughter on his Instagram account and via the caption tagged his wife and said that there is always a reason to smile.
Moreover, on 3rd April 2017, Brian uploaded an endearing photo of himself and his daughter and wished his daughter a happy birthday. Also, he revealed that he truly started to live his life from the day God blessed him with the fatherhood, three years ago. He even said that Layla is the most amazing woman he had ever known and quoted that he loves her very much.
3 Years Ago Today, God blessed me with Fatherhood and a Daughter; and my life truly began. Today I celebrate the birth and life of the most amazing little woman I have ever known! We love you Layla Simone. Happy Birthday!!! ???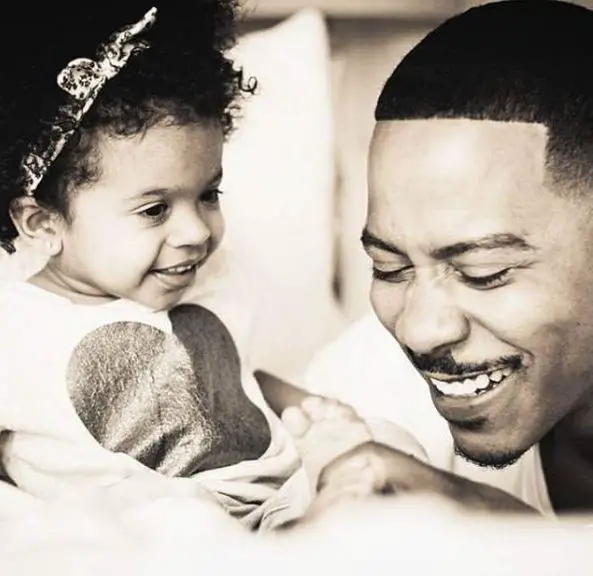 Brian White in all smiles while being with his daughter Layla (Brian White's Instagram)
Well, Brian doesn't hesitate to express his feelings toward his daughter and even towards his lovely wife. Previously in August 2017, Brian uploaded a picture with his wife from their wedding and through the caption wished her a happy seventh anniversary. Saying that their marriage was the best day of his life, Brian wrote that he has been smiling because of his wife, Paula. He even mentioned his lady as a blessing in his life.
7 years ago today was the best day of my life; and I have been smiling like this because of this amazing woman ever since! You truly rock my world, @pauwhite!! You are my blessing. Happy Anniversary, my love! ???
Well, both Brian and Paula have together build a beautiful family that has been enriched due to the presence of thier kid. Back in February 2018, Paula Instagrammed a picture of Brian and Layla along with a heart touching caption.
A father's job isn't to teach his daughter how to be a lady. It's to teach her how a lady should be treated. ❤
Brian has a lovely family that is supportive of his career as an actor too. He has been active in the acting industry since 1997 and is best known for his works in The Family Stone, Brick, and The Cabin in the Woods. He has also been part of movies including In the Name of the King: A Dungeon Siege Tale, 12 Rounds, Fighting, I Can Do Bad All By Myself, Politics of Love, The Heart Specialist, and The Cabin in the Woods. With his utmost dedication towards his craft, he has accumulated a net worth of 1.5 million.