Entertainment
Buddy Stephens Bio: From Net Worth To Family Life With Daughters
If you are a die-hard football fan, then you probably must be aware of an American football coach, Buddy Stephens, who is the head coach at East Mississippi Community College (EMCC).
Not only as a head coach, but he is also well recognized by starring in the first two seasons of the Netflix series, Last Chance U.
Well, you might be aware of Buddy's professional front but what about his personal life?
Worry not, for we have brought you a complete bio of your favorite coach, Buddy Stephens.
Buddy Stephens' Career As Head Coach
The current head coach at EMCC (East Mississippi Community College), Buddy has become the architect behind EMCC's decade of championship football. Joining the campus in December 2007, he completely transformed the campus' program, which was yet to manage a winning football season. Buddy has managed to win eighty-eight percent of his games as EMCC's coach that brought many championships and titles.
He won four NJCAA national championship, six MACJC State/NJCAA Region 23 titles, eight MACJC North Division crowns and six postseason bowl game victories under his leadership. For his brilliant coaching at EMCC, Buddy has also been selected twice as the American Community College Football Coaches Association of the Year and Spalding NJCAA Coach of the year.
Likewise, Alabama, United States native has also gained recognition in the Hollywood industry with his remarkable performance in the documentary series Last Chance Us which was released worldwide on 29 July 2016. The series mainly focused on the football program at EMCC displaying the academic struggles of the college player. On the series, he portrayed the role of a head coach in reel life as well.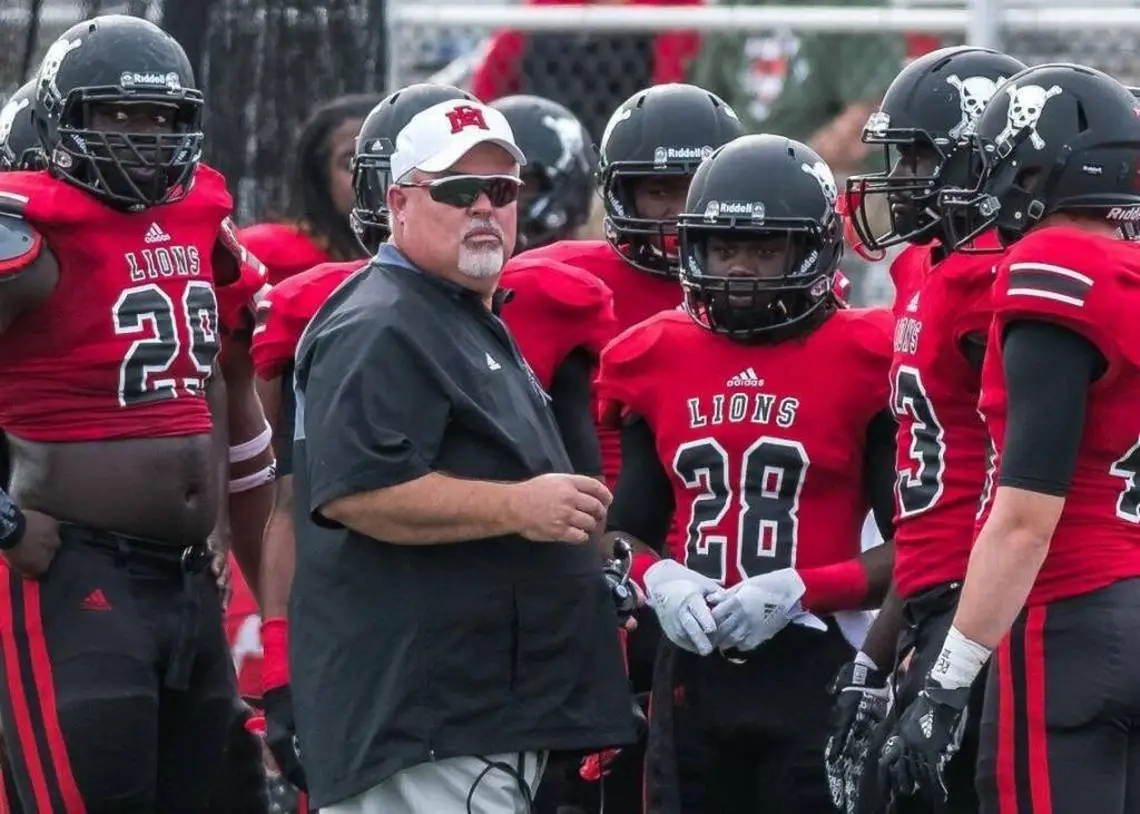 Buddy with the cast of Last Chance Us season 2 (Photo: sunhearld.com)
With his successful career in coaching, the American personality probably enjoys a good salary as EMCC provides the salary amount of $46,542 for Assistant Head Football Coach alone. Buddy has kept his net worth as a mystery as well.
Buddy Stephens' Bio: Mysterious Life
When the focus shifts to Buddy's family life, a completely different scenario reigns as very less information has surfaced in media's eyes. Information regarding Buddy's parents and birth date, remains mysterious, which makes it harder to grasp his age.
However, it came to light that he was born in Huntsville, Alabama, the United States and further studied at the Delta State University. His bio also represents him as a married man. He is married to Robyn Lynn Stephens, with whom he shares three daughters; Julianna Stephens, Rebekah Stephens, Lauren Stephens. Though he has confined other details like marriage date, wife's identity, and daughter's birth. It is for sure that Buddy prefers to keep his personal matters to himself.