Entertainment
Charlie Worsham Engaged-To-Get-Married! Gushes Over Girlfriend
Charlie Worsham, the country singer, and songwriter has recently shared with his fans that he has been engaged with the love of his life. While most of his fans are glad to hear the news, it might have also resulted in shattering of some hearts who fancied him big time.
Nevertheless, for you guys who want to know more about his escalated love life, here are few details gathered up for you!
Charlie Worsham Couldn't Be Any Happier
Charlie Worsham, who had his debut album on the front row of Billboard chart is now engaged and is set to plan on getting married to his to-be wife. The singer announced his engagement with his girlfriend Kristen Korzenowki through his Instagram post a day ago.
Charlie posted a selfie with his girlfriend Kristen Korzenowski announcing their engagement with a close-up on the engagement ring. In the picture, Kristen is seen flaunting her stunning diamond ring while holding Charlie close to her. A beautiful caption followed the snap, where Charlie shed light on how they met,
"We met through her work at the Community Foundation of Middle Tennessee, where she helped to set up the Follow Your Heart Scholarship,"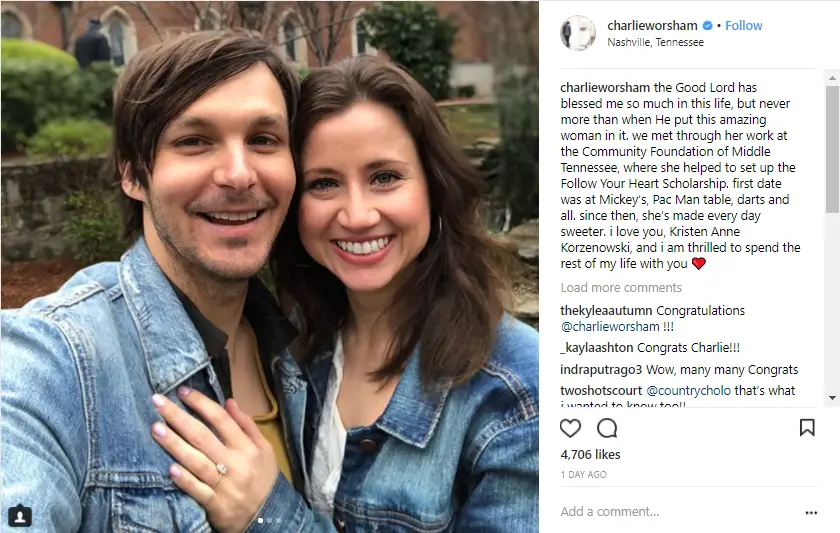 (Photo: Charlie's Instagram)
Likewise, Charlie opened up about his first date with his girlfriend Kristen which was at Mickey's. Shedding more light on it, he continued,
"first date was at Mickey's, Pac-Man table, darts and all since then, she's made every day sweeter."
Furthermore, Charlie ended his caption with how exciting and fascinating he finds that he got to share rest of his life with his other half Kristen. He concluded,
"I love you, Kristen Anne Korzenowski, and i am thrilled to spend the rest of my life with you,"
However, Charlie relationship timeline is still to uncover along with his forthcoming wedding date.
Charlie Worsham's Life At Glance
Charlie Worsham was born on 1 September 1985 in Jackson, the capital of Mississippi. But he was raised by his parents Gary and Sherry Worsham in Grenada. Currently, he has settled in Nashville, Tennessee.
At the young age, Charlie grew his interest in music and started learning to play Banjo. At the age of ten he played on-stage at the Ryman Auditorium, and at the age of 12, he performed on-stage at the Grand Ole Opry, after winning a Junior National Banjo Championship.
Moreover, Worsham who always opted to work as a musician in Nashville joined band KingBilly where he was into singing harmonies and playing mandolin until 2010. In 2011, he toured with Grammy-winning country singer-songwriter Taylor Swift.
In 2013, Charlie's debut album, Rubberband, rose to number twelve on the Billboard Country Music Chart. The same album also claimed a spot of number sixty-four on the Billboard Top 200.
In 2014 he appeared in the episode of Big in the Philippines of the FOX TV Series, Bones which featured his single "Love Don't Die Easy." Charlie's second album Beginning of Things was released in 2017 which landed him a nomination for International Act of the Year at the 2017 British Country Music Association Awards.