Entertainment
Cheyenne Jackson And His Gay Husband Become And Share Experience Of Being Daddies For The First Time
Becoming a father is undoubtedly one of the most beautiful feelings a man can ever encounter and as it happens Cheyenne Jackson and his gay husband have shared the excitement of being parents for the first time. The couple became fathers and shared their beautiful experience with everybody.
Blissful Moment For The Couple!
Cheyenne Jackson and his gay partner Jason Landau welcomed their first Twins, Son Ethan and Daughter Willow in October of last year. Cheyenne revealed the happy news on his Instagram as he posted a twin collage picture where both daddies shared their love to their newborns, and they captioned the picture as;
"Best day of our lives. We will never recover. Welcome to the world our beautiful Willow and Ethan."
Just a few hours later, Jackson again posted a picture of Ethan's mouth saying that it is magic. However, as almost three months, this is how the two beautiful twins look like.
The boyfriend who turned to become a husband!
Cheyenne Jackson, 41, started dating Jason Landau in 2013, after meeting for the first time at the rehab for alcohol addiction. Later, the couple came out about their romance on Instagram.
After dating as boyfriends for quite a while, Jackson and Landau finally got engaged. Jackson's representative announced the engagement and said on their behalf,
"We can happily confirm the news."
After the engagement, the couple had a fairytale-like wedding, planned by 1540 production. On the occasion of their wedding, Jackson said,
"This means a new beginning for us. It was love at first sight, and this is just the culmination of that."
It was an interfaith outdoor ceremony at a friend's estate in Encino, California, joined by 200 of the couple's family and friends. The wedding planning was done taking many things into consideration such as Jackson being from Idaho and wanting everything to feel very woodsy; so naturally, the whole wedding and reception were natural.
There were lots of tweet's by their close friends and fans in the happiest moment for the couple.
Landau further explained the wedding,
"There were branches of trees hovering over the tennis court we're on with over 100 mini chandeliers draping the entire party. It was gorgeous."
Later Jackson revealed that the reason behind the couple getting together so well was that they went through the same path of life and face similar problems. He continued in the interview by saying;
"We've both been through a lot in our lives. We got sober together. Now we sing and we dance together. It blows my mind."
The other reason for the couple getting along together might be because Jackson already knows the reason that makes a relationship unsuccessful because Jackson was previously married to his longtime partner, but the marriage broke down.
A failed marriage!
Jackson was previously married to his longtime boyfriend, Monte Lapka. Jackson and Lapka were together for eleven years before they decided to tie the knot in Hamptons on September 3, 2011. The couple had a dream wedding which was a rather small ceremony that includes close friends and their dog Zora, whom they refer as their daughter.
"Something small … just close friends and good music. Our dog would be there. Our dog, our daughter, Zora. … Pretty boring, but something just nice and on the beach."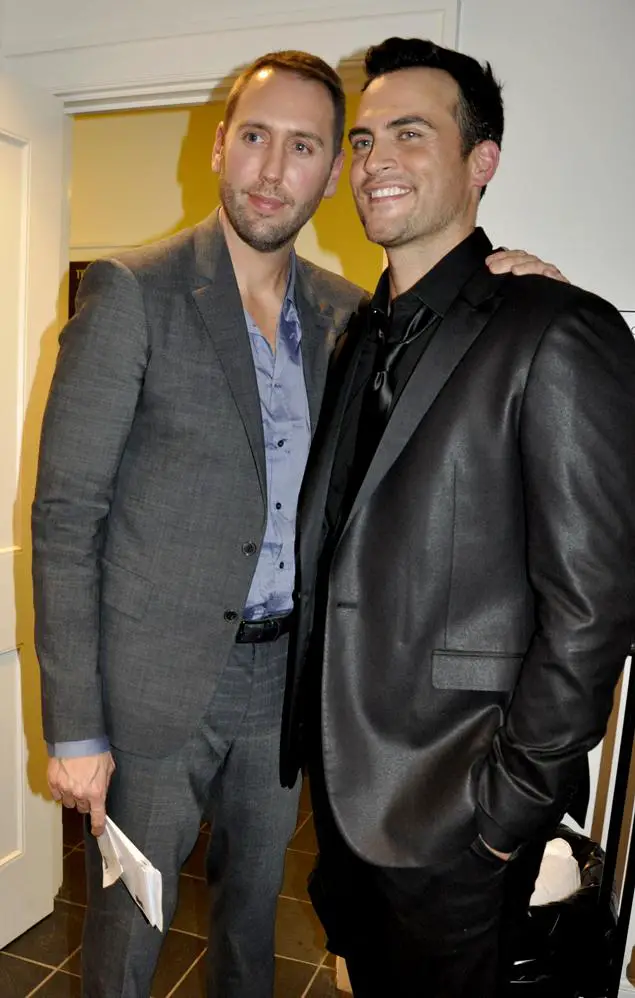 Caption: Cheyenne Jackson with now ex-husband Monte Lapka posing for cameras on 2013.
Photo Credit: nydailynews.com
However, the relationship could not maintain its stability and soon after two years, Jackson and Lapka got amicably divorced in September of 2013. Cheyenne's representative updated on the divorce, where they stated;
"Cheyenne Jackson and his husband Monte Lapka have mutually decided to divorce. The couple has been together for 13 years and were married in N.Y. State two years ago. It is an amicable parting and, understandably, a private matter."
Cheyenne has already moved on with his personal life and has a family whereas on the other hand; his physicist ex-husband Monte Lapka is almost invisible to the media.
Cheyenne Jackson's net worth:
Cheyenne Jackson has an extensive career of over a decade and has landed on many roles in many movies and TV series including, American Horror Story, 30 Rock, and Glee. He currently acquires a net worth of $5 million.
Jackson is most recently seen in American Horror Story and has Hello Again in post-production.