Entertainment
Chip Hailstone In Jail Sentence By Court; Life Below Zero Now Behind Bars?
Life Below Zero suddenly turned out to be the life behind bars for the cast Chip Hailstone in the series Life Below Zero. In the show, Chip Hailstone, along with his wife Agnes Hailstone and seven kids, five of which were his daughters, make their way to sustain one day after another in the harsh environment of Alaska.
While Chip used to find ways to survive in the wilderness, he is currently looking forward to serving his time behind bars after being sentenced to jail by the court.
Here are few details regarding his court case that ended up the absence of Chip from the show!
Chip Hailstone Convicted Of Crime; Still In Jail?
Chip Hailstone, with his wife Agnes Hailstones and kids, struggle to survive the cold, dark winter days in Alaska in his series Life Below Zero that has been airing in National Geography Channel since 2013.
Known for his appearance and struggle to survive with his family, Chip has raised several queries among his fans regarding his jail time.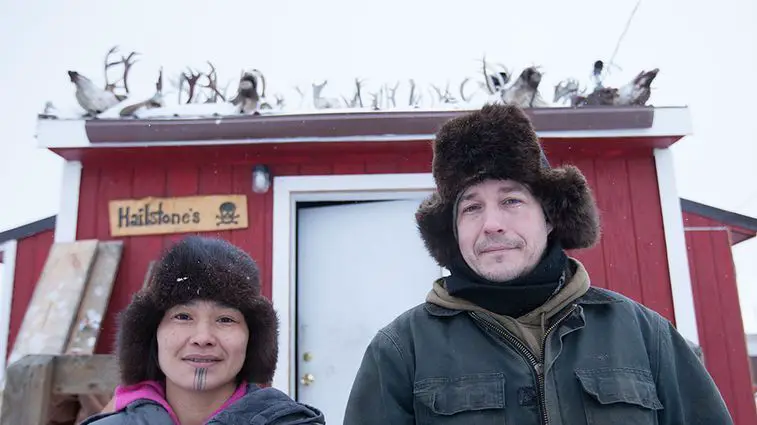 Chip Hailstone with wife Agnes Hailstone in Life Below Zero (Photo: channel.nationalgeographic.com)
However, the cast himself has been dealing with court issues away from the struggle of the daily survival in his series. He has been convicted of a crime of two perjury, two false reports and so far has three years of probation. As of now, he must do time for the two misdemeanors.
After losing the court case he had been fighting since 2011, Chip will be incarcerated in the Anchorage Correctional Complex for 15 months. He was convicted of perjury back when he had requested a restriction order on behalf of his daughter, who was physically assaulted by a state trooper in Noorvik.
At that time, the trooper grabbed the hand of his 17-year old daughter and moved to put her into a submissive hold. At around same time, a few days later there was an incident which involved another family, in which Chip claimed a resident had pointed a rifle at his daughter after an altercation involving his son.
After several interviews conducted and report submitted to the court, Chip found out he had been charged with perjury in November.
But even though the court convicted Chip of falsely testifying in his sworn statement to the court, he continued to argue his testimony and affirmed that his claims against the troopers have been truthful all along. Chip further accused the troopers of evidence tampering during his trial.
Chip further continued his fight back in 2014 by filing the papers with the Second Judicial District Court in Kotzebue. During that time, Chip opened up about the anxiety his family faced due to the drag on the court case, stating:
"Really, I'm just looking forward to getting this dropped.The anxiety for the past two years has been nuts, especially for Tinmiaq and Agnes. I can't wait until that's gone."
However, the family that worked together to fight death in the cold weather of Alaska lost the case after years of fighting for it. Chip was convicted and yet put behind bars.
As it seems, he has not appeared in the series since then, and the family thrives to survive the harsh Alaskan wilderness on their own.
Keep Visiting for the emerging updates on the life of Chip Hailstone!