Entertainment
Christie Hayes Finally Married To Her Husband, Why Was Their Wedding Cancelled Before?
Did you hear the news? Christie Hayes has married. The 'Home and Away' star has a limited number of notable works in her career but yet she has been a recognizable actress, and her wedding is something to read about and know how it made the headline.
Learn about how her entire wedding went down. Who is the mystery, husband? Also get to know more about her baby children and the experience with pregnancy before that.
Her Wedding:
Like for all brides, Christie also had an outstanding marriage. She married her husband Daniel White on August 2016 in front of close family and loved ones. The two wed at the picturesque property in the Royal National Park known as Lilyvale only an hour south of Sydney. In an interview, published by dailymail.co.uk on September 9, 2016, she said;
'We have said all along we're the same souls just split down the middle,'
She also posted the picture of them together on her Instagram to express her joy and also said it was one of the greatest moment of her life.
The photos from her wedding have just surfaced only a month after but the pictures show them not less than a fairytale couple. The bride especially looked like a princess in her bridal gown featuring a semi-sheer lace sleeves and a busty bodice.
The couples were assigned reserved seats with bride and groom engraved on it while two big sign boards welcomed the guest. After the ceremony and a few drinks, the couple ended their special day pleasantly.
Two Failed Attempts due to Pregnancy:
This was, however, the pair's only third attempt at getting married. The couple's former motives of eloping had been put to rest because of Christie's continuous pregnancies.
As you may all recall, she gave birth to her first child, Hendrix Walter White on October 2014 as they were in the process of planning their wedding for the first time. Her Son was named in quite a unique way, according to her,
"We're calling him Hendrix Walter White. Hendrix after the [guitar] legend and Walter is a family name from Daniel's side and a character in Breaking Bad. We love that show so it's a happy coincidence."
Here is a picture of them together taken only some time after her son's birth.
She had only thought that maybe now things will be simple but only after six weeks of her first child she found out she was pregnant again. She revealed this in April 2015 on 'The Morning Show' about her due child in September 2015. They name their second son Harley White. The equally shocked Christie Hayes said,
"Well funnily enough, when Hendrix was six weeks old, we found out that I am expecting a second baby, so I am almost six months pregnant. Would you believe it?"
Christie also posted the picture to her Instagram to share the lovely and adorable picture of her babies having a bath together, and they look cute.
Well, we must say that the couple along with their two adorable children are having a great time of their life and are enjoying their parenthood state.
How They Met:
Christie met her wine-broker husband through the means of e-mails. They must have gotten to know each other very well through e-mails as they got married shortly after face to face interaction. They met on their first date, and after just three months of dating Daniel popped the question to her, and she said yes.
Her Previous Married Life and Husband:
Christie was previously married to actor and director Greg Hatton. They got married on 23rd February 2008, but they were not meant to be as they had a divorce in May 2013. We do not know what Greg Hatton is up to nowadays, though.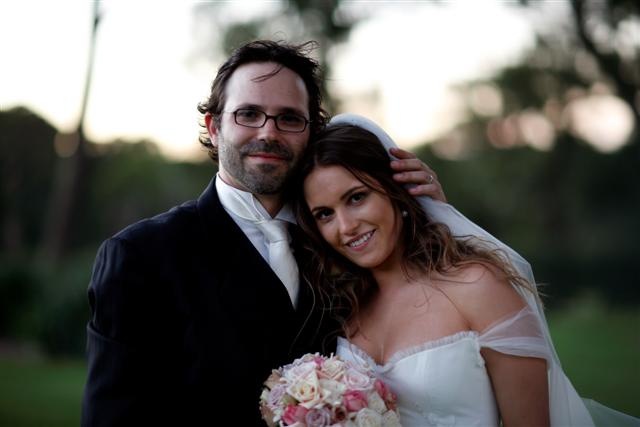 Caption: Greg Hatton and Christie Hayes from their wedding day in 2008
Source: polkadotbride.com
So, it looks like things are presently pleasant in Christie's life. Her past attempts on a eloped wedding failed but instead of it being some bad omen were two greatest pre-wedding gifts ever, her sons. Eloping would not have provided them with the legality of their marriage now, would it? So you can say that everything happened for the better and lead to a happily ever after.