Entertainment
CNN's Controversial Journalist Fredricka Whitfield: Mother of 3, happily Married with Husband and Children
She is one of the most talked anchors worldwide. She is a beautiful and gorgeous diva who works for CNN. She has millions of fans throughout the world. Not only beautiful she has amazing presentation skills making her one of the top anchors, but she has been in controversy due to her comments. She is Fredricka Whitefield.
CNN anchor Fredricka Whitefield has outraged following the event that gunmen planted pipe bombs outside Dallas police headquarters and opened fire on cops. She didn't hesitate to call gunmen 'courageous and brave,' that too on national television. Crazy, right?
Controversial comments!
Whitefield made those comments while an interview about James Boulware, same gunmen who stormed into the building and was engaged in a deadly standoff with Dallas cops.
The 50-year-old told CNN legal analyst Philip Holloway: 'It was very courageous and brave, if not crazy as well, to open fire on the police headquarters, and now you have this scene, this standoff.'
She added: 'So you believe these are the hallmarks of more than one person's involvement.'
Whitefield comments injected anger and rage in Social Medias and officials.
The Fort Worth Police Officers Association took to Twitter in a fury, writing: '@CNN & @FWhitfield should apologize immediately for this outlandish commentary in the #DallasPDShooting.'
Meanwhile, the Houston Police Officers' Union accused the anchor of being 'clueless,' tweeting: '''Courageous and brave" to shoot at police officers with an assault rifle. Get a clue and WAKE UP!'
It didn't end the story,; there were more sagas to it. Fredricka issued an apology as she called gunmen 'courageous and brave' who was involved in an ugly shootout at Dallas police headquarters.
"Yesterday during a segment on the Dallas police department attack, I used the words 'courageous and brave,' when discussing the gunman. I misspoke and in no way believe the gunman was courageous nor brave," Whitfield said.
Boulware was involved in the hours-long standoff, but ultimately he was shot by a sniper. Although he was shot, it took a long time to assure his death as his van was found to be loaded with explosives.
Her Married Life, Husband, and Children?
Regardless of her controversies, she has a perfect fairytale married life. Back in her college days, she dated John Glenn. And she married the same guy. John was a photographer at Atlanta Constitutional-Journal.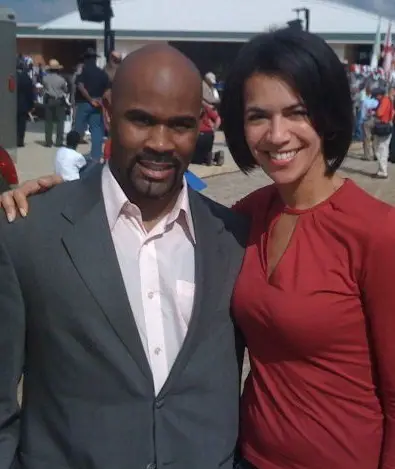 Caption: Fredricka Whitefield and John Glenn
Source: liverampup.com
They are leading a happy life and are blessed with three children. Husband and wife's relation are based on trust, Whitfield and John's relationship implies that. Whitfield gave birth to a son in 2005. After seven years of gap, she gave birth to fraternal twins: son, Gilbert James Glenn and a daughter, Nola Amanda Glenn. They are living as a happy family, and no signs are there of a divorce. And yes, she is a loving mother.
Despite her controversies, she was invited to Obama's last Whitehouse Correspondents Association's dinner. Quite interesting, isn't it?
Moreover, she was recently seen in presidential town hall debate at Washington University St. Louis.
Motivational speaker!
CNN journalist Fredricka Whitfield advised students of University of Arkansas at Pine Bluff students to persuade their dreams through hard work on April 5, 2017, as a speaker for the university's celebration of mass communications month.
A daughter of Nora Whitfield as well as late Olympic gold medalist sprinter Mal Whitfield, journalist Fredricka Whitfield discussed her personal and her professional journeys and also paid tribute to her parents. Whitfield also paid homage to those journalists who risk their lives by reporting in war zones. Whitfield said:
"I like to say you dream big and you dream often, you have to see yourself doing something. Do not stop at one dream. There is no straight line toward reaching your goals. You've got to leave your comfort zone and you've got to be adaptive. ... I like to call it a contract with self. Someone along the way might say to you 'No way. It's not going to happen.' I heard it not from my family members or friends but from people out there."
Fredricka Whitfield is an anchor and journalist for CNN in the United States. Whitfield is of African-American ethnicity. She's best known for her interview with Joan Rivers, an American actress who died a few months later the interview. She's a bachelor degree graduate in Journalism at Howard University.
Before joining CNN, she was associated with NBC news. She joined CNN in 2002. In more than 30 years of career, she has won lots of awards for journalism, best being Emmy award for outstanding live coverage of a breaking news story long form.