Entertainment
Coco Austin Living The Life With New Born Baby; Currently Having Problems With Husband?
Becoming a mother is the ultimate happiness a woman can have in her life. Your child means everything to you, and the happiness of your child and the correct upbringing of your baby is the foremost priority of you.
The same story is shared by famous American glamor model and web personality Coco Austin, who is enjoying parenting her daughter with her husband.
So let us take a look at her maternal life!
Coco Austin's Life As A Mother:
Coco Austin welcomed her beautiful daughter Chanel Nicole Marrow with her rapper husband Ice-T in November 2015. The couple, who got married in 2002 had found a new way to enjoy their husband-wife relationship.
Coco and Ice-T are all loved up with their daughter, and they are trying their level best to become great parents.
Coco was seen enjoying her husband and Chanel's father performing in Brooklyn back in July 2016.
Ice-T rapped to the crowd while Coco, with their baby girl, danced backstage.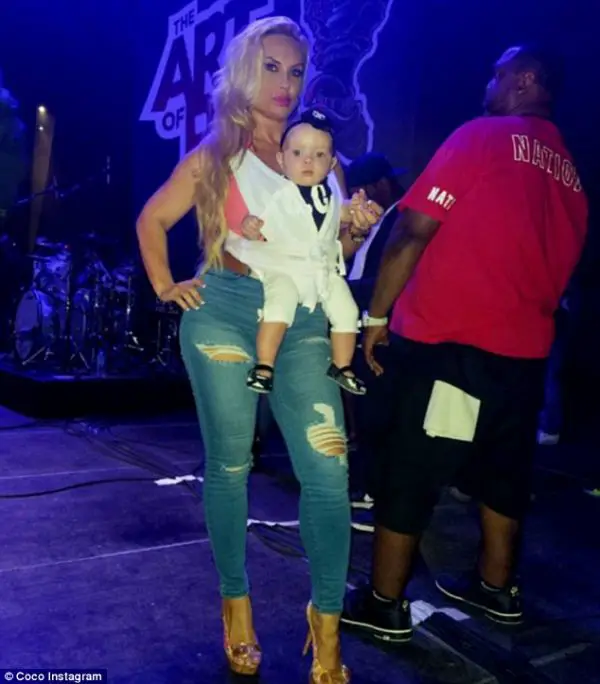 Caption: Coco Austin and her baby daughter Chanel enjoying Ice-T's performance in Brooklyn, 2016.
Photo Credit: dailymail.co.uk
Caption: Coco CAustin takes her daughter to Ice-T's show in Brooklyn, July 2016.
Video Credit: dailymail.co.uk
Great to see that Coco is enjoying her motherhood and has plenty of love for her daughter Chanel.
Is Coco Facing Problems With Her Husband?
We know that the title might be a bit misleading, but the problems here refer to the lack of intimacy between the rapper and the model.
Back in 2016, Coco revealed that after a couple of months of welcoming her daughter, she had very less intimate and alone moments with her husband.
She said,
'Sex is nonexistent for the first couple of months,'

'There are no alone moments with your husband.'
She also added,
'You don't even want sex. That's the thing. Everything is about the child. Nothing is sexual in your world.'

'It definitely changes.'

'You don't get the OK to even have sex or go to the gym until 16 [weeks],'
But still, that has not had such a significant impact on their relationship.
'We're very much a tight family,'

'At night - the dog, the baby - we all plop into our bed and it's a full bed.'
To prove her words correct, just months before she admitted to all of these, she and her husband were seen celebrating Coco's 37th birthday.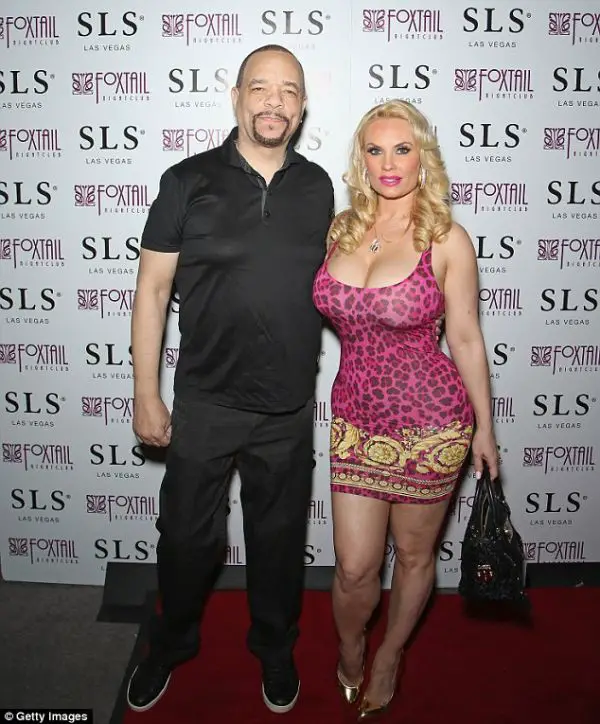 Caption: Coco Austin and her husband Ice-T out to celebrate Coco's 37th birthday in 2016.
Photo Credit: dailymail.co.uk
Moreover, Coco's Instagram posts suggest how strong their love is.
We would like to wish the couple and her family all the very best for the future!
Before Ice-T, she was also married to Mike Williams at a young age. The two were married from 1999 to 2001.
Coco's Trainings And Workout Regime:
Coco Austin has an amazing body, and she is also the inspiration for a lot of women longing to maintain a healthy and attractive body shape.
In an interview, she spoke up on her body transformation by doing squats and pole dancing workouts.
When she was asked how the IFBB inspired her weight loss, she said,
Recently I went to the Jay Cutler Desert Classic show in Vegas because one of my trainers is a competitor, and she's balls to the walls into it. I was amazed at how beautiful the bodies were. I was even more inspired and realized I'm not too far from some of these girls. Recently, I've dropped from 24% body fat to 13%. That's a crazy change in my body!
Moreover, when she was asked about the body part she focuses more on, she responded saying,
I generally work out my lower body every time I go to the gym. I concentrate on doing squats and lunges with weights. I work on the top of my booty muscles. If I work hard enough I can get my butt pretty big, but it takes a lot of dedication and heavy weights.
Similarly, speaking on maintaining her body, she said,
I love pole fitness. The way I do it, it's extreme acrobatics—it's on a whole different level. You go up 12 feet in the air, hit a split or a pose, and hold it. That is some serious business. It's intense!
Must say those are useful tips.
Caption: Coco Austin's workout. (Published on January 30, 2014)
Coco's dedication as an actress, a fitness model, and a web personality has helped her gain a lot of success and respect in her career. The success she has earned in her career has helped her finances as well, as her net worth dwells around $4 million.