Entertainment
Danny Pintauro Got Married And Turned His Boyfriend Into Husband; Wedding Ceremony At its Best
Love is love, no matter who you share your feelings with! Today we address the same-sex marriage between actor Danny Pintauro and his boyfriend turned husband. So without further ado, let us relive the moment the two tied the knot.
The Beautiful Marriage Between Danny And His Husband:
Danny married his entertainer boyfriend Wil Tabares on Thursday, April 3, 2014, in an intimate beach ceremony held at Dana Point, California. Danny, who came out as a gay in 1997 exchanged vows with Wil in front of their friends and family members. They even streamed some parts of their wedding ceremony via Livestream such that the fans could be a part of their big day.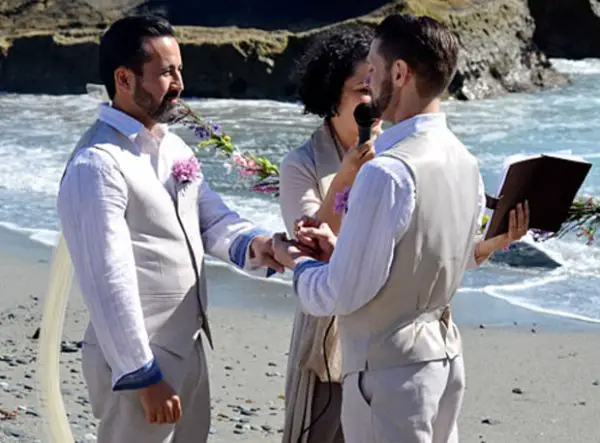 Caption: Danny and Wil got Married to one another in a beautiful ceremony back in 2014.
Photo Credit: usmagazine.com
A source stated that the ceremony was held beautifully and Wil even sang a song for his newly wed husband,
"It was all very sweet and romantic."
Danny explained his big day as,
"Everything went off without a hitch, The wedding was terrific, and everyone was so happy to be there. We had fun! We went into it with no stress or worries or cares, except to have a good time."
His partner Wil too got into the act and shared his joy and ecstasy.
"I never thought I would get married...I never thought I'd see the day that same-sex marriage would be legal, so it's definitely a lifelong dream come true. The beautiful reality is starting to set in. This is one small step for man, one giant step for equality."
Wil then concluded,
"We didn't get married for any political reasons, we got married because we love each other and want to spend the rest of our lives together,"

"I can't see any other reason why we shouldn't be allowed to do that legally."
Well said Wil! And by looking at the social posts of them, the two are indeed having a successful relationship thus far.
God bless the two of you!
A Short Wiki-Like Bio of Danny Pintauro:
Danny Pintauro was born as Daniel John Pintauro on January 6, 1976, Milltown, New Jersey, United States. By profession, he is an American actor who is best known for his roles like Jonathan Bower on the popular American sitcom "Who's the Boss?" and his role in the 1983 film "Cujo".
However, he has also worked as a Tupperware sales representative and has managed a restaurant in Las Vegas and as a result, he has earned a fair amount of money in his life which is why his net worth is a staggering $300 thousand.
Stay with us for more news on Danny Pintauro!