Entertainment
David Boreanaz, A Philanderer Cheating On Wife & Family? Impairing Affair, Marital Status Now
American actor David Boreanaz is chiefly known for his roles in the series Buffy The Vampire Slayer, Angels and Bones.
The actor was enjoying marital life with his second wife and kids. His marriage hit the rough tides when rumors about cheating surfaced against the Newyork native, which left the couple thinking divorce as a viable solution.
Blissful Marital Life With Wife and Kids
Actor David Boreanaz had already gone through a broken marriage with social worker Ingrid Quinn when he first met Playboy model Jaime Bergman in early 2001. The pair instantly connected and seven months later they decided to tie the knots.
David had grand plans for his wedding with Jaime, set to take place in September 2001. However, he had to call the wedding off after the terror attacks on the Twin Towers.
The Valentine actor finally wed with Jaime on 24 November the same year in a small and intimate ceremony in front of friends and family. The couple soon multiplied from two to three after welcoming son Jaden in May 2002. Their marriage was going well with the couple absolutely in love, and they welcomed their second child a daughter, Bella in 2009.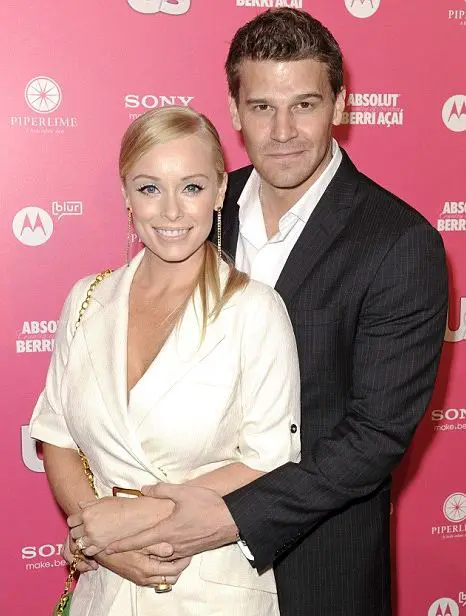 David Boreanaz with wife Jaime Bergman in 2008 (Photo: dailymail.co.uk)
With a loving wife, adorable kids, and a lead role in hit series Bones, David was enjoying marital bliss to the fullest.
However, their happy family life was to be rocked a year later when cheating rumors about the actor started hitting the news.
Scandal That Rocks The Nation
The whole of America was left stunned when David fronted up to the media and admitted that he had cheated on his wife on 3 May 2010. He explained that his marriage of 9 years had been tainted with infidelities and accepted that he had been irresponsible. PEOPLE magazine quoted his acceptance:
"Our marriage has been tainted with my infidelities. I just want to be open and honest. I was irresponsible."
The SEAL Team actor further opened up about his extramarital affair with a mysterious woman saying that he was victimized and being asked for an absurd amount of money by his alleged mistress. He furthered:
"I was associated with a woman who I was involved with and had a relationship with. She asked for money. I felt as though I was being blackmailed or there was some sort of extortion."
On the other side, Jaime was said to be very angry about his affairs.
However, Jaime's mother Sue Scallion on 6 May 2010 shared that David had issued a heartfelt apology to her and Jaime and stated that he was ready to go all the lengths to save their marriage.
She even added that the philanderer actor and Jaime were undergoing couple therapy and were even considering relocation to give their marriage a fresh start. Sue was quoted saying to RadarOnline:
"It's not just David and Jaime that want to work through this, it's everyone that knows and loves them. That's what family is."
And the mysterious mistress was revealed to be model Rachel Uchitel after lewd text messages between the pair were leaked online. Rachel released a statement through her attorney stating that she had been involved in a romantic relationship with David because he was unhappy with his marriage.
And the statement further clarified that Rachel had broken off with him because she did not want to break his married life. With daily revelations about affairs, David's marriage seemed to end in agony, with divorce being seen as the logical conclusion.
After Cheating Fiasco, Still Going Strong, Now
As David's mother-in-law had stated, the father of two and Jaime decided to give a last try to salvage their relationship.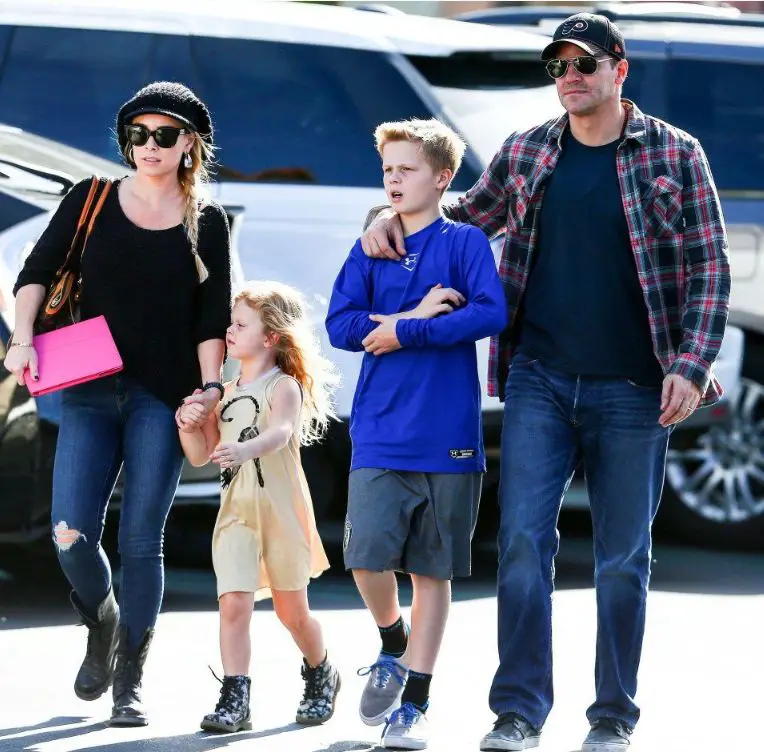 David Boreanaz with wife Jaime Bergman and kids Jaden and Bella in 2013 shopping together (Photo: celebritybabyscoop.com)
The couple remained together and attended the Emmys together in September 2011.
And a month later, David spoke for the first time after his affair's disclosure with and said the event served as a bonding episode in their married life. Speaking to Dailymail, he added that demons took over him during that period. However, David did not give up and fought to save his marriage.
He affirmed:
"There could be a demon that kind of comes out and overtakes you. Do I believe in giving up? No, I don't. I'm a fighter. I'm a lover."
And the efforts the couple applied to save their marriage bore fruits.
Jaime posted a sweet message to her husband on 24 November 2015, commemorating the couple's anniversary and added that she loved him in 2001 and she still loved him in 2015 too.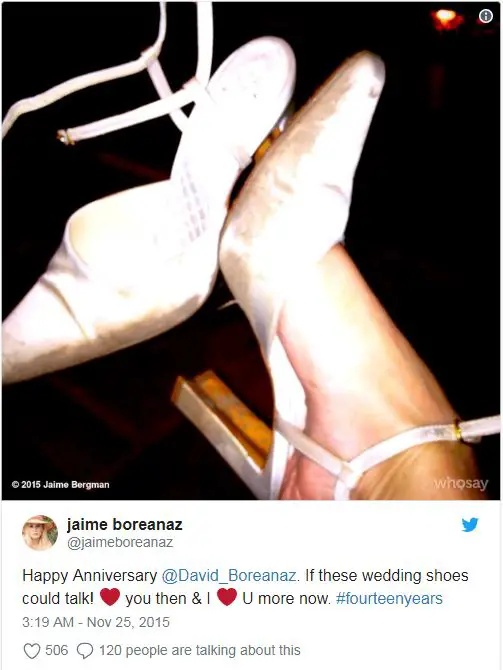 David Boreanaz's wife Jaime wishes Happy Anniversary to the star (Photo: David Boreanaz's Twitter)
The couple made a rare red carpet appearance on 15 April at the Academy of Country Music Awards 2018. Whats more, the loving husband posted a photo of him and his wife on Instagram calling Jaime his queen and wished her a 'Happy Mother's Day.'
Not just that David seems to have been a responsible father. He is with his kids on their big days and never misses an occasion to show his love towards his kids, whether that be celebrating his son's birthday or his daughter's ice hockey matches.
Seems like the actor has learned his lessons from his past exertions and is much more of a family man these days, a responsible father and a loving husband.