Entertainment
Desperate Housewives' Shawn Pyfrom is not a Gay: Meet His Sexy Girlfriend, Andi Elloway
Best known for his gay character "Andrew Van de Kamp" on ABC's Desperate Housewives, this man is known online as an alleged gay. However, the man who has always been proclaimed as gay has come out straight.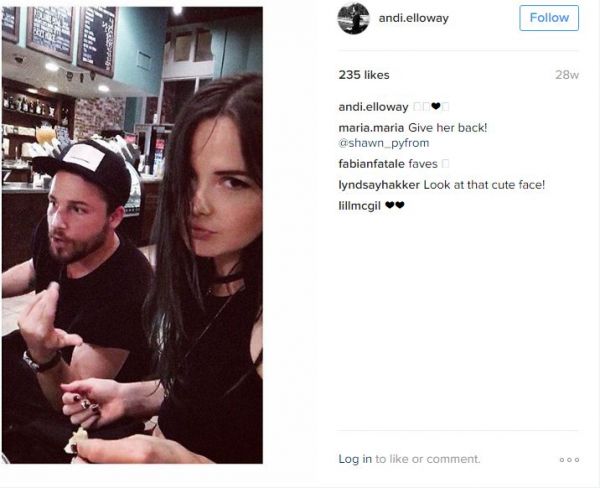 Caption: This photograph clearly shows that they are out on a date in a restaurant, and the caption nails it. Andi Elloway posted this photo on Instagram with the love symbol. The picture clearly indicates that they are girlfriend and boyfriend, doesn't it?
Shawn Pyfrom, an American actor, is in a relationship with Andi Elloway. Their couple pictures on Instagram are going viral.
Caption: This photograph was posted by Shawn Pyfrom. The caption for this image was "pørtr??t". Well, it's Andi Elloway portrait, and Shawn probably clicked it.
A token of the gift was gifted by Shawn Pyfrom to his girlfriend, Andi Elloway.
Both of them were spotted recently in Los Angeles on March 4, 2017.
His Desperate Housewives Role:
Shawn Pyfrom played the role of the stubborn, witty, wicked but troublesome gay son, Andrew Van de Kamp, on Desperate Housewives. He did confess few things about his Desperate Housewives' gay character on Out magazines in 2006.
"What I really liked about it was that he was already developed as this strong little bastard who runs over old women, and now he's developing into a gay youth. I'm glad they had that other story line first, so people didn't categorize him as 'that gay kid'."
He also talked about his gay characters and his gay scenes. He said:
"I was a little shocked, but I wasn't really all that worried about it or anything. I was actually really excited they were going to give me that kind of depth in my role. I thought it added a really interesting twist to it."
Moreover, he added:
"I just went in and right before we were about to shoot, Ryan Carnes, the guy who plays my love interest, turned to me and he was like, 'The work-up to it is much worse than the actual thing itself, so try not to worry about it, try not to think about it.'"
His fellow mate in Desperate Housewives, Charlie Carver the 27-year-old actor landed parts on popular series' Teen Wolf as well as The Leftovers.
Alcoholic and drugs addict?
Shawn Pyfrom has opened up in a bold fashion about his addiction issues in a public letter on his Tumblr blog in February of 2014.
The 27-year-old actor who is best known for playing the character of Bree Van de Kamp's gay son Andrew on Desperate Housewives shared his story with his fans on Feb. 2, 2014, after American actor as well as director Philip Seymour Hoffman was found dead in his New York City apartment. Pyfrom wrote:
"Against the advice of others; I had to write this open letter. I can't stay quiet anymore about this...I am an alcoholic and a drug addict."
Shawn's Short Bio:
Shawn Caminiti Pyfrom ( born August 16, 1986) is an American actor who is best known for his role as Andrew Van de Kamp on ABC's Desperate Housewives. Pyfrom, who was born in Florida, is of English, Dutch, Italian, Welsh, Hungarian, French and Irish descent.
Shawn was seen in The Darkroom in 2007 and The Shaggy Dog in 2009. He was also seen in the movie Killing Lincoln in 2013. On the other hand, Andi Elloway is a photographer.