Entertainment
DJ Nina Blackwood's Husband: Seems to Be Married to Profession Post Divorce, Lesbian?
Music is considered as one of the effective ways to reduce stress as music has that power in it and people who perform music are the coolest profession on earth as to make people dance, sing and groove all at the same time by mixing music and perform to thousand of people is insane and Dj Nina Is that cool lady who makes people dance on her beat and make people love her.
Considered as an original Vj for MTV Nina had started her career from a young age. When MTV came on the air in 1981, it introduced us not only to a new art form - the music video - but a new kind of TV personality: the VJ. From introducing videos to hosting programs and reporting the news, the music channel's talking heads have entertained and informed; Nina has done it all to entertain people.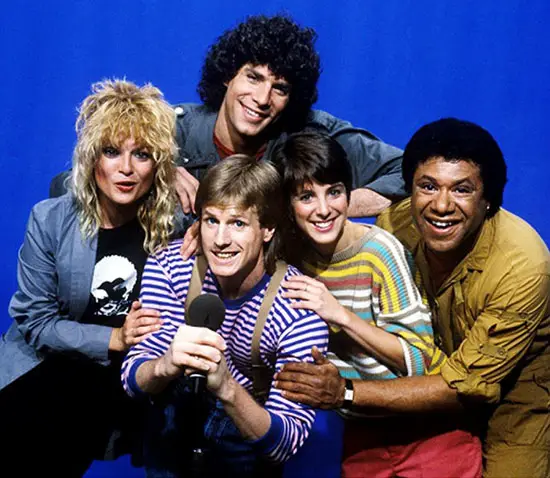 Caption: The original VJs: Nina Blackwood, Mark Goodman, Alan Hunter, Martha Quinn and J.J. Jackson in 1981
Source: pinterest.com
On an interview she gave to thedailybeast.com on 2013, Nina had a lot to say about her experience and career. She said;
Oh god. Well, basically, when I moved from New York to L.A., people were saying "What happened to Nina?" "Oh, she took some job at some cable music program." Cable was in its infancy, so it wasn't like it is now with 200-something channels. [MTV] grew as cable grew, little by little. Initially MTV wasn't available in New York, so on a day-to-day basis we didn't know how big we were, but when they would send us out on personal appearances, we were mobbed! We'd go, "Wow, this is really taking off!" And then once we hit New York, it was like, "See ya later.".
And in the same interview, she talked about how the show has changed and is not as before and how she left;
I think really when the first nonmusic program started. I had left by then.
After, she and the network parted amicably in '86, after which Blackwood signed an unprecedented dual show contract with Paramount Television, anchoring both her own weekly "Rock Report" on Entertainment Tonight, and co-hosting TV's award winning show "Solid Gold." Blackwood then acted in movies like "ViceSquad"(1982), "Reckless Kelly" (1993), and" I Crave Rock & Roll" (1996) she started her radio host career in 1999, Blackwood and longtime manager/producer Danny Sheridan launched a nationally syndicated radio show for United Stations Radio Network called "Nina Blackwood's Absolutely 80's".
In 1997 she did TV series called "Lois and Clark:" The New Adventure of Superman" and in 1998 another series "Walt Disney's Wonderful World of Colo." She then performed as part of the 2003 road company of "The Vagina Monologues."
She currently hosts a weekday show called the" 80s on 8 with Nina Blackwood" which was debuted in July 2016 and also has a drama show "Citizens" which is in post-production and will be premiered on 2017. Looking at her career so far it will not be wrong to say that she is married to her profession and has limited time for her family as over a decade Nina has taken no break and has done back to back programs.
Here is the video clip where Nina was hosting the show back in 1985;
Caption: Nina Blackwood back in 1985 hosting MTV show.
Nina persona life and professional life:
As any other celebrities, Nina too chooses her personal life to be out of people talk and gossip column. OFF-CAMERA SHE'S A GOOD-LOOKING WOMAN," SAYS fellow jock J.J. Jackson of Nina Blackwood. "But on-camera she was stunning. Mark Goodman and I used to say, 'How the hell does she do that?!' "Of course, the Massachusetts-born model and actress was more than just eye candy. Nina also opened about her experience and said;
"It was an incomparable experience,"We had the world in our hands."
She and the network parted amicably in '86, after which Blackwood did on-air stints at "Entertainment Tonight" and "Solid Gold." These days she shuttles between her home in Tarzana, Calif., and Denver, where she works as an FM DJ.
Married Life, Husband, and Divorce!
Divorced her husband in 1991 after a four-year married life, Blackwood has chosen a lesbian partner and is now seeing stage actor Kelly Vincent as per the report.She also mentioned her name in the acknowledgment part of her book saying;
Kelly Vincent, for making my life meaningful, I love you eternally.
By this statement of Nina, we can see her feeling toward Kelly. Though they have not made it official looking at their statements, we can't deny the fact that they see each other.
Net Worth of Nina:
Nina Blackwood has an estimated net worth of $500 thousand dollars as of now. She is known for being one of the original five MTV VJs. She is a reputed VJ, DJ, model, and actor and has acted in many movies and TV shows. She has made big name in the entertainment industry, nd her net worth comes from her radio host, TV shows , book publication and from acting
Nina Blackwood's Short Bio:
Nina Blackwood was born on September 12, 1955, in Springfield, Massachusetts. She grew up on the west side of Cleveland, Ohio and from there attended Rocky River High School and graduated in 1970.Before entering broadcasting Nina has appeared nude for Playboy pictorial "The Girls in the Office" as a brunette.
She studied acting at the Strasberg Institute and have acted in a number of TV shows and film which include movies like Vice Squad(1982), Reckless Kelly(1993) and Crave Rock and Roll(1996).
She is an author as well and has published her first book "VJ: The Unplugged Adventures of MTV's First Wave" on 2013.
Nina top radio shows include Nina Blackwood's Absolutely 80's New Wave Nation, The 80s on 8 and The Big 80's.