Entertainment
Does Cynthia Addai-Robinson Have Any Dating Affairs Or Boyfriend? Looks Too Busy To Be Getting Married Anytime Soon
"Spartacus: Vengeance" actress Cynthia Addai-Robinson is someone who has been a hit name when it comes to acting, and as a result, she has a huge fan base that follows her around in every step of her life. A woman of quite a few words regarding her personal life, she has been adamant on revealing anything about her personal life, but her fans would like to know if she has a dating affair currently or is she just too focused on making her career even better and bigger.
So today, we shed some light on her dating life and find out if she has a boyfriend in her life.
The Sought For Love Life of Cynthia: Boyfriend?
Cynthia is a beautiful lady, and she has won plenty of hearts around the world with not only her beauty and charm but also her acting skills. But does she have a boyfriend in her life or does she has a husband?
Well, thus far, she has not come forth to disclose any crucial information about her love life and also she has not her fans and the media about her getting married and having a husband, which is why she is likely to be single as of yet. Or maybe, she just does not want to reveal anything about her private life.
However, she was once linked with her Spartacus co-star Manu Bennet who is currently married to his wife, Karin Horen.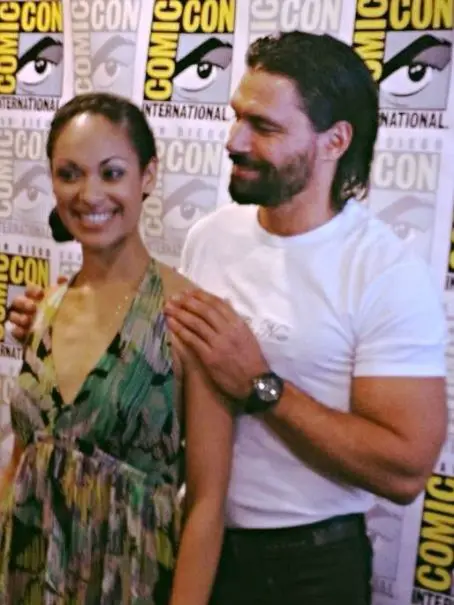 Caption: Cynthia and Manu pictured together at the 2012 Comic Con.
Photo Credit: whosdatedwho.com
Manu Bennet and Cynthia were linked together back in 2011, and there were rumors that the two were dating one another till 2013. But none of them came forth and affirmed this rumor which is why one might assume that it was just a rumor and no truth was behind it.
Furthermore, back in early 2017, Cynthia posted a picture with actor Pablo Hernandez over on her Instagram which led people to speculate if the two are an item. But like her link with Manu, she has spoken anything about her connection with Pablo which might suggest that it is just a friendly post.
The fact that she does not like talking much about her personal life indicates that it is her professional life which she wants people to focus on and also if you are to look at her social posts, everything is literally about her work. Maybe, her work is her priority, and she does not want any strings attached to her.
So we might have to lie in wait if she reveals anything about her love life in the days to come!
A Short Bio of Cynthia Adai-Robinson.
Born on 12 January of 1985, in London, England, UK, Cynthia Addai-Robinson is an actress who is most famous for her roles in "Spartacus." "Star Trek Into Darkness" and much more. She briefly appeared on CSI: Crime Scene Investigation with her Spartacus co-star Nick E. Tarabay. Speaking of her family life and her parents, her mother is from Ghana, and she has an American father. She migrated with her mom to the U.S when she was 5.
She graduated from Tisch School of the Arts which shows that she has all the tricks of the trade up her sleeve. Her first role was back in 2002, and since then she has been doing wonders with her acting skills. She was earned name, fame, and money in a fair amount and some sources say her net worth is around a million dollars. But still, she has not disclosed any official statement on her net worth.
Stay with us for latest updates on Cynthia Adai-Robinson!