Entertainment
Elden Henson's Married Life: Girlfriend Turned Wife, Claims His Son As His Best Friend
A child is a perfect companion to their parents. When parents watch their child, they become lost in his every small gestures and smile. Likewise, today we are talking about a proud father of two years boy, who has found a best friend within the son.
An American actor, Elden Henson has a son of two years old. The baby boy is fully capable of walking on two feet and making sweet mischiefs. Elden therefore, claims that his son has become his best friend. He shared this nice information in his Instagram post which we are showing you now.
Don't the daddy and son look cute together??
Elden and Kira gave birth to a baby boy on July 20, 2014. Elden shared in the interview with Decipher that the time when his son was born, he was surrounded by bountiful works. He said,
I flew home to LA on the 19th of June, my son was born on the 20th, and we were in New York in the beginning of July starting the show. My home life was a bit crazy. So, I did as much as I possibly could and luckily, you know, there's a lot of information out there."
The delighted daddy, however, could not keep the good news to oneself. He uploaded the picture of a little son in Instagram and introduced him to the fans.
Elden's Married Life and Wife?
Elden Henson married Kira Sternbach, an actress best known for Neighbours and Lately There Have Been Many Misunderstandings in the Zimmerman Home, in 2014. Elden and his girlfriend turned wife; Kira had been dating for a while before marriage.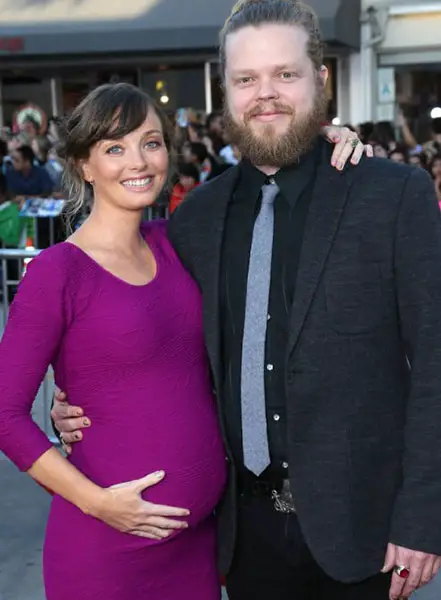 Caption: Elden Henson with wife, Kira Sternbach during the pregnancy(2014)
Source: celebrityimages.org
Elden Henson's Short Bio:
Born on August 30, 1977, Elden Henson witnessed the world from Rockville, Maryland. He lived many years in Weehawken, New Jersey to attend Gary Golombek High School. He is best known for his roles in Daredevil, The Mighty Ducks, The Hunger Games: Mockingjay- Part 1 and 2. Beside this he has played movies like Jaws: The Revenge (1987), Cast Away (2000), cheats (2002), Dumb & Dumberer: When Harry Met Lloyd (2003), Jobs (2013), The Hunger Games: Mockingjay – Part 1 (2014), The Hunger Games: Mockingjay – Part 2 (2015). He enjoys a dazzling net worth of $500 thousands.