Entertainment
Emayatzy Corinealdi's Experience on Moving to LA: About Boyfriend and Finding Amazing Husband in LA
It is always an exciting part of life to travel from one place to another for most of the people whether the purpose for their travel is work or vacations. Our actress from 'Middle of Nowhere', Emayatzy Corinealdi also has a traveling story to tell us. Let's hear it.
Emayatzy Corinealdi traveled to Los Angeles; also known as Hollywood in early 2000s to support her career as an actress.
In an interview with the ESSENCE in August 2015, she had a chat about her experience about moving to L.A when she also mentioned about her boyfriend. She was asked a simple question - 'What was your journey to Hollywood like?' Her answer was full of details. She answered,
"I moved here from New Jersey, I packed up into my Nissan Sentra and drove out to LA by myself. I had been studying acting between New Jersey and New York, and after performing in off-Broadway plays and taking classes I said 'OK I think I'm ready to move to LA now."
"At the time I had a boyfriend and he was supposed to come with me but he couldn't come so I was like 'I'm out!' I called my parents and of course, they were like, 'What are you doing?" My mom wanted to ride with me, but I told her, 'No I have to do this by myself.' My dad was worried about his baby girl driving across country, but I made sure to call them at every stop. It took me four or five days to get to LA. And then the journey began."
Finding Amazing Husband in LA: Married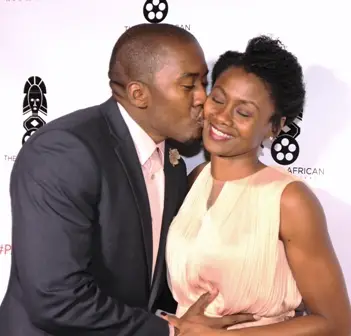 Caption: Emayatzy Corineald with mysterious husband.
Source: Blacksyrupmedia.com
Well, she certainly ditched the boyfriend who didn't support her in rough times, and we think she did it for good because later after she moved to L.A, she found the love of her life with whom she got married.
She was asked another question, and it was related to her love life. She responded to the question something like this.
"I was blessed to find an amazing husband since I've been here. We are having our second anniversary on August 31st. We met at the Macy's parking lot in Sherman Oaks. He was coming out of the store and I was just parking and I noticed him and I was like, 'Wow, he's handsome.' We sparked a conversation and he asked me to dinner that night."
"I remember, I had to leave town the next day for a week and I remember when I got back in town, I asked him to pick me up from the airport and he did. We had an amazing first date and we have been together ever since. God ordained the whole thing!"
However, she didn't answer the question with full details as she was numb about the name of her husband. Apparently, we can tell that she got married on August 31st, 2013. She said that she celebrated their 2nd anniversary on the August 31st of 2015.
Short Bio
Emayatzy Corinealdi was born on January 14, 1980, in Fort Knox, Kentucky and currently ages 36 years old. She did her studies in New Jersey at the Actor's Training Studio following with William Esper Studio in New York, and Playhouse West.
Her earliest known works were from the time (2007-2008) when she co-starred in many short films and portrayed her recurring role on the CBS's 'The Young and the Restless.' It was not until 2012 that she got her award-winning big break, a lead role in a drama film called 'Middle of Nowhere.'
Her recent projects include American biographical film "Miles Ahead" and American remake miniseries "Roots".
Caption: Miles Ahead TRAILER 1 (2016) - Don Cheadle, Emayatzy Corinealdi Movie HD, 2016
Source: MovieClips Coming Soon