Entertainment
Is Emmanuelle Latraverse Married? It'd Be A Surprise If She Does Not Have A Husband
If you are in the search for the famous name, who successfully coincides both professional and personal life at the same time, the Canadian journalist, Emmanuelle Latraverse would be one of the best choices.
Emmanuelle Latraverse, who is the first female head of Radio Canada, took her professional prosperity solely based on her journalist skills. Known for her best dynamic stories, her success runs in her every diverse story she covers.
For such highly eminent journalist, the curiosity usually strikes whether Latraverse had a beautiful family to share her success. With the history of playing the hide-and-seek with the media, Latraverse has hardly shown anything regarding her dating life in the past.
However, this time, Latraverse has added spices to her personal life too, that would make a perfect dish for her fans and admirers. So why don't you roll down and fill your tummy full this time?
Not Married Emmanuelle Latraverse Has a Daughter!
Emmanuelle Latraverse, the star political reporter, has every kind of fortune and fame from her prosperous career. But even the best of her fans remain oblivious when it comes to the chapters of her dating affairs. The 43-year-old reporter has not indulged herself in boyfriend rumors, let alone the married or engagement news!
But despite her silent dating life, Emmanuelle does have a daughter on her side who she adopted from the Philippines back in December 2012. Emmanuelle herself did not come with the adoption announcement, instead 'Corridors of power' was the one to reveal the news through Twitter.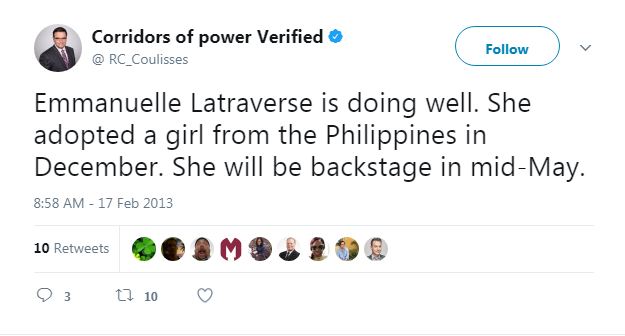 Caption - Emmanuelle Latraverse's daughter adoption news
Photo Credit - Corridors of power Verified's Twitter
The big-hearted journalist Latraverse has been enjoying her moments with her adopted daughter and does not miss to flaunt their precious moments together on Instagram.
Despite her busy schedule, Latraverse, as a good mother, always takes out time for mother-daughter vacations.
Even though her Instagram speaks regularly of her adopted daughter, the reporter is yet to shed lights on her dating life!
Emmanuelle Latraverse's Undisclosed Personal Life:
It was Emmanuelle's Instagram that shed lights on the adopted daughter, and it might be the same case for her dating affairs.
Latraverse's Instagram image, which she uploaded on May 28, 2017, has some cryptic message to fans, that revives her silent dating life. Her affectionate image with Chris Goldrick was no less than of a couple and added more talks on her rumored dating life.
The rumor got even more interesting when Latraverse shared an image of Chris with the caption:
"Feminist or not ... there at mornings when it's convenient to have a husband!"
The recent image of September 29, 2017, brings the light on husband rumour that hinted Chris as the direct addition to her family. The secret reporter is surely opening on her life affairs steadily, but the reporter is still to come forward with the confirmation regarding her marital status.
Short Bio: Story Behind Becoming a Journalist
Born on Dec 30, 1974, in Canada, Emmanuelle Latraverse began her formal education from high school at Villa Sainte Marcelline in Westmount. She completed her post-secondary studies at the College Jean-de-Brebeuf in Montreal.
She later owned degrees in both Modern German Studies and Economics graduating from McGill University.
Further, she finished her Master's in Journalism from Carleton University. She is best known for covering the war in Afghanistan and the 2010 Haiti earthquake.
Think we're missing something? Do let us know in the comment section below!