Entertainment
Erdenetuya Seagal Love & Married Life Moments Flourish With Age, Where Is She Now?
Mongolian former dancer Erdenetuya Seagal got to the famous list after turning the famous actor and age-defying martial arts, Steven Seagal into her husband. The Mongolian native was Steven's assistant first and later became the wife of the famous actor, Steven.
Taking from assistant to wife, Erdenetuya has already written almost-a-decade-long married relationship, however, mostly staying out of the limelight. And her low-key interest has garnished the curiosity to know about one of the biggest stars of the 1990s' wife.
From Assistant to Wife; Shipping Seems Lucky
Erdenetuya Seagal famously known as Elle was born as Erdenetuya Batsukh in Mongolia.
She got married to the action movie actor, Steven Seagal in 2009. Before getting married, she worked as an interpreter for the Machete star and met Steven on his visit to Mongolia in 2002 to raise the money for the support of his movie about Genghis Khan.
She also worked as his assistant and eventually went deep with him. And after working as an assistant for Steven for five long years, Erdenetuya exchanged the wedding vows with her boyfriend, indulging into a married relationship.
Soon after their marriage, Elle gave birth to their first child, a son named Kunzag on 17 September 2009. The child, Kunzag was Steven's seventh children, and he became a dad again at the age of 58.
Most importantly, she is his fourth wife and until now, the dispute between the couple has not aired so far. So, it seems with the flourishing age, their marital bond and love are getting stronger.
Low-Profile: Made Public Appearance With Husband And Son
Elle, who had won a number of dancing contests, keeps a very low profile in front of media. Being a wife of the popular man for almost two decades, she has successfully managed to live a low-key life.
She prefers to stay away from the limelight but it seems her husband wants his followers to know about his love of his life and family. And so, her husband introduced her and their then 13-month-old son on his US reality show, Steven Seagal Lawman.
In the show, he explained about his six other children and expressed his love towards them all. He further stated:
"Kunzang is the latest edition and he's the light of my life. He's getting big and strong."
Steven, who has a black belt in Karate, is so close to his wife and his latest version that he cannot leave them alone in their home at Hollywood. He stated:
"Whenever I work in Jefferson Parish I always bring my wife and my baby Kunzang with me."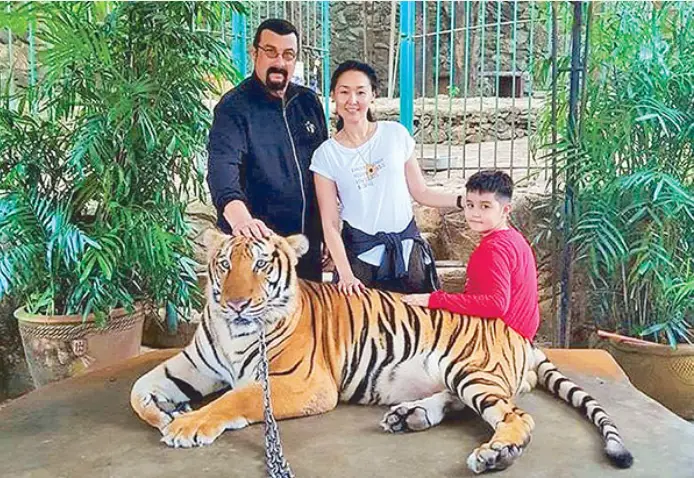 Elle, her husband Steven Seagal and their son Kunzang poses with former Gov. Chavit Singson's tiger (Photo: philstar.com)
As of now, she has made many public appearances with her husband. Elle, who is very polite and pleasant person, appeared on TV show back in 2016 alongside her husband. In the show, she gushed about her husband and explained that he is a different person than he appears on-screen. She said:
"He's different at home, he's very sweet and tender inside. At least, he never ever tried to do anything he's showing in the films. And he's never trained on me."
Similarly, she was spotted attending the Putin's swearing ceremony on the annual public ritual of Russia with her husband on 8 May 2018. Steven is a good friend and supporter of Putin, who regards him as "one of the great living world leaders." In December 2016, Elle's husband met Putin and was personally handed his passport to him.
Well, now, Erdenetuya seems to have accommodated herself with the lavish lifestyle of the celebrity.
Husband's Sexual Harassment
Erdenetuya's, martial artist husband Steven Segal was accused of sexual behavior by Portia de Rossi. She claimed that he allegedly sexually harassing her in the past.
The 45-yeard Arrested Development star took to Twitter on November 2017 with a claim that Seagal sexually harassed her years ago. She claimed that he unzipped his pants during an audition.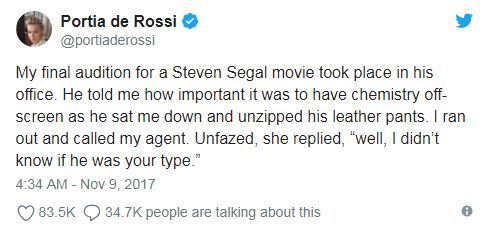 Actress Portia de Rossi accusing Steven Segal of sexual harassment (Photo:- Portia de Rossi's Twitter)
Steven Segal, the actor with the net worth of $ 16 million, was not only accused by the Scandal guest star. The Good Wife star Julianna Margulies also remembered the time when she was welcomed by the actor alone as she was supposed to meet with along with the casting director.
Similarly, the actress-turned-journalist Lisa Guerrero also slammed the actor-producer with the sexual harassment accusation. Lisa was just 31 at that time when Seagal welcomed Lisa with the robe on his body. Since then she has been warning the young actress not to go to Seagal's home alone.