Entertainment
Erin Bria Wright Bio: Teaming up With Mother For Big Things at Age 26
Well, the popularity of late rapper Eazy-E could be fathomed from the fact that he was given the title of "The Godfather of Gangsta rap." Many people are familiar with the rapper and his works, but only a few know about one of the daughters of the late rapper, Erin Bria Wright. Erin, who is a singer and an entrepreneur, is working towards turning one of her dreams into reality. But what is her dream?
Well, if you are curious to know more then we brought you the answers along with her bio. So without further ado let's get started.
Erin Bria Wright's Big Project:
Erin is the daughter of late rapper Eazy-E and a former music manager, Tracy Jernigan. Erin was only four years old when her father died on March 26, 1995.
During the last days of his life, he got married to his long-term girlfriend, Tomica Woods on March 14, 1995, surrounded by their immediate family. At that time, Tomica was pregnant with their second child. Both Tomica and her one-year-old son with Eazy-E were tested negative for HIV and AIDS.
On March 17, 1995, it was announced that he had contracted AIDS and further, the disease was said to be the reason behind his death. The fans and friends of Eazy-E didn't believe that the disease took his life including his daughter Erin.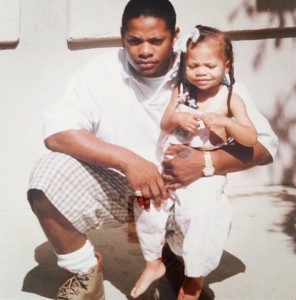 Caption: Erin Bria Wright's childhood picture with her late father, Eazy-E.
Photo Credit: thehypemagazine
The death of the famous rapper was termed as conspiracy, and different people have come up with their own theories regarding his death.
So, to bring out Eazy-E's real story out to the world relating to his death, Erin, who is 26 years of age, planned an ambitious project and is determined on making a documentary titled "A Ruthless Scandal - NO MORE LIES" along with her mother, Tracy Jernigan. Also, her brother and her older sister are helping her with the biopic.
Moreover, Erin even talked about her documentary with madamenoire.com and shared what she wants to address through the film. Also, she revealed an issue which could delay the documentary as,
"So we're looking at releasing it around the same time next year. It's been in the works, in the pre-production stage, for a while. We are looking for funding. The main focus is the scandal surrounding my father's death, what happened to his estate, and all the people that were involved: the good, the bad, and the ugly, and it's gonna touch a little bit more on his life. It will get more in-depth than the movie."
The official trailer for the documentary released in 2016, where Erin is seen requesting people to fund her film so that she can investigate more and share the untold story surrounding the death of her father, Eazy-E.
Caption: Erin calls for financial help to release her father, Eazy-E's documentary. (Published on Sep 15, 2016 )
Previously, a movie depicting the career of the gangsta rap group N.W.A. was released in 2015 called 'Straight Outta Compton.' It focused on the rise and fall of the group and its members, Eazy-E, Ice Cube, and Dr. Dre.
After the movie premiered in August 2015, although Erin liked the movie she voiced that the film left out most of her father's story and many significant moments.
"I think it's an incredible film. For the most part, it definitely gets the story out there, but I just felt like there were a lot of pivotal moments of my dad's life that were left out.There are things that I know that my dad would have liked to have been in there.Of course, my mom would have like to have been shown as the person. She was the one that was there through all of NWA. None of those things were shown."
Well, Erin is working towards bringing forth the story of her father along with her mother and hopefully she would release the documentary soon!
Erin Bria Wright's Bio!
The beautiful Erin Bria Wright was born on 6th July 1991 in Compton, California. She was born to her parents, late father Eazy-E and mother, Tracy Jernigan. She is one of the nine children which late rapper Eazy-E had in his lifetime.
Erin got featured on TV via appearing MTV's 'My Sweet 16' as the daughter of late rapper. Walking in the path of her late father, following her love for music she recorded music which is more pop than rap. She is also famous for singing "Girl Crush," and "What I Wanna Do'.
In the trailer of the song "What I Wanna Do," Erin has shared her desire of creating her own identity and also being known for her uniqueness, than just being called the daughter of her legendary father. In the video, she describes herself interestingly and to know that you need to watch it.
Caption: Erin speaks of her identity and describes herself. (Published on Aug 26, 2011)
Along with the passion for music, she shows her creativity in other ways too. She runs a clothing website 'We Want EB," and she owns a hat line. She describes her clothing brand as,
"We Want EB is my campaign, my brand, and my whole movement. We Want Eazy.' "I'm representing my father, and pushing everything I'm doing at the same time."
With her hard work, passion, and dedication, the artist, and entrepreneur Erin must have accumulated a decent net worth which is yet to be revealed in figures.