Entertainment
Find Out How Journalist Kevin Newman Reacted After his Son Alex Came Out as Gay!
We have heard countless coming out of the closet stories before. It is 2018 and equality is a privilege we all should enjoy. But have we ever heard about the reaction of the family members whose children are gay? We have one such story, and it is a famous journalist and the coming out of his son.
Famous Journalist Reaction to His Son Coming Out as Gay:
Even though Canadian journalist Kevin Newman has been hugely successful in his career, the biggest success that he believes he has achieved so far was to understand and accept the fact that his son Alex's homosexuality. Yes, he is the proud father of a gay son.
Kevin Newman's Interview on the Strombow (Published: May 2, 2012)
Alex revealed about his sexual orientation when he was seventeen. Even though Kevin showed full support to his son after his coming out, Alex always felt that his father was somehow ashamed of his sexuality. After almost ten years of coming out as a gay, he finally felt that his father was able to accept him for who he was.
The father-son confronted their realities by writing a book together called, "All Out: A Father and Son Confront the Hard Truths That Made Them Better Men." The book was about how being a television journalist and having to travel constantly drifted television personality/father Kevin and son Alex apart.
Kevin and Alex Newman's Best Seller All Out (Published: Jun 3, 2015 )
They wrote their sections individually without revealing their writings to one another. They only shared each other contents after they finished writing their parts. It was then that both father and son realized, they weren't that different after all.
In an Interview with Macleans, former ABC personality Kevin has shared the reason behind writing the book. He says,
"For me, it was because I don't know too many fathers who are having these conversations, and I know there are a lot of parents who need to. When Alex came out, I didn't have anyone else I could turn to for knowledge and guidance. I'm hoping to crack open the resistance of some fathers to share this kind of parenting".
And in an interview with National Post, Canada, the duo had expressed their happy feelings,
"That night when we were done reading, he gave me a hug. It was the kind of hug I'd felt only once before – the day I came out"
The 56-years-old Kevin Newman is not only an established journalist but is also able to prove himself as a loving husband and caring father. He has set a new example for every father who is ashamed to accept his child's sexual orientation.
Girlfriend, Married Life, Wife and Children:
Kevin married his long-time girlfriend, Cathy Kearns in 2015. The couple is not yet divorced and is living happily with their children.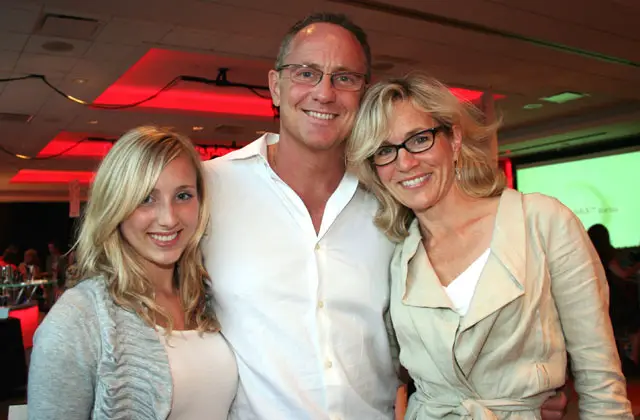 Kevin Newman with wife Cathy Newman and daughter Erica Newman at the Westin Canada's Day Celebration on July 1, 2009 (Photo: people.com)
Being one of the most reputed journalists, Kevin has been able to establish his place with huge earnings and popularity. Although he is believed to receive an incredible salary, his net worth has not been disclosed yet.
Happy family!! Aren't they?
Kevin Newman is a Canadian journalist and news anchor. He worked as the chief anchor and executive editor of Global National from 2001 to 2010. Newman became a substitute anchor of CTV National News with Lisa LaFlamme and host/correspondent for the investigative series W5 in August 2014.
Newman's journalism career is filled with multiple achievements and successes. He received the Gemini Award for best anchor in both 2005 and 2006 and received it again in 2007 along with Global National's Kenton Boston, Doriana Temolo, Marc Riddell and Jason Keel for best newscast. Kevin Newman also anchored the breaking news coverage of the death of Princess Diana on CBC News.
The Toronto native Kevin Newman has proved himself to be a contemporary person with his belief in racial as well as sexual orientation based equality and other more modern topics. He is also the co-author of All Out: A Father and Son Confront the Hard Truths That Made Them Better Men, a memoir written with his son Alex Newman.